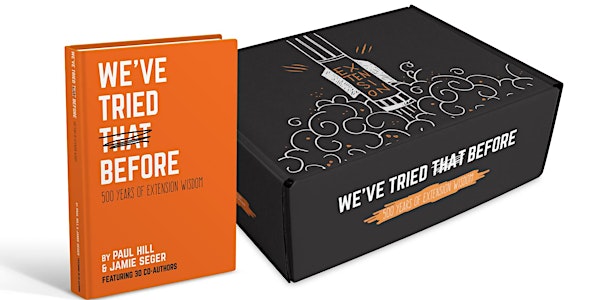 "We've Tried That Before" Limited Edition Book & Gift Box Set
Refund Policy
Refunds up to 1 day before event
Description
WE'VE TRIED THAT BEFORE
500 Years of Extension Wisdom
Order your copy here! These 175 limited edition gift box sets receive bonus materials with the book! Sales open on May 1st and your order will arrive approximately 3-4 weeks after June 1st.
Inspired by the work of T.J. Talbert's "The Extension Workers Code," the purpose of this book is to share wisdom from the trenches. The kind of timeless advice you can use in your everyday work and take with you into the future.
While Extension has been engaged in organizing information (i.e., fact sheets, journal articles, curriculum, policies, procedures, bylaws, and man­uals) for well over 100 years, how have we cared for the lessons learned that only experience can teach?
We believe that continuity of organizational wisdom is critical for the next generation of Extension professionals. The pages in this book are a collection of experiences, stories, and hard-won wisdom from 30 Extension professionals spanning 15 Land-Grant University with a collective 512 years of experience.
LIVE ONLINE EVENT
May 7th 11 AM PT | 12PM MT | 1 PM CT | 2 PM ET