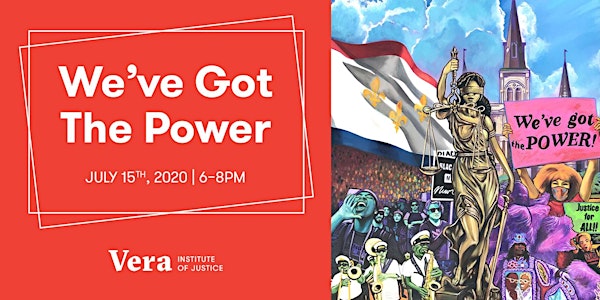 We've Got The Power
Interactive virtual event educating people about district attorneys' role in the criminal legal system & communities' power to invoke change
By Vera Institute of Justice
Date and time
Wednesday, July 15, 2020 · 4 - 6pm PDT
About this event
District attorneys hold a lot of power in the criminal legal system. They have the power to decide the fate of a person who has been accused of a crime at every stage of a criminal case. They also hold tremendous sway with other actors in the criminal legal system, including police officers and even judges.
We, the people, have the power to chose our district attorneys and influence the way they operate in our community.
Please join us for an energizing event about your power to chose the next New Orleans district attorney.
This virtual event will feature music, art performances, and raffle prizes. Attendees will hear from New Orleans residents who are affected by the system and working to change it, people who fought for change in their communities, and district attorneys currently working to reform the criminal legal system. Participants will have the opportunity to ask questions and talk about what is most important to them in the district attorney race.
Please share far and wide; the information and resources shared at this event will be helpful to people living in and outside of New Orleans.
Panels and Panelists
Vision for New Orleans
Moderated by Clint Smith, Writer, Teacher and Researcher
Judge Calvin Johnson (ret.), Moderator, The People's DA Coalition
Jerome Morgan, Barber, Advocate, & Author, Real Gentleman Barbershop, Free-Dem Foundations & Park Roots Productions
Lauren Sapp, Staff Attorney, Orleans Public Defenders
Bonycle Sokunbi, former assistant district attorney and current Acting Chief Monitor, Orleans Independent Police Monitor
Lessons from Change
Moderated by Jamila Hodge, Director, Reshaping Prosecution, Vera Institute of Justice
Kim Gardner, Circuit Attorney, St. Louis, MO
Jamala Rogers, Executive Director, Organization for Black Struggle
Diana Becton, District Attorney, Contra Costa County, CA
Chala Bonner, Civic Engagement Organizer, Safe Return Project
Sponsorship Opportunities
For information about sponsoring the event, please email Akosua "Naana" Ohene at aohene@vera.org.
Vera Institute of Justice, New Orleans Office
Vera's work in New Orleans began in 2006 when the New Orleans City Council invited us to help bring desperately needed reforms to the criminal legal system. In partnership with justice system actors, city leaders, and community organizations, we are working to shrink the footprint of the jail, provide resources to help voters evaluate district attorney candidates' platforms, develop recommendations for creating representative, equitable and inclusive jury pools, establish alternatives to jailing people with serious mental illnesses, eliminate barriers to attending court hearings, and propose alternative justice system funding structures that do not rely on people caught in the system.
About the organizer
Our Vision
A society that respects the dignity of every person and safeguards justice for everyone.
Our Purpose
To drive change. To urgently build and improve justice systems that ensure fairness, promote safety, and strengthen communities.
Achieving Our Purpose
We work with others who share our vision to tackle the most pressing injustices of our day: from the causes and consequences of mass incarceration, racial disparities, and the loss of public trust in law enforcement, to the unmet needs of the vulnerable, the marginalized, and those harmed by crime and violence.