Description
We've Come a Long Way...Maybe?
An evening of conversation and raising funds for an important mission!
2018 was a pivotal year for women. W
e witnessed heightened exposure and accountability surrounding sexual misconduct and harassment, along with unprecedented strides in women's leadership on both our local and national stage.
We invite you to join us!
Lively panel discussion

with local experts and leaders,

Amelia Lahn, Jody Madeira, Erika Oliphant, and Deborah Widiss.

They

will share their perspectives on the impacts and implications of these recent developments along with fielding questions from the audience

.

Reception with appetizers and cash bar (beer & wine) at the new FAR Center for Contemporary Art.

Funds raised by this event will support

CJAM's conflict resolution training and education programs.

Each year we subsidize these efforts by $4000+ in reduced fees and scholarships.

Co-sponsored by the Feminist Law Forum, an IU student organization that fosters diversity, gender equality, and provides mentoring opportunities.

(When you purchase tickets, please see how you can sponsor a student to attend!)
Meet our Panelists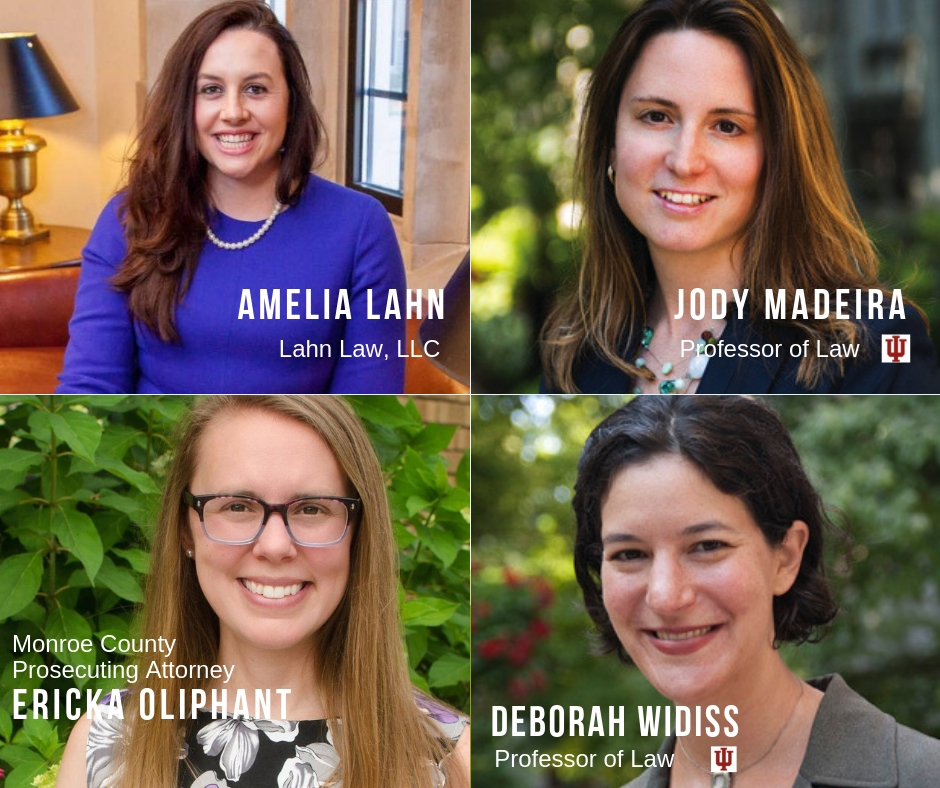 Amelia K. Lahn J.D. , Lahn Law, LLC
Amelia founded Lahn Law LLC in 2014 in order to help college students navigate the consequential and often confusing academic, personal, and Title IX (sexual assault) university conduct process. Her practice now also includes general criminal defense; family law; protection orders; representing IU faculty and staff in employment-related administrative proceedings; and helping K-12 students with suspension or similar disciplinary action. A life-long resident of Monroe County, Amelia is active in our community, having served on the boards of directors of Girls, Inc.; Middle Way House; and the Lotus Music Festival. She has volunteered for District 10 Pro Bono, and has been a guest lecturer at the University on topics such as representing mentally impaired clients in criminal matters; starting and running a criminal practice; and the evolving status of women in the legal profession.
Erika Oliphant, Monroe County Prosecuting Attorney
Erika served as deputy prosecuting attorney for over eight years before being elected to Prosecuting Attorney in November. Handling case from traffic infractions to murder, she served on the Drug Treatment Court team, the Veterans' Treatment Court and Re-Entry Court teams. She has established a reputation in the criminal justice community for being knowledgeable, committed to community safety, and compassionate justice. This includes utilizing evidenced-based practices for alternative sentencing and diversion programs. Erika is committed to fighting for the rights of equality and fairness and strives to eliminate implicit biases and disparity. She feels it is her prosecutorial duty to seek justice, not merely to convict, protecting the rights of both victims and defendants. While in law school, she interned for Middle Way House and with Indiana Legal Services. She has served on the board of the Monroe County Bar Association, is a member of the Monroe County Branch of the NAACP, National Organization of Women (NOW), and the Emerging Leaders Project. She is also an adjunct instructor of criminal law at Ivy Tech.
Deborah Widiss, Professor of Law, Maurer School of Law
Deborah's research and teaching focuses on employment law, family law, the legislative process, and the significance of gender and gender stereotypes in the development of law and government policy. Her work has appeared in leading law reviews and journals, and she has been quoted as an expert on issues relating to employment discrimination, same-sex marriage, and domestic violence by numerous media outlets, including the New York Times, the Chicago Tribune, and the Washington Post. Before coming to IU, she was an attorney at Legal Momentum (formerly NOW Legal Defense and Education Fund), where she was a national expert on the intersection between domestic violence and employment. She was selected as a 2018 Fulbright Senior Scholar to study Australia's paid parental leave program as a visiting researcher at Melbourne Law School.
Moderator: Jody Madeira, Professor of Law and Louis F. Niezer Faculty Fellow, Maurer School of Law; Co-Director, Center for Law, Society & Culture; Board Member, Community Justice & Mediation Center
Jody's scholarly interests involve empirical research; the role of emotion in law; the sociology of law; law, medicine, and bioethics; and the Second Amendment. Her most recent book, Taking Baby Steps: How Patients and Fertility Clinics Collaborate in Conception (University of California Press, 2018), takes readers inside the infertility experience, from dealing with infertility-related emotions to forming treatment relationships with medical professionals. She has also investigated a wide variety of topics, including the effects of legal proceedings, verdicts, and sentences upon victims' families. Her first book, Killing McVeigh: The Death Penalty and the Myth of Closure, explored the ways in which victims' families and survivors came to comprehend and cope with the Oklahoma City bombing.

About Community Justice & Mediation Center: CJAM promotes civility and peace through mediation services, education and training opportunities, and restorative justice programs. As the only local non-profit conflict resolution organization, our work focuses on restoration, education, empathy, empowerment, and community-building. In 2018, 40 community volunteer mediators provided services to over 500 individuals. To learn more about CJAM's impact on Bloomington and Monroe County and ways you can get involved go to www.cjamcenter.org

About Feminist Law Forum, Maurer School of Law: This student organization aims to foster gender equality throughout the legal profession by educating its members on feminist thought, promoting diversity, and improving the educational environment. Mentors and students in this organization are brought together by their shared commitment to creating a fair and just community. To lean more click here...
FAQs
What are my transportation/parking options for getting to and from the event?
The FAR Center for Contemporary Art is located at 202 S. Rogers St (SW corner of 4th and Rogers). Parking is available on the street, in the parking lot located at the NE corner of 3rd and Rogers, or at the Morton Street Garage.
How can I contact the organizer with any questions?
For questions or more information, call CJAM at 812-336-8677 or email: cjam@cjamcenter. org