Description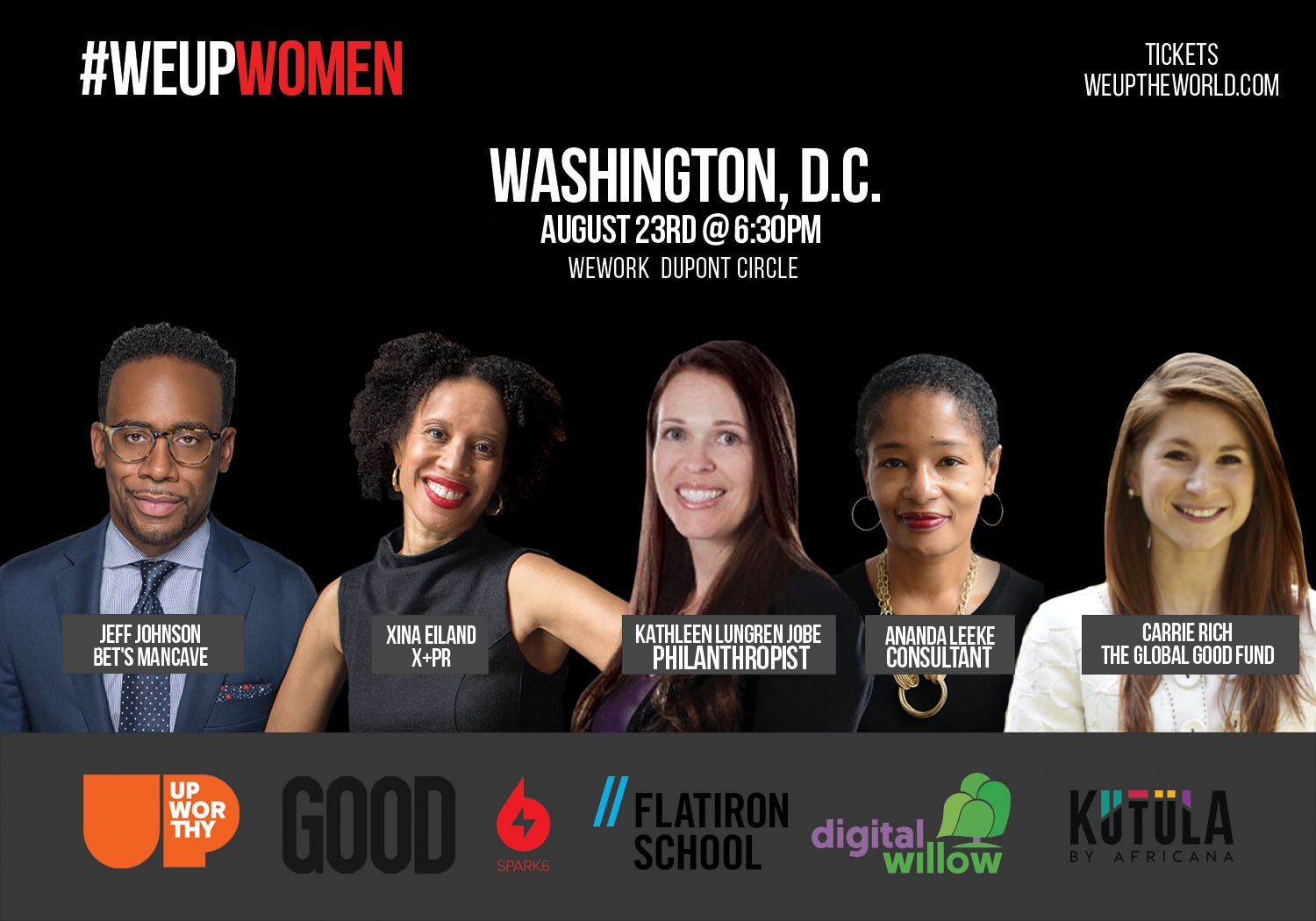 The #WeUpWomen Global Tour is excited to have our third stop in Washington, DC, be presented by Flatiron School and hosted at WeWork Dupont Circle. Come together, play games and share your "Impact Story" at our next #WeUpWomen event!
WeUp is a gamified app that pays you to stick to personal goals and solve social problems. Leading up to the app's release in 2019, WeUp has launched a 10-city marketing tour called #WEUPWOMEN honoring distinguished women who have helped others achieve goals. The categories of the awards include Innovation, Business, Philanthropy and Caregiving.
WeUpWomen World Tour
#WeUpWomen receptions are intimate events hosted in unique spaces where men and women come together play games, and add value to each other by sharing "Impact Stories" about women who've helped them achieve a goal. Using good news as away to counterbalance the rising culture of us versus them and men versus women. These timely events are a way to acknowledge, come together and transform #MeToo into #WeUpWomen. To learn more visit www.WeUpTheWorld.com and follow us @weupwomen.
#WEUPWOMEN is presented by Flatiron School, Upworthy, GOOD, Spark 6, Digital Willow and Kutula by Africana.
Game & Prizes
At WeUp events we have fun bringing people together to solve social problems. Join the WeUp community with a with a tax-deductible gift of support to the WeUp App Crowdfunding Campaign and be among the first app users in the world to get paid to stick to your goals.

WeUpWomen of Honor (The Adelaide Smith Awards)
In each market WeUp honors women who have put humanitarian values into action. The Adelaide Smith Awards highlight the legacy of women who embody her four values of innovation, philanthropy, business and caregiving, nurturing others to their full potential. Click here to learn more about the life and legacy of Adelaide Smith, the late great mother of WeUp's founders.
Ticket Info
There are limited tickets available for this event, early purchase is highly suggested. Advance tickets only. No tickets will be sold on-site. All ticket sales are final and no portion of the ticket is tax deductible. Ticket price includes light refreshments. Non-refundable tickets will be donated to underserved women via parter organizations. All proceeds go towards funding the WeUp App Crowdfunding Campaign.

Dress Code
'After 5' Cocktail Attire
An opportunity to put on that dress, suit or outfit in the closet you've been wanting to wear.