Westport Mini Maker Faire - 2014

Saturday, April 26, 2014 from 10:00 AM to 4:00 PM
When & Where

Jesup Green and Westport Library
20 Jesup Rd
Westport, CT 06880


Saturday, April 26, 2014 from 10:00 AM to 4:00 PM
Add to my calendar
Organizer
About Remarkable STEAM, Inc.
Remarkable STEAM is Connecticut's leading organization promoting innovation and creativity in the areas of STEAM: Science, Technology, Engineering, Arts and Mathematics.
Our flagship project, the Westport Mini Maker Faire, is the greatest show (and tell) on earth! It's a family-friendly celebration of invention and creativity and we brought it here to Connecticut.
About the Westport Mini Maker Faire:
The Westport Library is the source of vital knowledge. It's the heart of a community. It's a meeting of great minds. It's a gathering of all ages. Westport Public Library. Come in. Go far.
 
The Source of Knowledge, Ideas, and Exchange
 
Overlooking the scenic Saugatuck River, Westport Public Library is ideally situated to provide an inspiring setting for inquisitive minds of every age and interest, of every passion and pursuit. Since 1886, the Library has been devoted to enriching the lives of the residents of Westport.
 
A New Age. A Steadfast Mission
 
At Westport Public Library, we go with the flow of information. The Library is committed to accessing new resources in response to the latest developments in the information world. While this change is essential, the Library's commitment remains the same. Every day in every way, we are committed to empowering the individual with knowledge, and to strengthening the community through the dynamic exchange of ideas.
About Maker Faire:
Maker Faire is the Greatest Show (and Tell) on Earth—a family-friendly showcase of invention, creativity and resourcefulness, and a celebration of the Maker Movement. It's a place where people show what they are making, and share what they are learning.
Makers range from tech enthusiasts to crafters to homesteaders to scientists to garage tinkerers. They are of all ages and backgrounds. The aim of Maker Faire is to entertain, inform, connect and grow this community.

The original Maker Faire event was held in San Mateo, CA and in 2015 celebrated its tenth annual show with some 1100+ makers and 145,000 people in attendance. World Maker Faire New York, the other flagship event, has grown in four years to 600+ makers and 80,000 attendees. Detroit, Kansas City, Atlanta, Milwaukee, Orlando, Pittsburgh, San Diego, Silver Spring, Ottawa, Lisbon, Paris, Rome, Berlin, Newcastle, Hannover, Oslo, Trondheim, Seoul, Singapore, Taipei, Tokyo, and Shenzhen are the home of larger-scale, "featured" Maker Faires. In addition, over 120 community-driven, independently organized Mini Maker Faires are now being produced around the United States and the world—including right here in _________.
Maker Faire is supported by Make: magazine and Maker Media.
About Make: Magazine: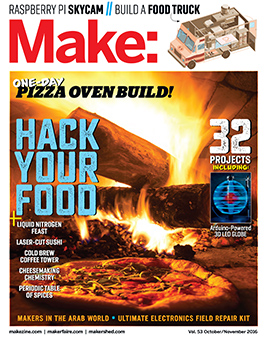 Make: is the first magazine devoted entirely to Do-It-Yourself (DIY) technology projects.
Make: unites, inspires, informs, and entertains a growing community of resourceful people who undertake amazing projects in their backyards, basements, and garages. Make: celebrates your right to tweak, hack, and bend any technology to your will.
Besides the magazine and the faire, Make: and Maker Media is: