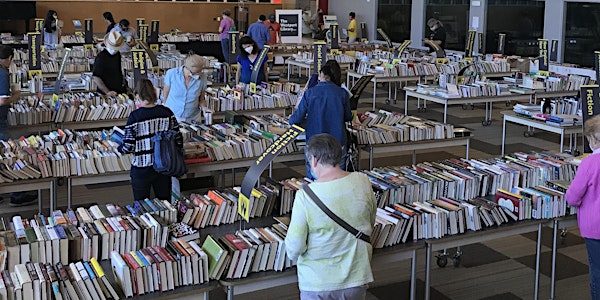 Westport Library Spring 2022 Book Sale Early Bird Entry 04/29/2022 8am-9am
Be among the first to shop at the Westport Library Spring 2022 Book Sale!
When and where
Location
The Westport Library 20 Jesup Road Westport, CT 06880
About this event
Be among the first to shop at the Westport Library Spring 2022 Book Sale!
Your Early Bird Admission ticket will permit you to start shopping the Westport Library Book Sale on Friday, April 29, 2022 one hour before the doors are opened to the general public.
No need to line up hours in advance -- Ticket holders will be admitted to the sale in the order in which their tickets were purchased. Following your ticket purchase, you will receive an email from admin.book@westportbooksaleventures.org advising you of your place # in line. If you do not receive an email within 72 hours after your ticket purchase, please contact us by sending an email to that email address.
COVID precautions: -- Hand sanitizer will be available at the entrance to the sale, and at various points within the Library -- Social distancing is strongly encouraged -- At this time, the wearing of face masks inside the Library is optional; we will continue to monitor town regulations and area health conditions, and may adjust these requirements as conditions warrant. We recommend that you bring a face mask with you, just in case.
PLEASE stay home if you have a fever, are feeling unwell, or are exhibiting any symptoms of COVID-19.
Full Spring 2022 Book Sale dates and times are as follows:
Friday, April 29th Early Bird Ticketed Admission Only 8:00 - 9:00 am
Friday, April 29th 9:00 a.m. to 6:00 p.m. -- Admission Free
Saturday, April 30th 9:00 a.m. to 5:00 p.m. -- Admission Free
Sunday, May 1st Noon to 5:00 p.m. -- Admission Free, everything Half-Price
Monday, May 2nd 9:00 a.m. to Noon -- Admission Free, fill our Logo Bag (or your equivalent-sized bag) for $5 per bag, or purchase individual items for half-price (your choice)
NOTE: For this event, vinyl records will be available only at our Westport Book Shop, 23 Jesup Road, right across Jesup Green from the Westport Library. Early Bird tickets do not provide early entry to the Book Shop. For Westport Book Shop hours and other information, please go to www.westportbooksaleventures.org/new-westport-store
For more information and event rules, including information for high volume purchasers, please visit www.westportbooksaleventures.org/our-events
NOTE: Tickets are NOT refundable, unless the Book Sale event is canceled.