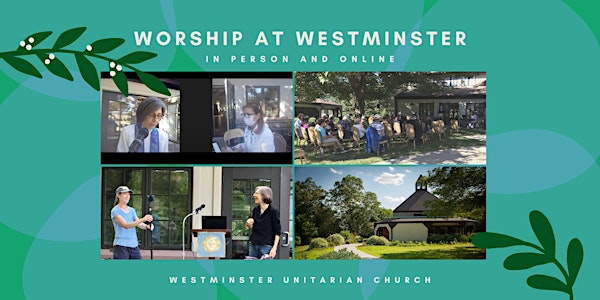 Westminster Unitarian Church - Multi-Platform Service Inside Service
Multi-platform service - both in person and online on zoom!
About this event
Our service will be inside our building and online! We will be wearing masks inside at all times and distancing with our seating so please "save your seats".
Reserve your seats, as always no charge but good for contact tracing and seating arrangements. If you are attending online there is no need to reserve a seat just join us here on Sunday: https://www.westminsteruu.org/worship/upcoming-worship-services/
If you are feeling unwell, please take good care of yourself and protect those around you by watching the service from home this time.
Please note that congregational singing is still considered a high risk activity and not permitted indoors. However, the Board has now approved up to two people to sing hymns for the service, as long as they are masked and vaccinated.
We will be having a coffee hour after worship, if it is possible to have it outside. If you would like to bring coffee or pre-wrapped refreshments then please sign up here: https://www.signupgenius.com/go/4090b4eaaac2ca2f85-sunday
Organizer of Westminster Unitarian Church - Multi-Platform Service Inside Service