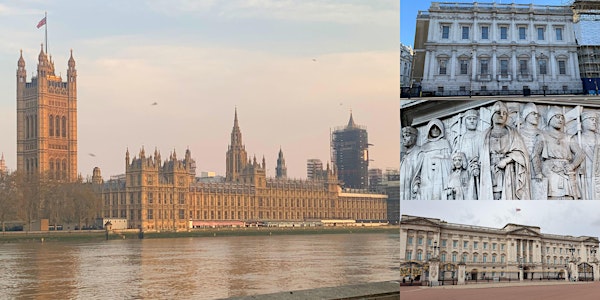 'Westminster: History of London's Royal and Political District' Webinar
Can't make it live? Register and get access to the full replay for one week! New York Adventure Club | www.AdventureClub.com
About this event
The area of Westminster in Central London has been defined by politics for hundreds of years, helping England lay claim to having one of the oldest parliamentary democracies in the world. But how exactly did this happen, and when did power shift from a once all powerful monarch to a parliament elected by the people? It's time to virtually hit the streets of London and uncover how Westminster became one of the most influential political hubs throughout the world.
Join New York Adventure Club as we take a virtual stroll through Westminster to explore the political history of London's royal and political district, including the key moments, people, and places that enabled the country's slow transfer of power from medieval monarchy to modern democracy.
Led by Ruth Polling — award winning London Blue Badge Tourist Guide, historian, and former elected local councillor — our unique experience exploring Westminster will include:
The epic story of kings, nobles, knights, and townsfolk whose actions — often unintentionally — extended the power of Parliament over eight centuries
A brief look at Westminster Abbey where the first coronation in 1066 ended in chaos
Commentary surrounding the Magna Carta, from why it was drafted to why it was only enforced for ten weeks
A discussion around the long lost Whitehall Palace, a building at the center of war, revolution, and the execution of a King
The country gentleman who became recognized as Britain's first Prime Minister, and how he ensured that 10 Downing Street would become one of the most famous political addresses in the world
Virtual stops at other prominent political landmarks in Westminster, including Buckingham Palace, Supreme Court, Westminster Hall, and Houses of Parliament
Afterward, we'll have a Q&A session with Ruth — any and all questions about Westminster's political history are welcomed and encouraged!
Can't make it live? Don't worry, you'll have access to the full replay for one week!
See you there, virtually!
*Once registered, you will receive a separate, automated email containing the link to join this webinar
**For the best possible viewing experience, please ensure you're using the latest version of your internet browser — Google Chrome is the most compatible. Exact technical requirements and a webinar user guide will be shared in the automated confirmation email upon registration.
***A full replay will be available after the experience for all registered guests
About Ruth
Ruth is an award winning tourist guide, lecturer and storyteller specialising in London's political and social history. London born and bred, before becoming a guide she worked in politics for ten years including in the House of Commons, House of Lords and serving as an elected local councillor.
Testimonials
"Speaker was very knowledgeable and was able to tie historical events to the formation of the government to current times. Wonderful event - my favorite to date." -Diana
"Speaker was excellent. Very organized. Interesting to find out the political history" -Joel
"This was a thorough, brilliantly-organized introduction to and summary of how the British political system has evolved over a millennium. As a Canadian history geek who has been lucky enough to spend time in London (including a tour of the Houses of Parliament and many of the other locations visited) I was familiar with the basic outline but I have never heard it so coherently presented. And it was far from a dull recital of facts; Ruth's pacing and enthusiasm made her a pleasure to listen to. As she said, "it's complicated", but she made it feel as if there is actually a plan guiding it all." -Lahring
"Ruth was an excellent presenter - everything was clear & concise, so well rounded & thought through & so enjoyable to listen to." -Mary
"A good potted history of the development of the rule of law in England." -Dana
"Outstanding historical content. The 800 years condensed and made very accessible!!" -Deborah
Disclaimer
By attending a New York Adventure Club experience, you accept our terms of service.
Categories: Virtual, Neighborhoods