WestFest

Daily Event: 7:30 PM to 10:30 PM (PDT)
Event Details
Seed&Spark is thrilled to announce its inaugural #FairTradeFilmmaking festival, WestFest:  three evenings of Seed&Spark films, filmmakers, and film curators!

Taking the S&S concept of film collections, called "Conversations," offline and into real life conversations, we'll be hosting 3 nights of hand-picked movies from our Cinema and talks with our expert guest curators.  And just like in our streaming Cinema, you can take comfort in knowing that our filmmakers will take home their fair share of the ticket sales.  

For just $5, you'll get two movies + conversation + beer + wine.  (Yes, you read that right, complimentary beer & wine.)  And of course that warm and fuzzy feeling of directly supporting your film community.
Here's the exciting lineup!
Tuesday, October 1st @ 7:30PM - OPENING NIGHT
Films from Sundance Film Festival Programming Associate and Director of Ambulante Film Festival - California, Christine Davila's multi-culti Conversation, MAS AMERICAN
THE CRUMBLES (Akira Boch, 73 min).  An indie rock slice-of-life tragicomedy about Darla and Elisa, two young women struggling to catapult their talented but directionless garage band to stardom. MEET THE FILMMAKER!
Preceded by GABI (Zoe Salicrup Junco, 20 min).  Gabi Padilla thrives in a life full of pleasure and independence.  But after her mother's unexpected death, she is forced to return to her mother's rural hometown - a place where Gabi's sensual flair is not welcome.
--Conversation with Davila and Boch-- 

Wednesday, October 2 @ 7:30PM - CENTERPIECE
Films from Filmmaker/Seed&Spark Founder-CEO Emily Best's Conversation, UNCONVENTIONAL WOMEN 
I SEND YOU THIS PLACE (Andrea Sisson & Pete Ohs, 68 min).  Part memoir, part travelogue, part philosophical rumination, I SEND YOU THIS PLACE is an exploration of mental illness and operates as such - embracing obsession and delusion as it focuses on a sister's struggle to understand her brother's schizophrenia.  MEET THE FILMMAKERS!
Preceded by CAFE REGULAR, CAIRO (Ritesh Batra, 11 min).  A young couple find themselves speaking about things they have never spoken about before as they try to find their own place in a changing world.
--Conversation with Best, Sisson, and Ohs--
Thursday, October 3 @ 7:30PM - CLOSING NIGHT
Films from Twitch Film's East Coast Editor Ben Umstead's upcoming Conversation on the immediacy of distance, SHARED SPACES (launching Sept 23)
THE SOUND OF SMALL THINGS (Peter McLarnan, 75 min).  Sam, a hobby musician and copywriter, and Cara, a survivor of a mysterious accident resulting in a loss of hearing, are navigating a fragile young marriage.  A series of secrets and interlopers begin to blur the borders of truthful communication between them, upsetting the delicate balance.
Preceded by TRUE COLOURS (Barney Elliott, 10 min).  Neil picks up his wife Sharon on the way to the supermarket.  She can see he has a fat lip, and she's not buying his story. Inside, Neil's threshold is tested and Sharon finds him in yet another impossible situation - this time changing their family unit forever.
--Conversation with Umstead and S&S Director of Content, Amanda Trokan--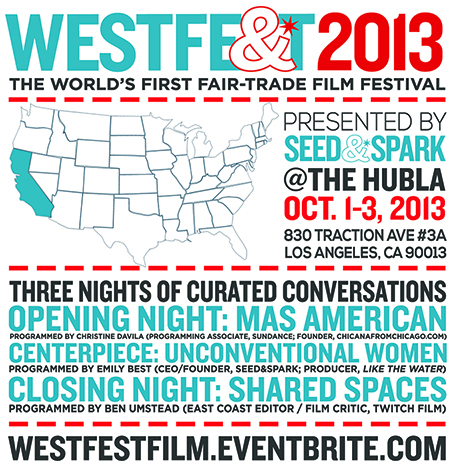 Where

The HUB LA
830 Traction Avenue
Los Angeles, CA 90013


Daily Event: 7:30 PM to 10:30 PM (PDT)
Add to my calendar
Organizer

Seed&Spark's web platform helps independent films build audiences from the first twinkle of an idea through the finished product: from crowdfunding, to production tools and resources, through digital distribution. By removing the middle men, Seed&Spark creates a bond directly between filmmakers and their audiences: Audiences have access from the beginning of the filmmaking process, and filmmakers can get funding, gather followers, and distribute directly to them on our non-exclusive streaming platform, keeping 80% of the revenue AND 100% of the rights.  It's #FairTradeFilmmaking.  Join us!
For more information, go to www.seedandspark.com.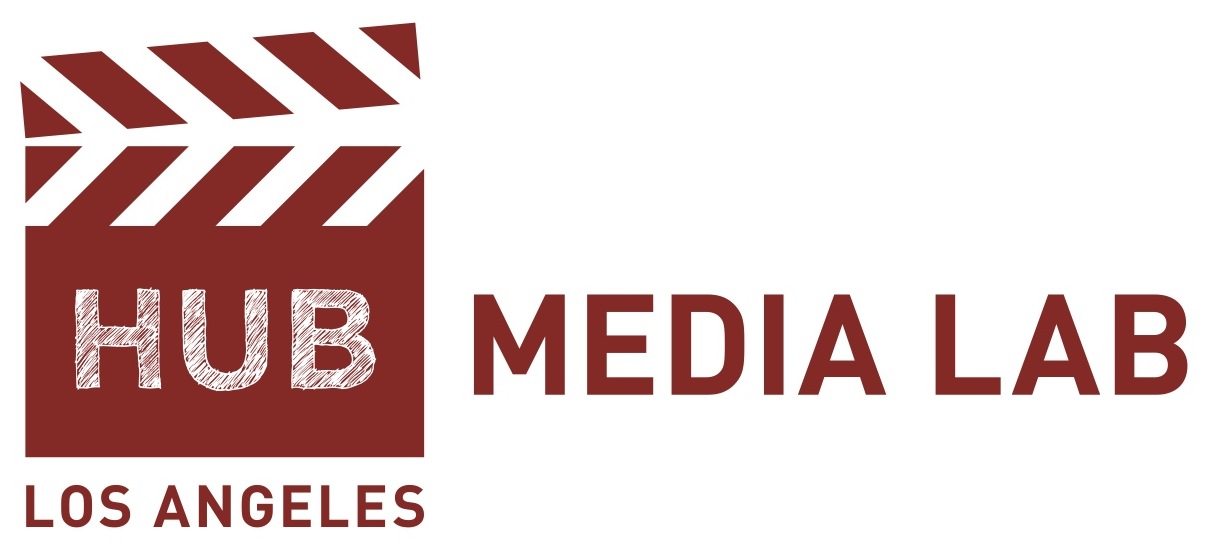 WestFest is hosted by The HUB LA
Hub LA connects, empowers, and resources Angelenos working to create positive change in the world. Whether you are a high impact consultant, entrepreneur, artists, investor or innovator, we offer you the best of a social club, an innovation agency, a co-working office, media lab, an incubator, and a think-tank all in one.
Our Media Lab facilitates collaboration between storytellers, message makers, visual artists, and social entrepreneurs to create meaningful and entertaining content. Our offerings include post production facilities, a screening room, equipment rentals, co-working space, programming, industry office hours, and more.   

Over 7000 square feet of flexible work, meeting, and event space in the Downtown LA Arts District provides a productive, collaborative atmosphere to members. Visit www.thehubla.com to learn more about our amenities, programming, and monthly membership levels.
WestFest's wine is generously provided by:

Bellus' mission is to craft wines and wine experiences, and to share stories, that empower people to learn about and enjoy great wines as opposed to feeling intimidated by them. Created by Sommelier Jordan Salcito.