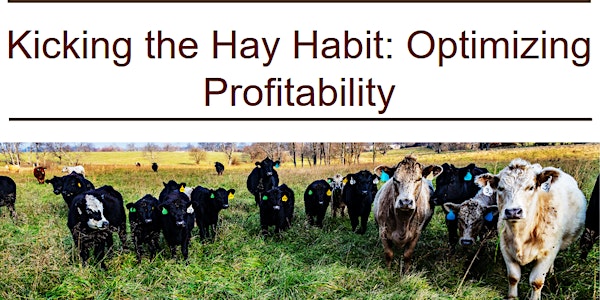 Western KY Grazing Conference 2019
When and where
Location
Christian County Extension Office 2850 Pembroke Rd. Hopkinsville, KY 42240
Refund Policy
Contact the organizer to request a refund.
Description
Agenda for October 31
7:30 Registration Opens (Sponsors and Silent Auction)
8:15 Welcome
8:30 Kicking the Hay Habit - Jim Gerrish, American GrazingLands Services, LLC
9:30 Livestock Genetics for Extended Grazing Systems – Gordon Jones, Red Hill Farms
10:00 Break, Silent Auction and Visit with Sponsors
10:30 How Many Days to Graze? - Greg Halich, UK
11:15 Innovations in Livestock Fencing - Mark Harris / Sarah Adams, Gallagher
12:00 Lunch and Visit with Sponsors
1:00 Hay Storage and Feeding: Avoiding Train Wrecks – Jeff Lehmkuhler, UK
1:45 Summer Stockpiling: Thinking Outside of the Box – Chris Teutsch, UK
2:15 Extending Grazing on my Farm - Producer Speaker
2:35 Break
2:45 Forage Research Updates: Converting High Quality Forage into Baleage – Jimmy Henning, UK;

Applying KY Dairy Forage Research for Beef Producers – Ray Smith, UK
3:15 Practical considerations for extended grazing systems –
Jim Gerrish, American GrazingLands Services, LLC
4:00 Surveys and Adjourn
Dr. Jim Gerrish is an independent grazing lands consultant providing services to farmers and ranchers on both private and public lands across five continents. With a BS in Agronomy from the University of Illinois and MS in Crop Ecology from University of Kentucky, he served 22 years of beef-forage systems research and outreach while on the faculty of the University of Missouri-Forage Systems Research Center (FSRC). His research encompassed many aspects of plant-soil-animal interactions and provided the foundation for many of the basic principles of Management-intensive Grazing. He was also a co-founder of the very popular 3-day grazing management workshop at FSRC. Aside from his monthly column in The Stockman Grass-Farmer magazine for over 12 years, Gerrish has authored two books on grazing and ranch management – "Management-intensive Grazing: The Grassroots of Grass Farming" published in 2004 and "Kick the Hay Habit: A Practical Guide to Year-Round Grazing" published in 2010. Today, he is an instructor in the University of Idaho's Lost River Grazing Academy held twice annually near Salmon, ID. He typically speaks at 40 to 50 producer-oriented workshops, seminars, and field days around the US and Canada each year.