Event Information
Location
Town Hall Seattle
1119 8th Avenue
Seattle, WA 98101
Seattle-bred, Brooklyn-based brass quartet The Westerlies return home to present Westerlies Fest 2020.
About this event
*PRESALE HAS ENDED. TICKETS STILL AVAILABLE AT THE DOOR*
Featuring poets Sarah Kay and Phil Kaye, Troy Osaki, and The Westerlies, with a special guest appearance by Haley Heynderickx.
Full festival schedule at www.westerliesfest.org.
Sarah Kay and Phil Kaye
The Westerlies are proud to present a special evening of live performance with two world-renowned spoken word poets: Sarah Kay and Phil Kaye. The duo have collectively performed in thirty countries on stages from TED Talks to the Museum of Modern Art (MoMA), and garnered over twenty million views online. Their most recent poetry books have both been Amazon bestsellers: "All Our Wild Wonder" by Sarah Kay and "Date & Time" by Phil Kaye. Their work was featured in Uniqlo's "Poetry Beyond the Page" artist series, and sold in stores around the world. They are co-directors of Project VOICE - an organization that partners with schools and uses spoken word poetry to entertain, educate, and inspire.
Phil and Sarah will be available after the show to sign and sell their books.
*Please note that some material may not be suitable for children 14 and under.
More info at projectvoice.co
Troy Osaki
Troy Osaki is a Filipino Japanese American writer, performer, and teaching artist from Seattle, WA. He's received a fellowship from Kundiman and is a Youth Speaks Seattle alum and mentor. His work has been featured by platforms such as Buzzfeed, the Seattle International Film Festival, and online literary journals. He's a three-time Seattle Grand Slam Champion, a grassroots organizer with Anakbayan Seattle, and a graduate of the Seattle University School of Law. Troy writes in hopes to build a safe and just place to live in by uniting the people and reimagining the world through poetry.
Haley Heynderickx
It takes a mix of skill and luck to tend a garden well, but it's impossible without a certain amount of kindness tended. While the cyclical nature of gardening seems inherent, in some ways, Heynderickx is just beginning. Her debut album, named I Need to Start a Garden out of a search for calm through these waves of uncertainty and upheaval, is out now via Mama Bird Recording Co.
For the empathetic singer/songwriter, the reasons for seeking such acceptance and understanding stem from a life of paradoxes. Heynderickx grew up in a religious household in Oregon, closely identifying with her Filipino roots, but also straddling multiple cultural identities. Now residing in Portland, her faith is not overt, but her introspection and continued struggle for self-actualization are easily accessible and relatable.
Likewise, the tracks on I Need to Start a Garden reflect these seemingly disparate elements. Through soft acoustic guitar picking and deftly accented trombone sighs, Heynderickx's music immediately recalls folk music of the '60s and '70s mixed with a love of jazz radio. But Heynderickx's singing—her vocals that range from sultry to operatic—belie a tenacity in her soul.
More info at haley-heynderickx.com
The Westerlies
The Westerlies are a New York-based brass quartet comprised of childhood friends from Seattle: Riley Mulherkar and Chloe Rowlands on trumpet, and Andy Clausen and Willem de Koch on trombone.
Formed in 2011, the self-described "accidental brass quartet" takes its name from the prevailing winds that travel from the West to the East. "Skilled interpreters who are also adept improvisers" (NPR's Fresh Air), The Westerlies explore jazz, roots and chamber music influences to create the rarest of hybrids: music that is both "folk-like and composerly, lovely and intellectually rigorous" (NPR Music). Equally at home in concert halls and living rooms, The Westerlies navigate a wide array of venues and projects with the precision of a string quartet, the audacity of a rock band, and the charm of a family sing-along.
More info at westerliesmusic.com
Ticket purchases are non-refundable.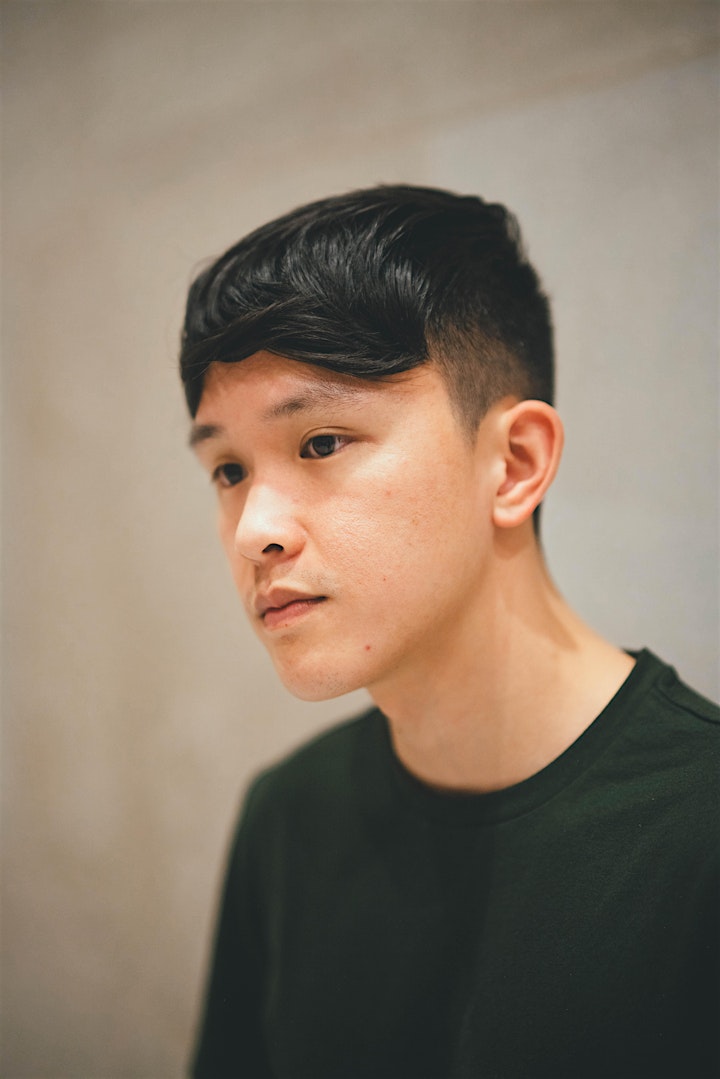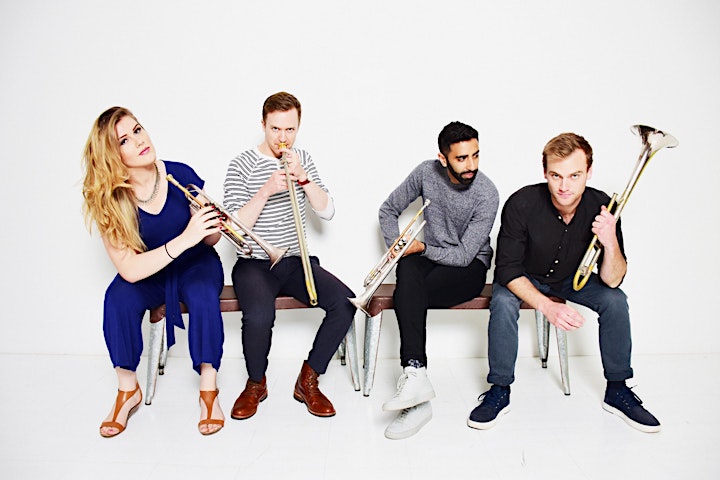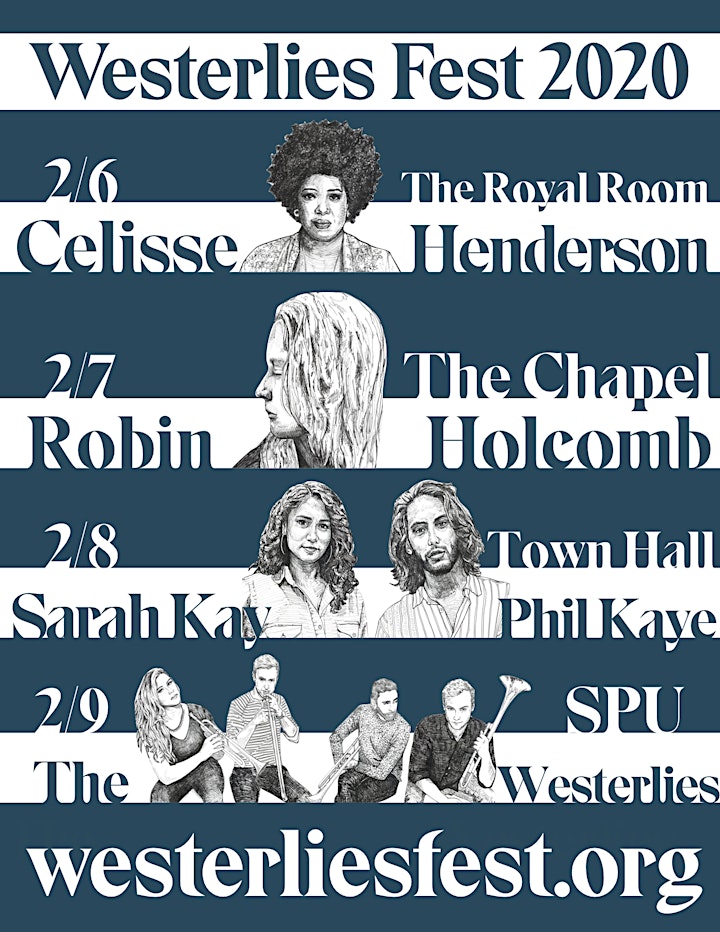 Date and time
Location
Town Hall Seattle
1119 8th Avenue
Seattle, WA 98101