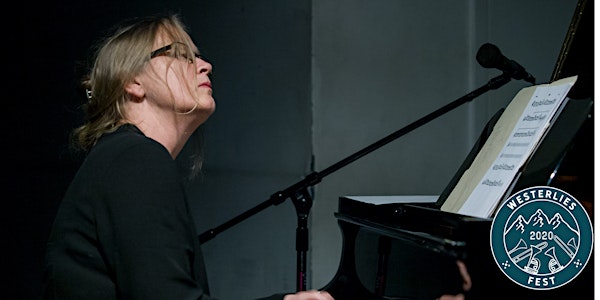 Westerlies Fest 2020 - Robin Holcomb // The Westerlies
Seattle-bred, Brooklyn-based brass quartet The Westerlies return home to present Westerlies Fest 2020.
When and where
Location
Good Shepherd Center 4649 Sunnyside Avenue North Seattle, WA 98103
About this event
Featuring pianist, composer, and songwriter Robin Holcomb and The Westerlies.
Full festival schedule at www.westerliesfest.org.
Robin Holcomb
Pianist, composer, singer and songwriter Robin Holcomb has performed her music internationally in venues including Carnegie Hall, the Meltdown Festival, the United Nations, Teatro Manzoni, Queen Elizabeth Hall, the Moers Music Festival, the Festival of Perth, the AngelicA Festival, the Hong Kong Arts Festival, the PuSH Festival (Vancouver BC), Arts at St. Ann's, the Guimarães, Verona, San Francisco, Vancouver and Earshot Jazz Festivals, Roulette and Royce Hall at UCLA.
Following Sundanese gamelan performance studies at UC Santa Cruz and several years sharecropping tobacco in North Carolina, she was active in New York for many years as a composer and performer with deep roots in the downtown avant-garde as one of the original Studio Henry mavericks.
Recently commissioned by The Philadelphia Orchestra for a new work to premiere in November 2020, Robin Holcomb is also a 2017 recipient of a League of American Orchestras' Women Composers Commission, a program administered by the American Composers Orchestra and supported by the Virginia B. Toulmin Foundation. The Portland Symphony Orchestra will premiere the resulting work "No Thing Lives to Itself" in January 2020. A stunning arrangement by The Westerlies, a NYC-based brass quartet, of her composition "Wherein Lies the Good" has recently been recorded and will be released this year.
Four Nonesuch recordings of her music are The Big Time, Little Three, Rockabye and Robin Holcomb. Other recordings include The Point of It All and Solos (Songlines), and John Brown's Body (Tzadik). Ms. Holcomb is currently completing a solo recording. Other recordings featuring her performances and distinct arrangements include Things About Comin' My Way: A Tribute to the Music of the Mississippi Sheiks (Red Hen), Rogues Gallery: Pirate Ballads, Sea Songs, and Chanteys and Son of Rogue's Gallery (Anti), The Anthology of American Folk Music: Revisited (Shout Factory), Burt Bacharach and Serge Gainsbourg tribute compilations (Tzadik), and Bill Frisell's Nashville.
Ms. Holcomb is a founder and co-director of The New York Composers Orchestra (with two recordings on New World Records) and WACO (The Washington Composers Orchestra), big bands for which she is also conductor, pianist and a principal composer. Composing instrumental and vocal music for a wide variety of chamber ensembles and soloists, Ms. Holcomb has been commissioned to create scores for dance, film, and theatre including PBS documentaries, the Joe Goode Performance Group, Bebe Miller Dance Company, Annex Theatre, and House of Dames. She recently scored collections of silent films by Mikio Naruse, released on the Criterion Eclipse series.
Her most recent song cycle We Are All Failing Them, a sidewise regard of the Donner Party saga with film and magical objects, premiered at Seattle's Northwest Film Forum. An earlier song cycle with film, The Utopia Project was based on histories and artifacts from utopian communities which thrived in the Pacific Northwest in the late 1800s premiered at Mass MoCA. Angels at the Four Corners, a song cycle reflecting the composer's experiences sharecropping tobacco in North Carolina, and O, Say a Sunset, regarding of the life and work of American environmentalist and author Rachel Carson, both toured the United States.
In addition to orchestral commissions, current projects include a solo recording of songs and a duo recording of with cellist Peggy Lee.
Born in Savannah, Georgia, Robin Holcomb has lived in Seattle, Washington for many years.
"Attempt to define her music if you care to, but Holcomb has defied strict categorizations since her emergence on New York's downtown scene, more than thirty years ago. Now living in the Pacific Northwest, this fascinatingly eclectic pianist, composer, and singer has few qualms about mingling folk, jazz, chamber music, and points between and beyond in arresting original music." (The New Yorker)
More info at robinholcomb.com
The Westerlies
The Westerlies are a New York-based brass quartet comprised of childhood friends from Seattle: Riley Mulherkar and Chloe Rowlands on trumpet, and Andy Clausen and Willem de Koch on trombone.
Formed in 2011, the self-described "accidental brass quartet" takes its name from the prevailing winds that travel from the West to the East. "Skilled interpreters who are also adept improvisers" (NPR's Fresh Air), The Westerlies explore jazz, roots and chamber music influences to create the rarest of hybrids: music that is both "folk-like and composerly, lovely and intellectually rigorous" (NPR Music). Equally at home in concert halls and living rooms, The Westerlies navigate a wide array of venues and projects with the precision of a string quartet, the audacity of a rock band, and the charm of a family sing-along.
More info at westerliesmusic.com
Ticket purchases are non-refundable.