| | |
| --- | --- |
| Westchester Toddler Prep Workshop Series | |
Event Details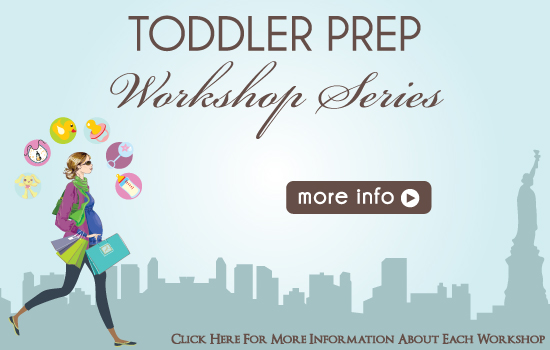 DATE: TBD - Toddler Prep: Potty Training
We'll review various potty training methods, what not to do, and what to do if your child regresses.
Thursday, April 19th: Toddler Prep: Toddler Foods (12:30PM- 1:30PM)
Transitioning to table food is often a difficult and frustrating challenge. We'll review optional menus, shopping lists and meal preparation ideas as well as tricks & techniques for getting your toddler to eat a well balanced diet.
Tuesday, April 24th: Toddler Prep: Raising a Financially Responsible Child (4:00PM- 5:00PM)
NY Life will teach us how to establish age appropriate chores & allowances and teach our children the fundamental importance of budgeting, giving and saving.
Thursday, April 26th: Toddler Prep: Positive Discipline & Development (12:30PM- 1:30PM)
Our expert child psychologist will help us navigate the terrible 2's, 3's and even 4's! We'll learn how to deal with tantrums, biting, hitting, setting limits & boundaries and helping our child make good decisions on their own.
**A LIGHT MEAL WILL BE SERVED**
A NY Mom's World Gold Discount Card ($50) subscription gets you discounts at participating local merchants.

A NY Mom's World Platinum Discount Card  ($75) subscription gets you discounts at participating local merchants PLUS:
FREE Access to Mommy @ Your Service || 855-MAYS-7411 (855-629-7411)
VIP early entrance to all NYMW events or $5 off standard registration
Exclusive invitations to private sales & screenings
FREE offers of local products & services

Where

Kidville
777 White Plains Road
Scarsdale, NY


Organizer
NY Mom's World LLC
NY Mom's World is the go to destination for busy New York moms! Visit us regularly for resources, giveaways, entertaining social media, quality adverts & articles, and our coveted monthly cute baby & toddler contests!
Website: www.nymomsworld.com
Westchester Toddler Prep Workshop Series