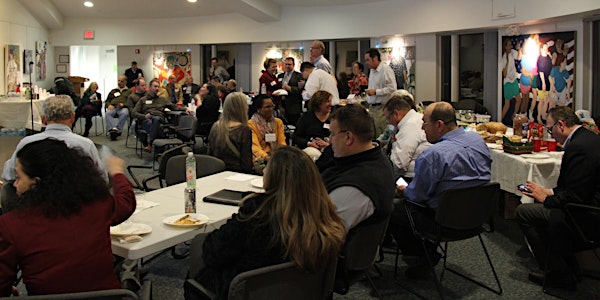 Westchester Networking Organization September 2022 Meeting
WNO September 2022 Meeting - Find Your Funny: Unlocking Your Sense of Humor at Work
About this event
This will be a virtual (on-line) meeting. Log-in information for the meeting will be sent to the registrants on the afternoon of the meeting.
Agenda:
5:45 p.m. - 6:00 p.m. Attendees sign in to the meeting
6:00 p.m. - 6:40 p.m. Networking
6:40 p.m. - 6:50 p.m. Announcements;
6:50 p.m. - 7:50 p.m. Andrew Tarvin: Find Your Funny: Unlocking Your Sense of Humor at Work
7:50 p.m. - 8:15 p.m. Networking
Abstract: As the world settles back into some form of this new normal, you may have noticed something is missing. No, not hugs, but humor. Amidst all the Zoom calls, reply-to-all e-mails, and attempts at hybrid work environments, many workers have lost their sense of humor and the workplace has lost its sense of humanity. Luckily, you can learn how to restore both.
There's no doubting that humor is a superpower: people who use humor in their work are more productive, less stressed, and happier. They also make more money and are seen as more attractive… but how do you effectively use humor in the workplace?
Whether you know you're hilarious or you're currently thinking "But I'm not funny," the truth is that you are far more capable than you realize. And when it comes to learning the skill of humor, the question isn't, "Are you funny?" The question is "What kind of funny are you?
Credentials: Andrew Tarvin introduces himself this way:
Ever since I can remember, I've been obsessed with efficiency. Even my name is efficient. My full name is Andrew, but I go by Drew because it's only one syllable. Efficient.
As an IT Project Manager at Procter & Gamble, I led multi-million-dollar projects for a $350 million brand. As a super-nerd (computer, math, engineer, sci-fi and video game) I was all about getting results. On my first day, my manager told me: It's better to beg forgiveness than ask for permission.
I decided to test this. I didn't give away company secrets or steal pens from the supply closet (okay, one); rather I added jokes to the ends of my e-mails, volunteered to MC meetings I wasn't invited to, and taught improv to my team. I even declared myself the Corporate Humorist, complete with business cards, a blog, and nameplate for my cubicle wall.
I made two discoveries...
Using humor at work helped me be more effective with the hardest thing I had to manage: fellow human beings.
Notes:
If you have registered for a previous WNO meeting, when you register this time, you can fill in fields where the information has not changed with "Same"!
A preliminary attendance sheet will be e-mailed to all registered attendees the weekend prior to the meeting. Please do not share or distribute the list out of respect for the privacy of the other attendees. We hope that the list is helpful both for you and for you to help others.
Make your evening a success - come prepared!
Please ensure you're attending from a quiet location.
Please keep your microphone muted except when speaking.
Find a variety of job-transition-related information on the WNO site: http://wno.weebly.com/