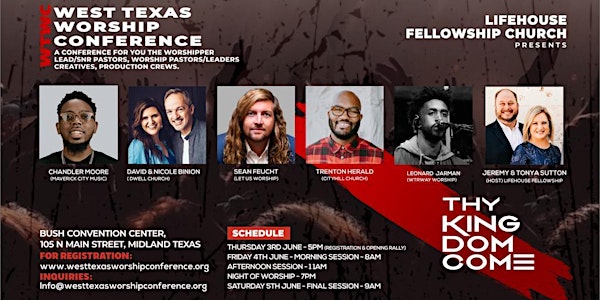 WEST TEXAS WORSHIP CONFERENCE
West Texas Worship Conference is a gathering of worshipers, creatives, lead pastors, and all children of God to glean from seasoned guests.
When and where
Location
Bush Convention Center 105 North Main Street Midland, TX 79701
About this event
Registration Highlights/Offers
******Available Optional Lunch - $15 (You can Purchase Optional Lunch Along with your conference registration)
****** Youth Conference Pass - $50 (Youth conference tickets available for All Youth Ages 12-17)
******Access to Conference Expo/Market
Join us for West Texas Worship Conference from June 3rd -June 5th at the George Bush Convention Center in Midland Texas, as we gather to learn, connect, get refreshed, and be empowered.
West Texas Worship Conference is a conference put together for The Entire Church Body and its Leadership. It's for YOU, the Worshipper, for Lead Pastors, Worship Pastors/Leaders, Creatives, Production Crews, and Youth Pastors/Youth Worship Leaders in the West Texas region, with the aim of fostering unity and oneness amongst the local churches and restoring the purity, power, and glory that accompanies worship in the Church.
Make sure to go through our Website for additional information. Click Here
SCHEDULE HIGHLIGHTS
(DAY 1) THURSDAY JUNE 3RD OPENING NIGHT
- REGISTRATION/CHECK IN BEGINS - 3 PM
- DOOR OPENS - 6 PM
- GENERAL SESSION - 7 PM
(DAY 2) FRIDAY JUNE 4TH - CONFERENCE SESSIONS 8AM – 5 PM
- NIGHT OF WORSHIP - 7 PM
(DAY 3) SATURDAY JUNE 5TH - INTERECESSION/WORSHIP - 9 AM
- TOWN HALL& NETWORKING - 9:30 AM
- GENERAL SESSION - 10:30 AM
- IMPARTATION SESSION - 11:30 AM
- DEPARTURE - 12:30 PM
The featured speakers are:
Pastor David and Nicole Binion (award-winning, recording worship music ministers) and lead pastors of Dwell Church in Dallas, TX,
Chandler Moore (Anointed minstrel and leader of Maverick City Music)
Sean Feucht (Let Us Worship)
Leonard Jarman (WTRWAY Worship) -( Award-winning producer and pianist for William McDowell, Tasha Cobbs, etc.)
Trenton Herald (Lead Pastor City Hill Church Holland Michigan)
Pastors Jeremy & Tonya Sutton (Hosts and Lead Pastor LifeHouse Fellowship)
Our hope is that after this conference, God's kingdom will invade our lives like never before, giving us renewed vision as we go back to our local churches refreshed and ready to serve excellently in a new dimension fully equipped, technically, spiritually, physically, and shining God's Glorious light in our communities.
We trust it will be an impactful worship experience and a time of fellowship with other churches in our community.
IMPORTANT NOTICE: COVID-19 GUIDELINES WILL BE ADHERED TO AT THIS EVENT. MASKS WOULD BE ENCOURAGED BUT NOT REQUIRED.
THERE WILL BE LIMITED SEATING AT THIS EVENT, SEATING WILL BE AT 50% CAPACITY SO ATTENDEES CAN BE SAFE AND ENJOY THE CONFERENCE WITH SOCIALLY DISTANCED SEATING AT THE BUSH CONVENTION CENTER.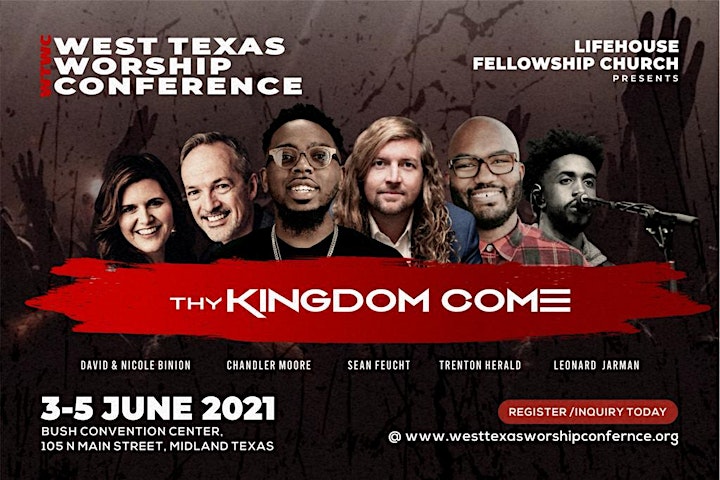 Terms & Conditions:
DISCLAIMERS
This service/event is recorded. By entering this venue, you consent to and authorize use in all media now known or hereafter derived, for any purpose, throughout the world and in perpetuity by West Texas Worship Conference and Lifehouse fellowship or anyone authorized by West Texas Worship Conference and Lifehouse fellowship, of all images and recordings of you and/or your voice (in audio, audiovisual, and/or photographic form) that may be taken. By entering this venue, you release and discharge West Texas Worship Conference and Lifehouse fellowship and any of its affiliate or assigns, from all claim whatsoever in connection with or use of your image, likeness and/or voice. You may be denied entry into, or removed from, the conference where the conference organizers have reasonable grounds to do so, including if you breach these Terms and Conditions, or you are intoxicated, under the influence of illicit drugs, inappropriately attired or adversely affecting the enjoyment of the event by others. The West Texas Worship Conference and Lifehouse fellowship recommends that you confirm your registration with our office prior to booking any flights &/or accommodation. The West Texas Worship Conference and Lifehouse fellowship Office does not accept any responsibility for losses incurred for flights &/or accommodation booked for the conference. The organizers of the West Texas Worship Conference reserve the right to change any of the published conference details without notice and have the final say on any matter relating to the conference. Please note that conference office also reserves the right to cancel your registration at any time on grounds of incorrect, fraudulent, or misleading information provided as part of the registration process.
CANCELLATIONS/REFUNDS
We understand that people's circumstances can change and provide the following alternatives to assist you. Cancellations (subject to availability) can be arranged, by writing to the Conference Office before 1st May 2021. Registrations can be canceled and refunded for an administration cost of $40 per person. From time to time, there may be a need for special consideration of your circumstances in regard to this policy. If this is the case, please contact our office to discuss this further. Your registration and payment confirm that you have accepted this policy. Registrations may not, without prior written consent of the West Texas Worship Conference and Lifehouse fellowship Office, be resold or offered for resale at a premium (including via on-line auction or other unauthorized resale sites). If a registration is sold or used in breach of this condition, the registration may be canceled, and the current holder of this registration may be refused entry into the conference.
TRANSFERS
Transfers (subject to availability) can be arranged, by writing to the Conference Office before 1st May 2021. You are able to transfer your registration (only once) to another person or to the following conference year, at no extra cost.