Celebrate and learn about opportunities to help conserve the ecosystem that makes West Sound a special place to live.
About this Event
Families, homeowners, and people of all ages are invited to attend the West Sound Ecosystem Fair, which celebrates the place West Sound residents call home. Attendees will learn about opportunities to help conserve the West Sound's interconnected natural lands, wildlife, waterways, and aquatic species.
Celebrate the local ecosystem we call home
Enjoy interactive environmental education activities for all ages
Explore booths hosted by West Sound recovery and conservation organizations
Learn about challenges the community faces in protecting the ecosystem
Learn about programs that support property owners taking conservation actions on private land
Learn about conservation and citizen science volunteer opportunities
Parking and Accessibility
Parking is available in the north and south lots at South Kitsap High School. The entrance to the Fair is through the main/west doors. Those in need of accessible entrances should park in the south lot.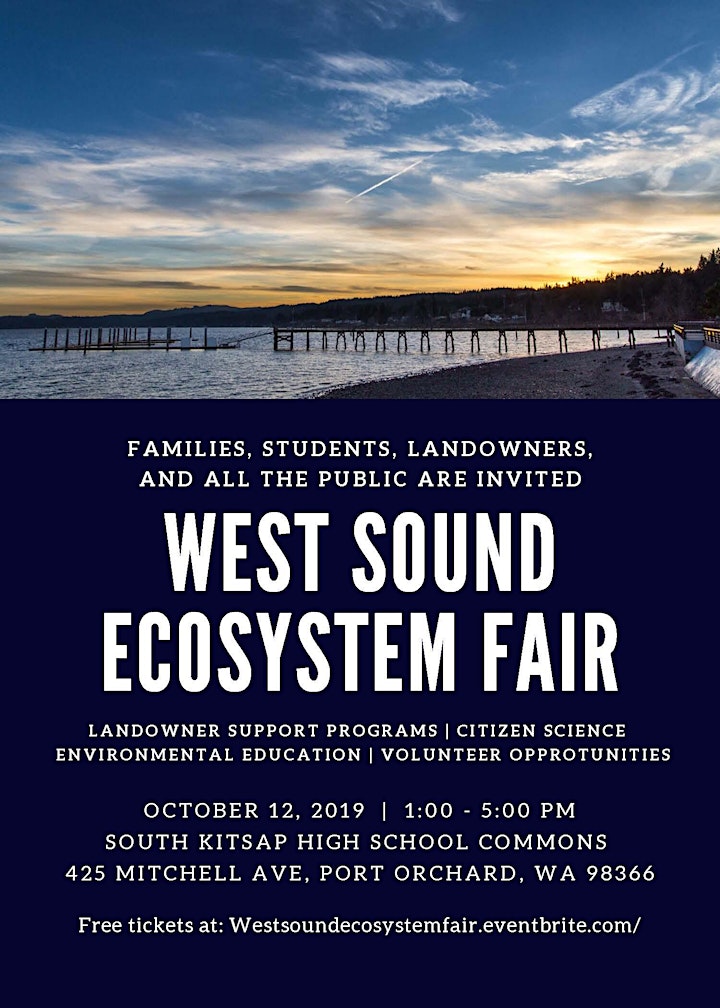 Event Sponsor
The Fair is sponsored by the West Sound Partners for Ecosystem Recovery, an organization of cities, counties, tribes, and non-profits that coordinate ecosystem and salmon recovery.
Participating Organizations
Bainbridge Island Watershed Council
City of Bainbridge Island
D&H Technology Solutions
Key Peninsula Gig Harbor Island Watershed Council
Kitsap Audubon
Kitsap Conservation District
Kitsap County Parks
Kitsap County Shore Friendly
Kitsap Mycological Society
Kitsap Noxious Weed Program
Kitsap PUD
Mid Sound Fisheries Enhancement Group
Northwest Hydraulic Consultants
Puget Sound Keeper Alliance
Olympic College
Salish Magazine
Sea Discovery Center
WA Dept. of Fish and Wildlife
West Sound Wildlife Shelter
Wild Fish Conservancy
WSU Kitsap Master Gardner Program
YMCA Camp Lake Helena/Seymour