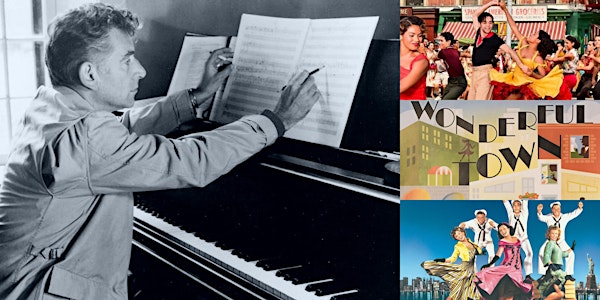 'West Side Stories: On The Wonderful Town With Leonard Bernstein' Webinar
Sales Have Ended
Registrations are closed
Looking to register for the replay? Visit AdventureClub.com > Virtual Events > Active Replays to browse our active replays, which expire one week after the program's original air date.
Can't make it live? Register and get access to the full replay for one week! New York Adventure Club | www.AdventureClub.com
About this event
While legendary musical composer Leonard Bernstein wrote in many styles for many different projects throughout his career, it was arguably his New York compositions for theater and film that defined his legacy for decades to come. But how did he get the opportunity to work on these landmark productions, and what made them so ahead of their time? This is the incredible story of Bernstein and his glorious trilogy of musical comedies that are still more relevant than ever.
Join New York Adventure Club as we explore the life of American musician and composer Leonard Bernstein, with a focus on his three major commercial works including On The Town, Wonderful Town, and West Side Story.
Led by Will Friedwald, columnist for the Wall Street Journal, our virtual analysis of this legendary maestro will include:
An overview of Leonard Bernstein's early life, from his minimal exposure to music before the age of 10 to the people who influenced him to become a composer while attending Harvard University
The story behind the development of On The Town, which started as a ballet by Jerome Robbins and Leonard Bernstein, before evolving into a feature film
A discussion of how Bernstein's reunion with collaborators Betty Comden and Adolph Green led to his second classic musical, Wonderful Town
The background of West Side Story, and how playwright Arthur Laurents originally conceived the idea of a contemporary Romeo-and-Juliet story set amongst gang warfare in New York
Changing attitudes in the depiction of New York, from the city of fun and frolic during WW2 to a hotbed of gang war and juvenile delinquency at the end of the 1950s
A survey of the great songs that came from On The Town, Wonderful Town, and West Side Story, such as "New York, New York," "It's Love," and "Tonight"
Afterward, we'll have a Q&A with Will — any and all questions about Leonard Bernstein or these major works are welcomed and encouraged!
Can't make it live? Don't worry, you'll have access to the full replay for one week!
See you there, virtually!
*Immediately upon registering, you will receive a separate, automated email containing the link to join this webinar
**For the best possible viewing experience, please ensure you're using the latest version of your internet browser — Google Chrome is the most compatible. Exact technical requirements and a webinar user guide will be shared in the automated confirmation email upon registration.
***A full replay of the experience will be available to all registered guests for up to a week
About Will
Will Friedwald is a featured arts writer for The Wall Street Journal and Vanity Fair, and the award-winning author of ten books on music and popular culture, including the new Straighten Up and Fly Right: The Life and Music of Nat King Cole, as well as A Biographical Guide To The Great Jazz And Pop Singers, Sinatra: The Song Is You, Stardust Melodies, Tony Bennett: The Good Life, Looney Tunes & Merrie Melodies, and Jazz Singing. He has written over 600 liner notes for compact discs, received ten Grammy nominations, and appears frequently on television and other documentaries. He is also a consultant and curator for Apple Music.
Testimonials
"West side story is my favorite ever Musical and I have a lot of touches with Bernstein's family and his work but I did not know much about the background of the area. Learn so so much tonight. Thank you so much" -Sharon
"Great mix of context and content! Will was, as always, a knowledgeable and delightful host and you sure can't argue with the great music!" -Bee
"Bernstein's music is wonderful." -Philip
"The very knowledgeable lecturer presented a fascinating selection of historical videos of performances and some by unexpected artists." -Harold
"Great content, rare footage, enthusiastic presenter." -Donna
"Engaging, informative, surprising and fun presentation (as usual) by the great Will Friedwald." -Steven
"I enjoyed the clips that Will included in the presentation." -Wendy
"Getting to hear many West Side Story songs." -Bethene
"He's enthusiastic and knowledgeable. Finds interesting clips." -Jacquelyn
"The c chance to revisit a master and his masterwork." -Nina
"Clips, music and commentary." -Diane
"Loved the music and Will!" -Melinda
"The archival footage was extraordinary." -Stephanie
Disclaimer
By attending a New York Adventure Club experience, you accept our terms of service.
Categories: Virtual, Art & Entertainment