Multiple Dates
West Riverfront Park - Design Competition Interviews
Description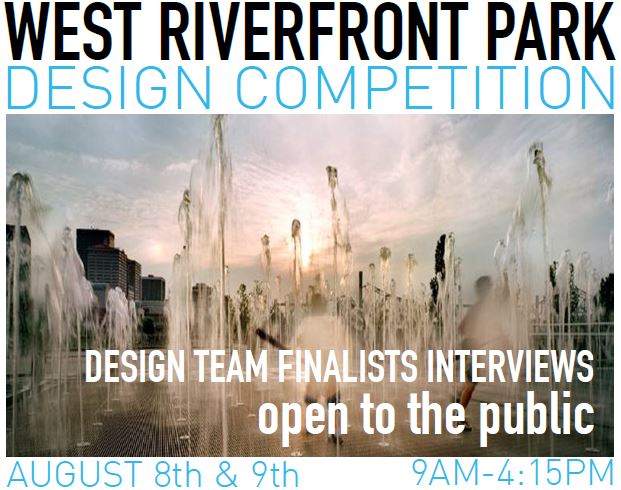 The Detroit RiverFront Conservancy and the City of Detroit Planning Department are inviting the public to help shape the future of West Riverfront Park.

Eight teams comprised of some of the nation's leading design firms will compete to plan the future of Detroit's West Riverfront Park. Presentations of their qualifications and design philosophy will take place over two days and is open to the public.
The presentations will take place on Tuesday, August 8 and Wednesday, August 9 between 9:00 a.m. and 4:15 p.m. at the Wayne County Community College District - Downtown Campus, which is located at 1001 W Fort Street in downtown Detroit.
The interviews have been divided into four time blocks which include;
Morning - August 8, 2017
Alday-Jover Architecture in collaboration with Burohappold, Made Studio LLC, and Borderless (9:00AM-10:15AM)

EDSA/Mia Lehrer + Associates in collaboration with Langan, C74, and WSP (10:45AM-12:00PM)

Afternoon - August 8, 2017

Gustafson Guthrie Nichol in collaboration with Arup, Guy Nordenson Associates, Conversation Design Forum, Rossetti, Building Community Value, Saloniere, and Mannik Smith Group (1:15PM-2:30PM)

Hood Design in collaboration with DS+R, Richter, Arup, Fluidity, West 8, Ken Greenberg, Lotus Water, and Altus (3:00PM-4:15PM)

Morning - August 9, 2017

James Corner Field Operations in collaboration with Structure nArchitects, Giffels Webster, Sherwood Design Engineers, Akt Peerless, HR&A, Park Advocacy Planning & Stewardship, ETM Associates, CMS Cost Management Services, Eaustell Associates, Detroit Collaborative Design Center, and Mickey Fearn (9:00AM-10:15AM)

Michael Van Valkenburgh Associates in collaboration with Utile, Limnotech, Mobility in Chain (MIC), PEA, and NTH Consultants (10:45AM-12:00PM)

Afternoon - August 9, 2017
Reed Hilderbrand Landscape Architects in collaboration with Edwin Chan/EC3 Architecture, Lord Cultural Resources, Sherwood Design Engineers, Silman Engineers, ETM Associates, Craul Land Scientists, Irrigation Consulting, Lumens Lighting, and Faithful + Gould (1:15PM-2:30PM)

W Architecture and Landscape Architecture in collaboration with HR&A, Giffels Webster, Community Development Advocates of Detroit, Quinn Evans Architects, McEwen Studio, and Gardiner & Theobald (3:00PM-4:15PM)
Please click the "select a date" button in the upper right hand corner to register for this FREE event.

Organizer of West Riverfront Park - Design Competition Interviews
The Detroit Riverfront Conservancy (DRFC), a 501(c)(3) organization, is responsible for the establishment, improvement, operation, maintenance, security, programming and expansion of the Detroit RiverWalk and associated green spaces. Through its public/private partnerships, the DRFC will support the development of the riverfront district and facilitate community access to the waterfront.