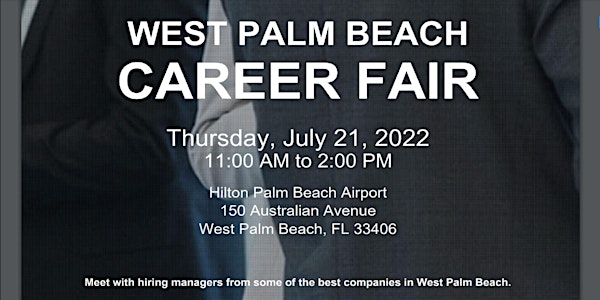 WEST PALM BEACH LIVE CAREER FAIR -JULY 21, 2022
Location
Hilton Palm Beach Airport
150 Australian Avenue
West Palm Beach, FL 33406
Find a Career at our FREE WEST PALM BEACH LIVE Career Fair. It is a must attend. Meet with top hiring and recruiting companies in West Palm.
About this event
WEST PALM BEACH CAREER FAIR JULY 21, 2022
ABOUT THIS CAREER FAIR
In the market for a job? Looking to change careers? Want to learn more about exciting companies? Just want to see what's out there?
THE WEST PALM BEACH CAREER FAIR
No matter what stage of work life a person is in – whether just starting out or deep into a sustained career path – the West Palm Beach Career Fair is a great way to get a feel for what comes next. Our hiring events are excellent networking opportunities that offer a chance to move into a new industry or position.
COST OF ATTENDING
FREE for all Career & Job Seekers. If you are an employer looking to participate in this event, call us toll-free at (855) 456-7159 or email sales.team@ncfevents.com
LOCATION & TIME
CAREER FAIR LOCATION
Hilton Palm Beach Airport150 Australian AvenueWest Palm Beach, Florida 33406
TIME OF THIS EVENT
11:00am – 2:00pm
WALK-IN'S ARE WELCOME! BRING YOUR FRIENDS & FAMILY MEMBERS!
EMPLOYERS LOOKING TO ATTEND THIS EVENT
For more information and to register your Company, call us toll-free at (855) 456-7159, visit nationalcareerfairs.com.
AVAILABLE OPPORTUNITIES AT THIS EVENT
Solar Sales Representative, Roofing Sales - Design your work schedule, Collections Representative, High paid- Roofing Sales Consultant, Damage Assessor, High Income Outside Roofing Sales, Storm Restoration Sales ***WEEKLY PAY + UNCAPPED COMMISSION***, Roofing & Solar Sales Representative, Customer Care Team + Sales (Commision & Bonuses), CUSTOMER OPERATIONS, BENEFIT REPRESENTATIVE, SUPERVISING PARTNER, MANAGING PARTNER, REGIONAL PARTNER, Controller, Service Plumbing Tech, Service Plumber, Service Plumbing Tech, Sales Insurance Brokers (no license needed, Administrative Assistant (Bilingual), Delivery Driver, Library Assistant, Crew, Small Cargo Van Delivery Driver, Front Desk Agent, Part-Time Stocker, Part-Time Cashier, Guest Advocate (Cashier or Front of Store Attendant/ Cart Attendant), Bookseller - PT, Babysitting and Childcare, Ticket/Gate Agent (Seasonal) - PBI, Vehicle Movement Specialist- West Palm Beach, Estate Manager - Jupiter, FL, H2B Positions, Personal Computer Technician Trainee, Transportation Security Officer (TSO), Retail Sales Associate, Cashier & Front End Team Associate (Store #5758 - Greenacres, FL), Housekeeper, Consumer Safety Officer, Front Desk Receptionist, Lineman Apprentice, Front Desk Coordinator, Dispensary Associate - Part Time (Weekends & Nights), UTILITY BILLING COORDINATOR, Local Food Delivery Driver (WPB), District Manager, Medical Receptionist, Overnight Inbound (Stocking), Utility Technicians, West Palm Beach, FL, Paid Training,Benefits,Co Vehicle, Unit Secretary Labor and Delivery Full Time Days, Benefits Manager, AND MORE!