Description
Juneteenth is Freedom Day - an American holiday that commemorates June 19, 1865, the announcement of the abolition of slavery in the U.S. state of Texas, and more generally the emancipation of enslaved African-Americans throughout the former Confederacy of the southern United States. [Source: Juneteenth.com]
With that in mind, West MI Royal Roots is putting together this amazing event in honor of the Juneteenth holiday, and making in into our own in order to show the African-American community that we are here to show appreciation, and celebrate our culture. This celebration will be centered around the black culture within our very own city. With Black owned businesses, organizations that are pillars within the African-American community, and performers, we have created an atmosphere to show the community how much we love, appreciate and support those within it. Come on out for food, fun, prizes and endless amounts of activities provided by the community, for the community!!
There is a 21+ after party event available here: https://www.facebook.com/events/371302603385256/

**If interested in being a vendor, sponsor or volunteer, please fill out appropriate forms here:
Volunteer Form: https://www.123formbuilder.com/form-3806755/
Sponsorsing/Vendor: https://www.123formbuilder.com/form-3806646/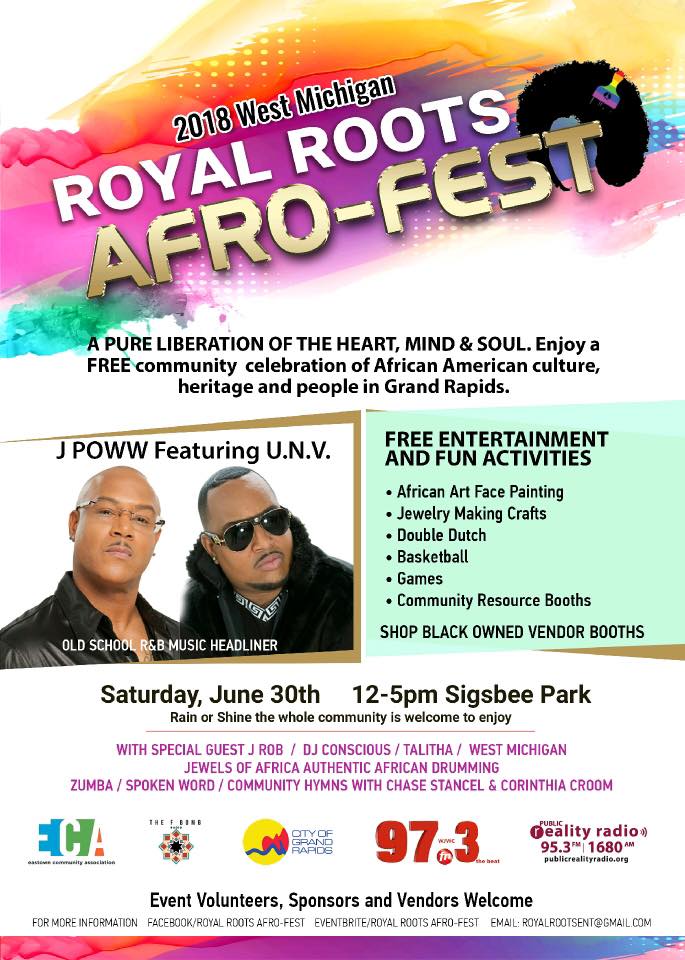 ---
Royal Roots Entertainment is collaborating with Public Reality Radio, Eastown Community Association, Neighborhood Match Fund, and the Office of Special Events – City of Grand Rapids and the Mobility Grant for the event of the summer!