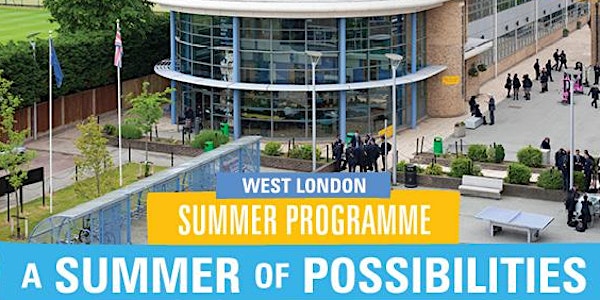 West London Summer Programme - Family Thursday Evening Events
When and where
Location
Ark Burlington Danes Academy Wood Lane London W12 0HR United Kingdom
Description
The West London Summer Programme would like to invite our programme participants (students aged 7 to 17, who attend a West London school and have signed up to attend one or more of our programmes) and their families (including siblings and parents) to attend one of our three Thursday evening events.
Our three Thursday evening events are:
PAST EVENT - NO LONGER AVAILABLE TO BOOK- Thursday 10 August – PAST EVENT: Thursday 27 July – Film screening of Lego v Batman Movie and a range of food and snack options* (Primary focus but older siblings are welcome)
PAST EVENT - NO LONGER AVAILABLE TO BOOK - Thursday 3 August – BBQ and a range of entertainment for all the family (including photo booth, carfts)
Thursday 10 August – Film screening of Alice through the looking glass and a range of food and snack options*
*For our two film screenings we will have a wide range of snacks and food as follows:
Hot dogs
Nacho's with dips
Popcorn
Ice cream pots
Selection of drinks
The events run from 18:00 to 20:00. We will be able to allow entry to Burlington Danes Academy from 17:30. Our team will be located by the gates on both Wood Lane and
On Thursday 17th August we will have a lunch open to our Summer Programme participants and their families during the 'Voices Festival'. This requires a separate registration as it is part of this special one-day event, click here for more information and to register.

At each event there will be complementary refreshments and food options. All meat served is halal.
We have limited tickets for each evening, please register yourself to attend and your family members (siblings and parents).
We look forward to welcoming you to Ark Burlington Danes Academy, using their state of the art facilities and catering. These events are run by the Ark Schools Events team.
If you have any questions about this event or need to cancel a ticket please contact the Ark Events team: events@arkonline.org.
The West London Summer Programme Team