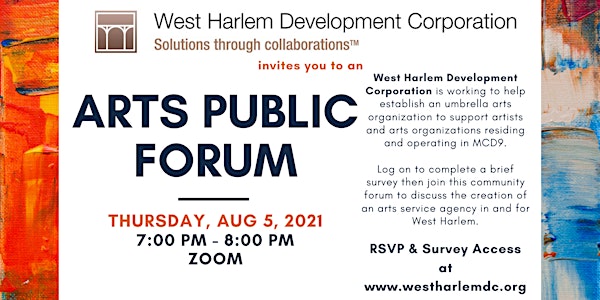 West Harlem Arts Public Forum by WHDC
An arts service organization is coming to West Harlem! Join this community forum to give your input on our unique arts & cultural needs.
About this event
The West Harlem Development Corporation (WHDC) is committed to establish an umbrella arts organization serving artists and arts nonprofits in Manhattan Community District 9.
This Arts Public Forum is a dialogue where community input is welcome to help shape the vision of an arts service agency based in West Harlem. Other opportunities for sharing ideas include:
Interviews
Surveys*
Other community events
This Zoom information session will be led by professional consultants who will guide attendees through the process of brainstorming toward a viable blueprint for a West Harlem arts service umbrella organization.
*WHDC is conducting an Arts Services Survey (English/Spanish) to better understand the impact and role of the arts in MCD9 and surrounding neighborhoods. Please visit westharlemdc.org in order to access it.