Event Information
Location
Las Vegas, Nevada
4949 Rancho Dr.
nv
Refund Policy
Refunds up to 30 days before event
Description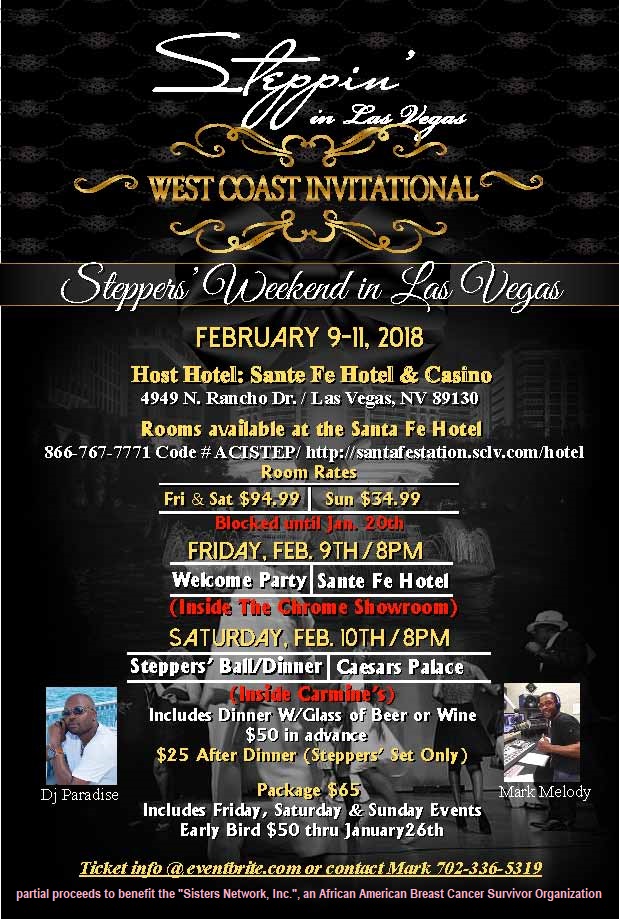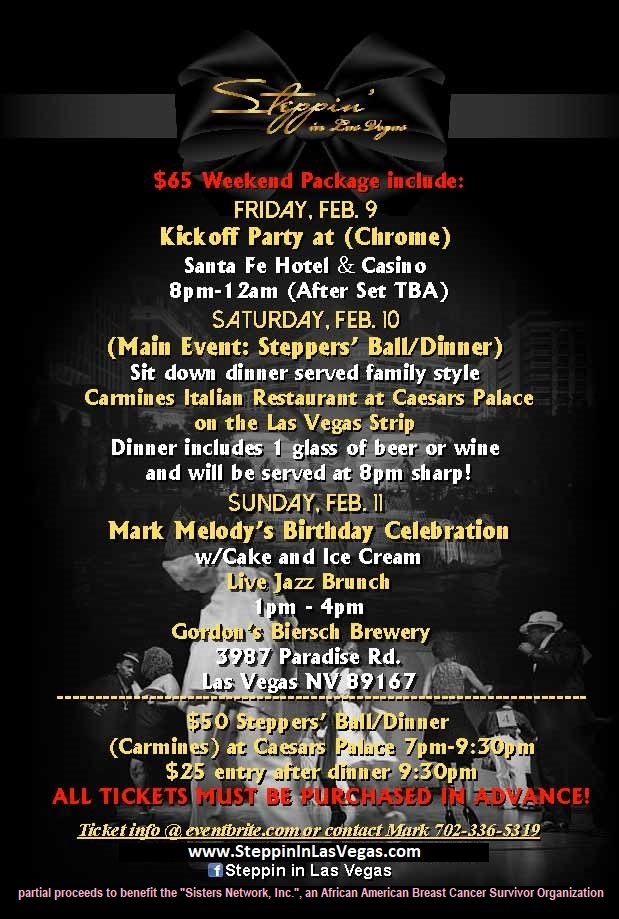 Enjoy a Steppers weekend in Las Vgas!
For steppers discount room rates call Reservations (866)767-7771, identify yourself as a guest of the group
"Steppin in Las Vegas" and offer code ACISTEP. You can also go to the following web link://santafestation.sclv.com/hotel and enter ACISTEP. To get the discount room rate, a credit card must be posted. Free parking/valet parking is avalible.
--------------------
----
$65 Weekend Package include:
FRI FEB 9 kick off party at (Chrome) Santa Fe Hotel & Casino 8pm-11pm (After Set TBA)
SAT FEB 10 (main event Steppers Ball) Sit d
own dinner served family style inside Carmines at Caesars Palace. Dinner includes 1 glass of beer or wine and will be served at 8pm sharp! Music with (Mark Melody & Dj Paradise)
SUN FEB 11 Mark Melody B-Day Chill w/cake and ice cream(Gordon Biersch) 2pm - 6pm


------------------------


$50 Steppers Ball/dinner (Carmines) inside Caesars Palace 7pm-9:30pm
$25 entry after dinner 9:30pm
To purchase tickets go to steppininlasvegas.eventbrite.com or call Mark at (702)336-5319
ALL TICKETS MUST BE PURCHASED IN ADVANCE BEFORE JAN 29
Date and Time
Location
Las Vegas, Nevada
4949 Rancho Dr.
nv
Refund Policy
Refunds up to 30 days before event