Description
Discover the drumming traditions of Ghana and the Ashanti. Join us for a journey into the healing modality of dynamic rhythm.

Students will be guided in a coordinated drum circle and learn the skills to drum well and have fun while doing it. Discover drumming skills, African history, instruments, and meditations for healing ourselves through drumming.

No experience necessary. All drums are provided, but feel free to bring your own if you have them!
Want to see what the class is like? Check out this video done by a local UMD student on the class! https://vimeo.com/268320442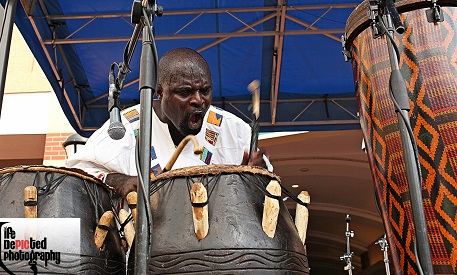 ---
About the instructor: Nana Frimpong was introduced to the colorful traditional ceremonies of the Ashanti people in his native Ghana at an early age. By the time Nana was 10 years old, he had become a fixture in the folklore group of the palace of his home town in Effiduase, Ghana where his grandfather, the late Nana Frimpong Mposo was a revered traditional ruler. Nana was the youngest of this group which consisted of elders over 65 years of age. His early exposure to the folklore group nurtured the development of what would soon become the basis of a musical expression that touches on every segment of the emotions of our daily lives.

Nana uses his musical talents to convey messages of social and spiritual interaction between self and soul, self and others, self and ancestors, and self and God! Nana has performed in a variety of venues throughout the Washington, DC area including the Smithsonian Institute, National Geographic and a number of outdoor concerts celebrating the rich history of West African music. Originator of "Roots of Africa", Nana is currently a founding member of "Nana Frimpong and the Royals". His influences include Divine Drummer, Kofi Ghanaba, Okyerema Asante, Tito Puente, Koo Nimo, Ladysmith Black Mambazo and Fela Kuti.

Nana is passionate about teaching the next generation of drummers. He leads instructional classes on the Xylophone, Balofon, Kalimba, Atumpan Drums, Congas and Talking Drums by appointment.