Description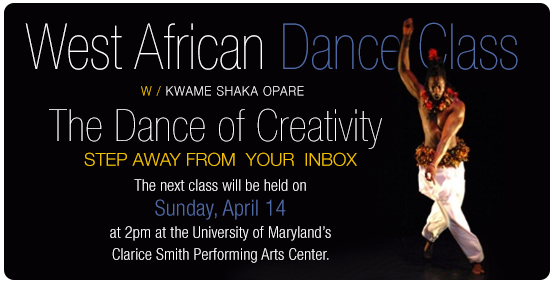 About the class
Kwame's 75-minute West African dance classes are a high-energy blend of contemporary and traditional SeneGambian and Mali dance styles as well as endeavors into Ghanaian, Nigerian, and Guinean dance forms. Regardless of your skill level, Kwame requests an open mind and willingness to connect with your body, rhythm and movement. Men are encouraged to attend. This class will be held on Sunday, April 14 at 2pm at the University of Maryland's Clarice Smith Performing Arts Center. Please register by Friday April 12. DROP-IN fee: $20 at the door.
This class is perfect for you if:
You're a creative professional, indie consultant or dancer who draws inspiration from music

and movement

You're looking to spice up your workout routine and spend too much time 'connected' to a
device

You believe that anyone can benefit from arts integration, and inspiration can strike anywhere.
Some benefits of attending this class
Dance is a means of EMPOWERMENT + stress buster

Get a great workout under the direction of a renowned instructor, and support the arts!

Break out of your comfort zone and challenge yourself to learn something new—channel this positive energy to continue making bold decisions and creating opportunities in all areas of your life!
About the Instructor

Kwame Shaka Opare began studying West African dance with traditional West African dance and drum masters at the age of 13. By 21 he had performed and/or produced works for many of the major traditional African and traditional/contemporary African dance companies in New York City including Maimouna Keita Dance School and Forces of Nature.

In 1998 Kwame began touring with the hit Broadway show, STOMP. During his six year tenure, Kwame attained the lead role and became rehearsal director for two touring casts. Post-Broadway, Kwame has created critically-acclaimed, award-winning work that speaks to social issues around the world.

Kwame currently consults with classroom teachers and administrators as an Arts Integration specialist, is a sought after teaching artist in Maryland schools, and is a Masters of Fine Arts candidate (2013) and instructor of dance at the University of Maryland College Park.
For more information, visit: http://www.mpactpr.com/creative-spaces-2/

Event Sponsors