About this Event
Friday November 15, 2019
Wess Meets West
Glacier
Pray for Sound
Cavallo
8pm
$8 advance / $12 day of show
WESS MEETS WEST
Wess Meets West (Hassle Records) infuse elements of Electronic Music and Post Rock to blend otherworldly soundscapes. They have been featured in Paste Magazine, Electronic Musician magazine, Premier Guitar, NPR Morning Edition, CBS, Wrangler, ESPN's X-Games and most recently, Spotify's Deep Focus Playlist which has over four million plays. Wess Meets West has been labeled as a "Top Ten Bands from CT You Need to Know" and a "Top Up-And-Coming Connecticut Bands to Check out in 2016." 2017 Best In State CT New England Music Awards.
https://wessmeetswest.bandcamp.com/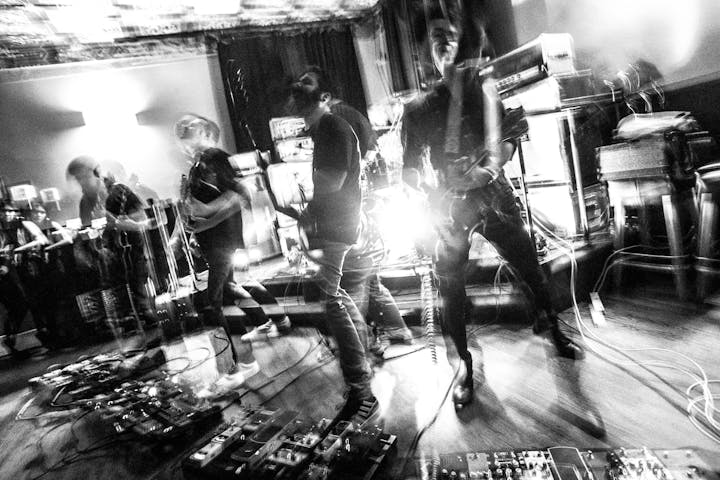 GLACIER
Glacier is a five-piece instrumental band based in Boston, MA whose music fully embodies their name: a crushingly loud and unrelenting force.
In 2017, Glacier released  "Though Your Sins Be As Scarlet, They Shall Be White as Snow; Though They be Red Like Crimson, They Shall Be As Wool." which is available in the US through the Deathwish, Inc e-store and in Europe through Kapitan Platte. The record was well received throughout the international instrumental community and was voted into the Listeners Choice Top 50 Albums of 2017 by Post Rock and listed in the top 50 Favorite Albums of 2017 published by Arctic Drones.  
Glacier returns in 2019 with their strongest effort to date. Simply titled "No Light Ever", this record is the culmination of years of hard work and is every bit as bleak as the name implies. The album was released on vinyl through Wolves and Vibrancy Records and CD pressing through Post.Recordings and has had an extremely positive reception, receiving coverage in Decibel Magazine, CVLT Nation, Heavy Blog Is Heavy, Everything Is Noise, Echoes and Dust, and many others.
"...['O World! I Remain No Longer Here.'] is a fitting introduction to the thunderous introspection embodied by Glacier's new LP, No Light Ever." - Decibel Magazine
"deep and brooding...A symphony of shattering highs and rumbling lows" - CVLT Nation
"Like ice scraping powerfully against the earth's crust, Glacier drag you along at a methodical and purposeful pace, slowly crushing you into a pulp while laying waste to what once stood before you." - Heavy Blog Is Heavy
www.facebook.com/GlacierBandMA/
PRAY FOR SOUND
Without ever uttering a word, Pray For Sound channel music's curative power through instrumental transmissions of lush post-rock, cinematic production, glistening synth pop, and organic tribal percussion. The Boston quartet —Bruce Malley, Steve Aliperta, Joe Aylward, and Nick Stewart—fully realize the scope of that potential to heal on their fourth full-length, due out in Fall 2019. Originally formed in 2011 as a solo project for Bruce, Pray For Sound's origins can be directly connected to the founder's own journey. Deaf in his left ear since high school, Bruce envisioned an architecture for sonic catharsis on 2012's Monophonic. Joined by his bandmates around the same time, the group unlocked an inimitable chemistry, thriving on stage at countless East Coast shows and flourishing in the studio for 2014's Dreamer. The latter yielded "Sleeper," which impressively clocked 4.5 million Spotify streams as "Decayer" followed with 230K. Plus, MetalSucks declared the group, "The Best Instrumental Metal Band You'll Hear All Year."
http://www.facebook.com/prayforsound
CAVALLO
Cavallo creates dense, driving, horizon-expanding music. Wordless storytelling in the form of heavy instrumental rock that transcends genre. Post-rock, post-hardcore, post-math, post-language. It's the sound of open minds being expressed loudly. Their debut, "Interstices," has been crafted as a cohesive listening experience; an immersive journey through life and post-life. The seven tracks comprising the album are aesthetically distinct while still complementing one another as interlocking pieces of a whole. Relentless yet fluid rhythm changes, galvanic riffs with sudden transitions seamlessly shift songs in new and unexpected trajectories, leaving one breathless when all goes silent.
"Hailing from Brooklyn, the trio blend a heady mixture of classic cinematic post-rock, aggressively punchy math rock, and noodly prog." -Heavy Blog is Heavy
Performers
Date and Time
Location
Refund Policy