WESLEY STACE LIVE BENEFIT CONCERT ($25) ~ CONCERT & AFTER-PARTY ($50 to stay for a more intimate gathering with Wes & the band!)
About this event
Our Bayard Rustin Center for Social Justice is proud to present a benefit concert featuring beloved musician Wesley Stace in his only area appearance performin' with the "Late Style" band! 
Since 1988, Wesley Stace has released many albums under the name John Wesley Harding & recorded duets with Bruce Springsteen, Lou Reed, Rosanne Cash, & many other fab folx. Wes has published four novels, including the international bestseller "Misfortune", & co-wrote Mark Morris' memoir "Out Loud". He also created Cabinet of Wonders, a monthly show that plays at New York City's City Winery, which The New Yorker called "one of the finest nights of entertainment this city has to offer." He has taught at Princeton (hometown boy!), Swarthmore & Fairleigh-Dickinson; writes regularly for the Times Literary Supplement & the Wall Street Journal; & recently traveled abroad to premiere "Dido's Ghost", the opera on which he is collaborating with Errollyn Wallen CBE. Now Wes will be comin' straight outta' Philly to do a benefit show for our inspirational non-profit organization & the beautifully diverse communities we represent!
Come out for this very special concert & then if you donate $25 in addition, stay for a more intimate VIP after-party~ Chat with Wes & the "Late Style" band, snap some pix, & have some yummy snax…
To gain admittance to the apres-soiree after purchasin' general admission tickets aqui, please donate thru our dedicated non-profit PayPal Giving Fund, send us confirmation by email, & we will throw your names on the guest list~
All proceeds go toward findin' our Bayard Rustin Center for Social Justice a new home, so we can once again be an educational enclave, community activist center, & safe-space for our LGBTQIA kids, our intersectional families, & all our beautifully diverse folx, connecting our disparate communities, both locally & nationally.

IT'S HARD TO BE A SAFE-SPACE WITHOUT AN ACTUAL SPACE...
If you cannot afford full ticket price, please contact us as financial difficulties will never bar access for any of our community members to any of our events, be they fundraisers or not!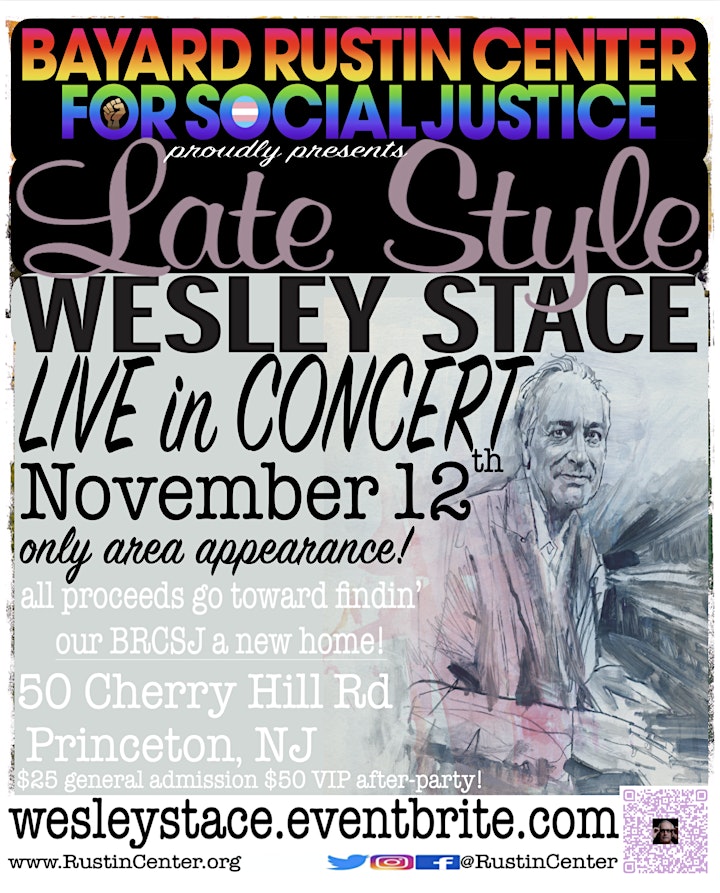 Organizer of Wesley Stace Benefit Concert!
The Bayard Rustin Center for Social Justice is a community activist center, educational enclave, & safe-space for our LGBTQIA kids, intersectional families, & all marginalized people, connecting our disparate communities, both locally & nationally. 
We have broadcast our Social Justice Power Hour live every weeknite since the pandemic started, creating an extraordinary virtual community & remote fellowship gathering thousands of viewers. The BRCSJ also organized Princeton NJ's first-ever Pride Parade & held NJ's first ever Virtual Pride with well over 10,000 folx marching in solidarity & celebration; offers free therapy & counseling in-house for our LGBTQIA youth; & holds numerous rallies, events, & happenings, both of-the-moment in response to current events & in dedicated planned programming in support of political, environmental, gender, & identity issues.
BRCSJ HQ is located physically in Princeton, NJ, & virtually at www.rustincenter.org.