Wesley College 4th Annual Health and Wellness Summit
Get Ready to Delve into Emerging Practice with our Guest Speakers, Vendors and Much More! Join us to Network, Learn and Earn CEUs!
About this event
Wesley College's Masters in Occupational Therapy program is proud to present our 4th Annual Health and Wellness Summit. This years theme will be focusing on emerging practice areas within the health field. We have a number of highly regarded speakers and vendors presenting on a range of emerging topics and offering resources. We have much to offer practicing health professionals, as well as prospective and current health students. This will be a great opportunity to network, deepen your knowledge and understanding of emerging practice areas and even earn 3 CEUs. Breakfast refreshments and lunch will be provided.
Buy your ticket today or email WesleySOTAboard@gmail.com for more information or if you are interested in being apart of the event!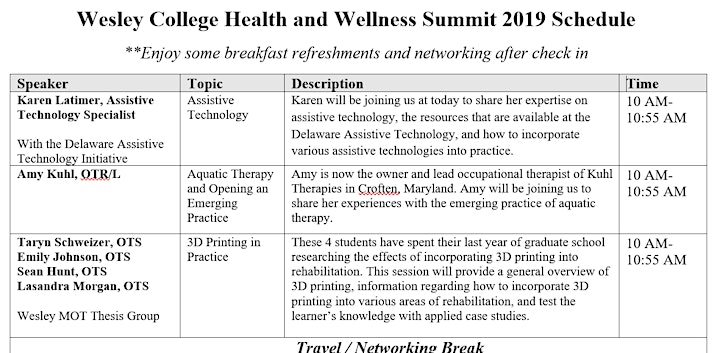 Be sure to stop by and visit the following vendors from 12-2!!
True Mobility
Lawall Orthotics
Delaware Assistive Technology Initiative
State of Delaware
Post Acute Medical Rehabilitation Hospital of Dover
Caesar Rodney School District
KT Tape
We look forward to meeting and learning with you all!
Organizer of Wesley College 4th Annual Health and Wellness Summit