Description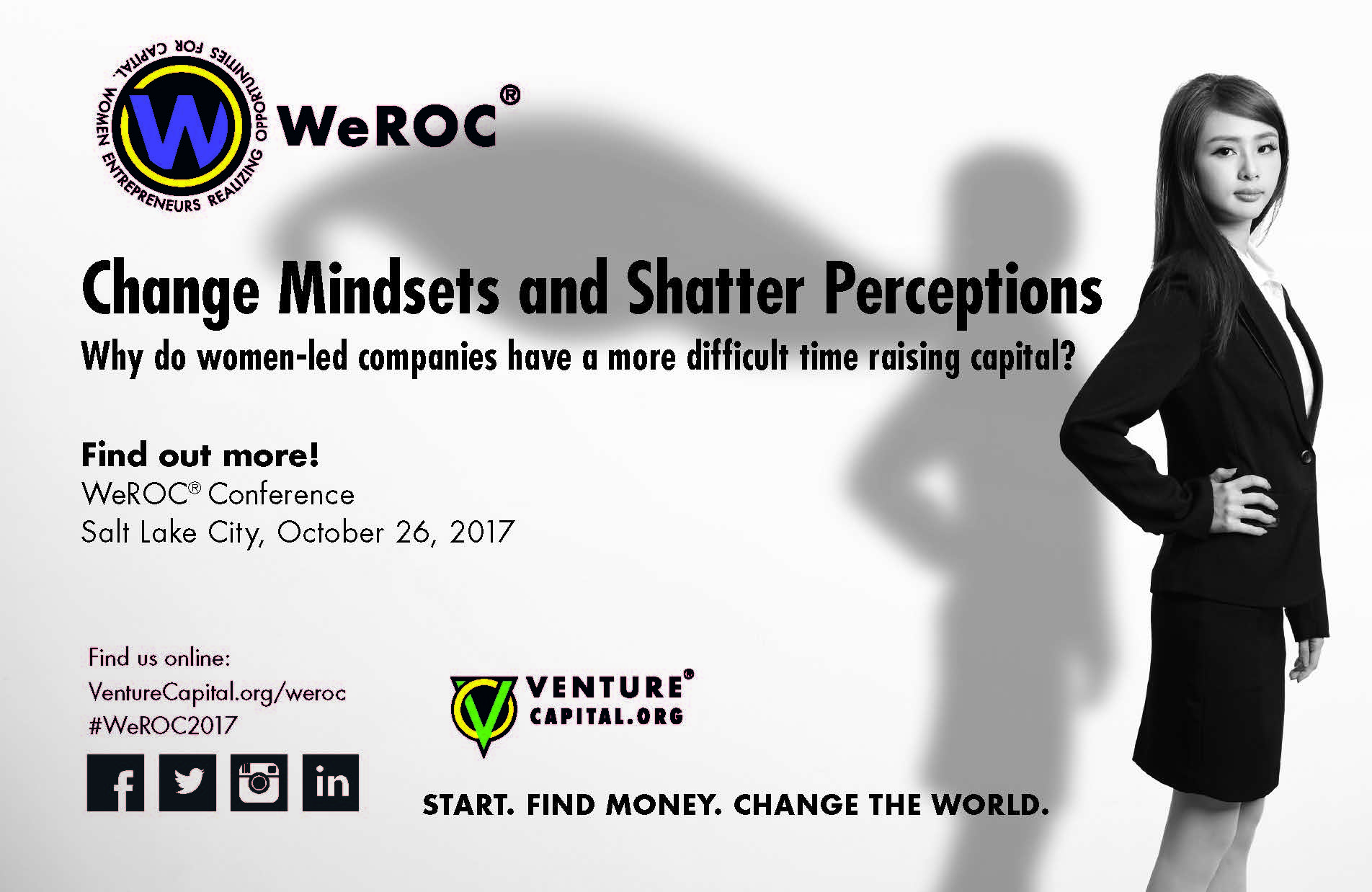 TWO FOR ONE TICKET SPECIAL!
Women Entrpreneurs Realizing Opportunties for Capital
WeROC
Are you a women owned business having trouble raising funds?
Learn from successful women investors, business owners, and influencers the secrets behind fundraising and overcoming issues and perceptions that you may not even know.
This is a full day of learning and networking.
The WeRoc Conference is a one day event to be held October 26, 2017 at Salt Lake Community College to investigate the "WHY" and the "HOW" of women raising funds for their companies.
The morning keynote will be given by Carolyn Rodz founder of Alice which is featured in Fortune, Inc., Fast Company, Entrepreneur and more. She has helped raise billions of dollars of capital for innovative organizations, created a luxury retail line that sold in over 400 stores worldwide, including Neiman Marcus, Harrod's, and Bloomingdales, and later launched a global marketing firm that supported specialty product launches within Fortune 500 enterprises and startups positioning themselves for industry leadership. Carolyn now serves as an advocate for women entrepreneurs, connecting them to sources of capital, strategic partners, and mentors to create businesses that scale. She is committed to closing the gender gap prevalent in the startup environment by helping female founders implement key strategies for sustainable, accelerated business growth. Carolyn was recognized by Inc. as a "17 Women to Watch in 2017," by Entrepreneur Magazine as a 2016 "Woman to Watch," and was selected to participate in the United Nations Foundation Global Accelerator. She is a member of the Dell Women's Entrepreneur Network, a Fortune Most Powerful Women attendee, and has received numerous accolades, including being chosen as a Sam Walton Emerging Entrepreneur and American Express Micro to Millions awardee. She is a TEDx speaker, regular contributor to major media outlets, and is a board member for the Texas A&M Mays College of Business. Carolyn resides in Houston, Texas with her husband and two boys, Luca (5) and Henry (3).

Following Ms. Rodz's keynote address, there will be two panels – one panel will focus on WHY it is difficult for a woman entrepreneur to raise equity funds for her company. The second panel will focus on HOW a women entrepreneur can overcome the challenges: Are there tools that can be used? Can a potential bias be changed? What are the next steps?
Lisa Conte is the lunch keynote and will talk about Resilience. Lisa has successfully raised $400M for her companies. She will energize the group during lunch, before going into the afternoon session.
In the afternoon, four regionally pre-selected women entrepreneurs will each present their company in a ten-minute "pitch" to a panel of venture capitalists, investors and influencers. The panel will be encouraged to give candid, direct feedback to help the presenters raise funds.
A reception for all participants will follow where the investors, influencers and entrepreneurs will be able to network and discuss the topics that were presented during the day.
WE HOPE YOU WILL JOIN US!