Werkgeluk dag voor (toekomstige) CHO's: Inside the wild waters of Insign.it
Description
Werkgeluk: hoe gaat dat nu echt?
Evertyhing you wanted to know and never dared to ask. Spraakmakende sprekers uit de praktijk ervaring delen hun ervaringen en worstelingen voor (toekomstige) Chief Happiness Officers, Werkgelukdeskundigen, Gelukscoaches en Teamcoaches. Kort en krachtige presentatie in TEDstyle waarna je jouw vragen kunt stellen.

Ontmoet Leon Wijnhoven, Oprichter en CEO Insign.it
Hij volgde de opleiding tot werkgelukdeskundige en teamflowcoach. Insign.it zette de Authentieke Dialoog als tool voor teambuilding regelmatig in.
Leon Wijnhoven:
"Ik ben gegroeid in mijn leiderschap, in het enthousiasmeren van anderen en in de openheid met collega's. Ook de eerste authentieke dialoog heeft van alles geactiveerd. Ik voel me een "rijker innerlijk mens."




Ontmoet Wilfred Korsten, mede-eigenaar Insign.it en COO
Ook hij volgde de opleiding tot werkgelukdeskundige en teamflowcoach en maakte een groeispurt in zijn leiderschap.
Wilfred Korsten:
"Werkgeluk vind ik vaak te "fluffy", maar ik ben positief verrast. In het MT weten we elkaar beter te vinden. Ik ga bewuster om met anderen, Het geeft me meer rust."


Ontmoet Joyce Speijcken, Chief Happiness Officer Insign.it
Ook z

ij

volgde de opleiding tot werkgelukdeskundige en teamflowcoach

en groeide in haar coaching.
Joyce Speijcken:
"Ik kreeg steeds meer inzicht hoe ik mijn talenten kon inzetten en hoe ik de tools voor werkgeluk in mijn coachingsgesprekken kon toepassen."


Onmoet Ralph Deguelle, Directeur en mede-eigenaar Kabisa, 3-voudig winnaar. Winnaar van Beste werktgever van Nederland, winnaar

Aantrekkelijkste werkgever en winnaar Nationaal Talentontwikkeling.
Samen met Vivian Say, CHO bij Kabisa, doken zij dieper in werkgeluk via Trainjegelukscompetenties.nl
Ralph Deguelle:
"Ga het echte gesprek aan."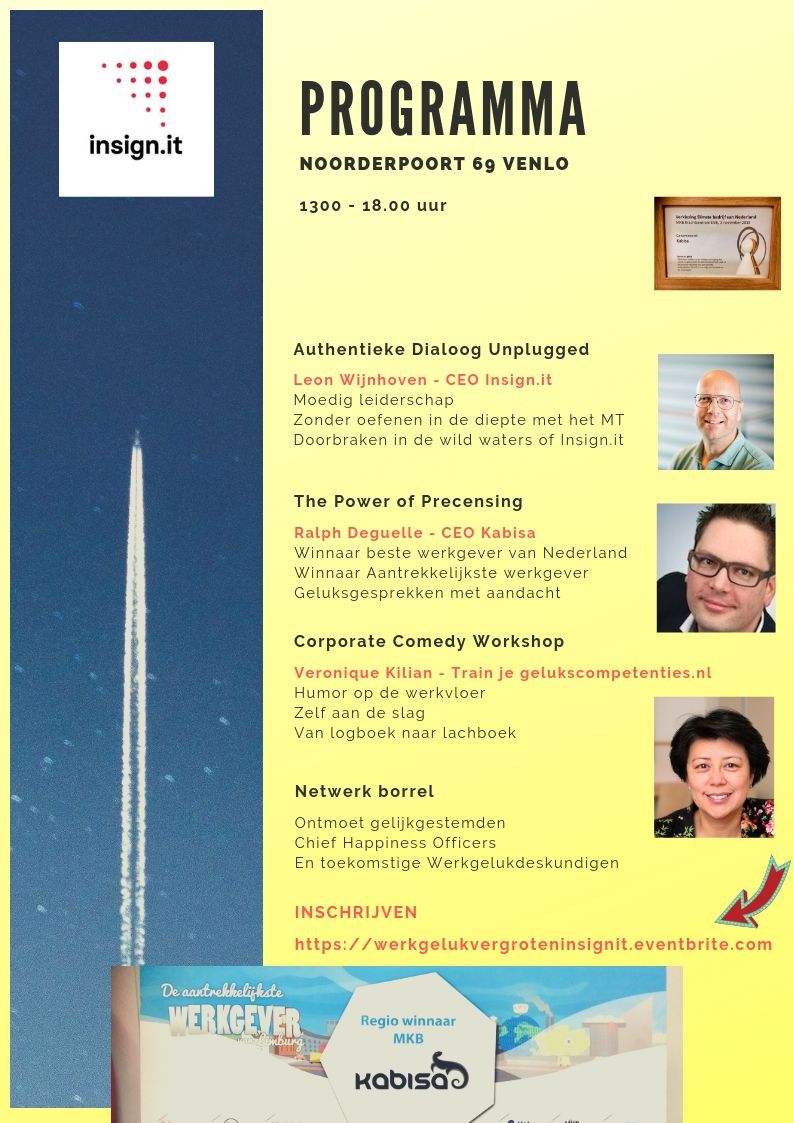 Doe je mee aan de opleiding tot Werkgelukdeskundige (CHO) en Teamflowcoach bij Trainjegelukscompetenties.nl? Of heb je deze afgerond bij Trainjegelukscompetenties.nl? Schrijf je dan in onderstaande link als communitylid van deze opleiding voor 50 euro excl. btw. inclusief de eventbrite kosten, hapjes en drankjes.
Ben je nieuw en nieuwsgierig? Boek een ticket als gelukszoeker en ontvang een hele middag inspiratie, lekkere hapjes én het boek Geluk op het werk? Train je gelukscompetenties! Voor 97 euro exclusief btw, inclusief het boek, lekkere hapjes, netwerkborrel en de eventbrite kosten.
Opleiding werkgelukdeskundige (CHO) en teamflow-coach
Wil je meedoen aan de opleiding tot Werkgelukdeskundige (CHO) en teamflow-coach? Kijk voor meer informatie op https://trainjegelukscompetenties.nl/opleiding-werkgelukdeskundige-in-semco-stijl/