Location
Pineapple Hill Saloon & Grill
4454 Van Nuys Boulevard
#N
Los Angeles, CA 91403
Live comedy can't be censored and with LA's most candid stand-ups bringing it all to the Pineapple, this is a show you don't want to miss!
About this event
** This special event is tonight Saturday, March 19th! We still have some tickets available but may sell out before showtime. We strongly encourage you to get your tickets now as they may not be available at the door. Look forward to seeing you all!
Table seating starts at 7pm with live jazz, comedy themed cocktails, food and beverage menu.
If you would like to reserve a specific table for your group or have any questions, please call Andre at: (818)731-6875.
"We're Still Here!" A Night of Uncensored Stand-up featuring Jamie Kennedy and after show DJ
Saturday March 19, 2022 is the two year anniversary since LA first went into lockdown and the Pineapple Hill Saloon & Grill is making it a celebration of many things. The people, the small businesses, the great comedians, musicians, artists and the many essential workers still here in our city.
And what better way to celebrate than with the best comedy, music and people all in one unforgettable night?
Angela Marsden will be hosting this special event at the Pineapple Hill Saloon & Grill in Sherman Oaks. The show will take place in the large outdoor patio area with table seating, food/drink service, and plenty of heat lamps to ensure the most comfortable, enjoyable experience. The show will follow with the best dance music hands down - DJ Malachai. Both indoor and outdoor areas will be open to all guests. * 21 and over only.
Show Schedule
7pm: Doors open with LIVE music, food & drink service.
8pm: Show starts with host Dave Carter and special guest comedians Dave Caira, Jamal Doman, Kim Clevenger, Bill Devlin, Patrick Keane and Jamie Kennedy, plus more surprise comedian appearances!
10pm - 2am: The super talented DJ Malachi knows how to feel the vibe of the room and will be spinning his special blend to get everyone moving to the dance floor! (indoor and outdoor will be open)
Jamie Kennedy is a comedian, producer, screenwriter and actor who first became known for his unforgettable role as Randy Meeks in the film "Scream" and the sequel "Scream 2." He went on to create and star in his own successful projects including his iconic, "The Jamie Kennedy Experiment," which became the WB Network's highest-ranking show at the time and has remained an all-time favorite for many. The show also reflected Jamie's remarkable talent for playing all types of characters but it was the wannabe rapper, "B-rad", that led to him write and star in his first major feature film, "Malibu's Most Wanted." The film became an ultimate cult classic and Jamie went on to become one of the most iconic comedians of his time. Today, he continues to reign at the top his game in live stand-up and as a creative force (writing, producing and acting) in film and TV projects. He also hosts his popular weekly podcast, HATE TO BREAK IT TO YA, where he gets right to the truth on a wide range of topics. https://jamiekennedy.com/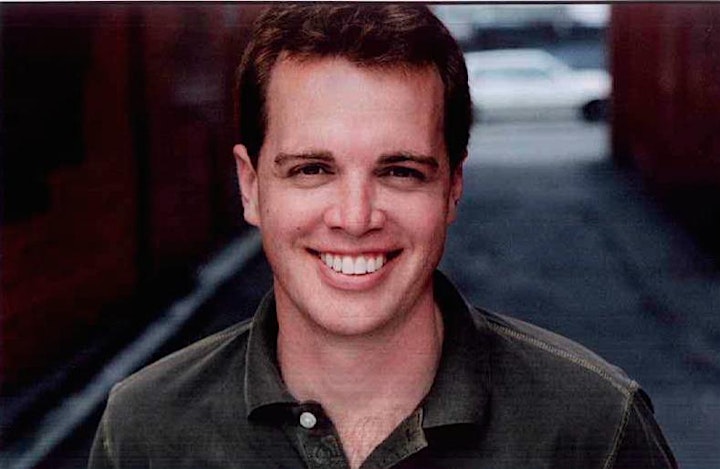 Patrick Keane has appeared on Comedy Central's 'Live At Gotham', the Late Late Show with Craig Ferguson, the Bob and Tom show, Comics Unleashed, the Montreal Comedy Festival and is a regular at the Improv and Comedy Store in Hollywood. He was also a cast member on My TV Network's "Tony Rock Project" (the white guy).
When not headlining himself, Patrick is the opening act for comedians such as: Nick Swardson, Joel McHale, Kevin Nealon, Kevin Pollok, Bobby Lee, Henry Phillips, Eddie Gossling and Bil Dwyer. While at home in Los Angeles he studies at the UCB theatre and Lesley Kahn institute. Asked what the key is to comedy, this writer/actor/comedian says, "I try not to be funny and it usually works."
With multiple appearances on the Late Late show with Craig Ferguson, his record setting viewership on Comedy Central, and his ability to tell the difference between people from Ireland and people from Northern Ireland, Patrick is the obvious choice to be the next host of the Oprah Winfrey show.
His dry self-deprecating style originates from influences Bill Murray and Gene Wilder and his favorite stand up comedians are Chris Rock, Lewis Black, Gary Shandling, Jerry Seinfeld and many other female comics not from New York. https://acmecomedycompany.com/comics/patrick-keane/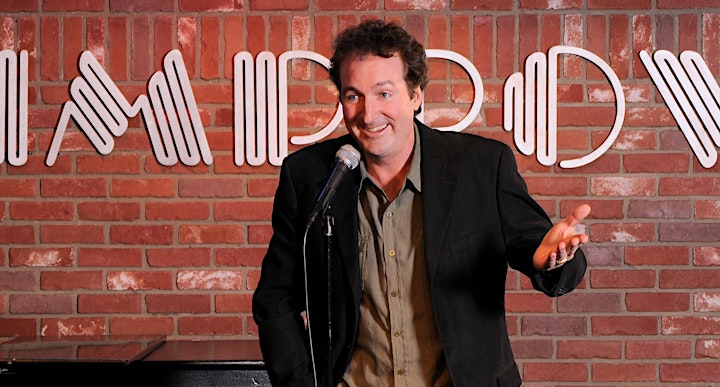 Bill Devlin is a comedian, writer, actor and producer of the Hollywood Improv's longest running show, "Bill Devlin's Comedy and Cocktails." As a longtime stand-up comic, he has experienced everything from performing under the pressure of a maximum security prison to working with comedy legends Chris Rock, Jerry Seinfeld, David Spade, Margaret Cho, Drew Carey, and many more.  Bill has also starred in several independent films and dozens of television commercials including his current claim to fame as the Jollibee chicken lawyer featured in commercials and on billboards across the country. https://www.billdevlin.com/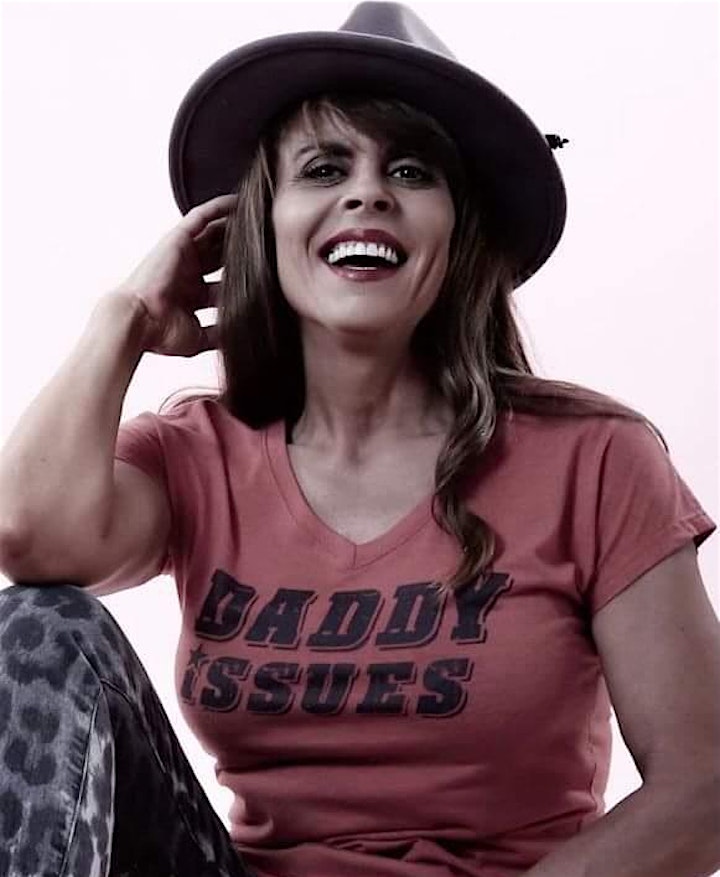 Kim Clevenger's Midwestern charm and filthy mind have lead to comedy success all over Southern California and beyond. Kim grew up on her grandpa's cattle ranch outside Kansas City MO, with a horse trough swimming pool and a mean pet rooster. She performed musical theater from an early age, becoming the only Anita in West Side Story history who could not dance. Kim's show biz dreams brought her to LA in 2002, where she's spent 20 years working as a reality TV casting director. Kim made her comedy debut in the famed Pretty, Funny Women all-female comedy show, after studying the craft with PFW founder, Lisa Sundstedt. She's performed all over LA, including The Comedy Store, Flappers, and The Second City. Kim's stories encompass being a former fat girl, dating in LA, and being a "natural" beauty over 40. She resides in NoHo with her hooligan hounds, Dilly & Sweet Pea.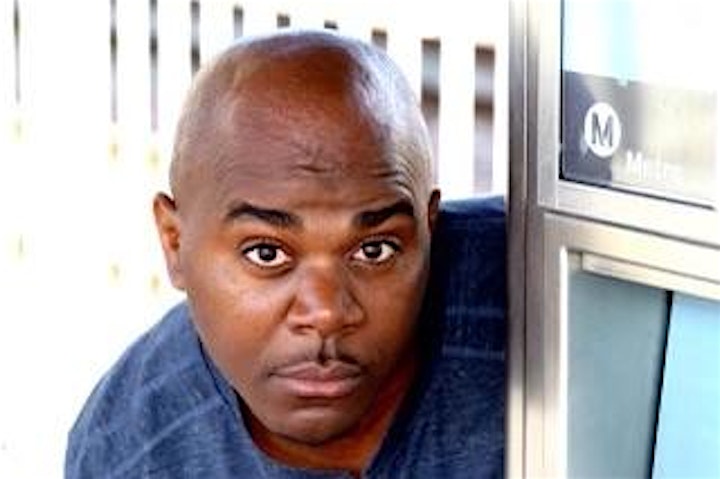 Jamal Doman is a 25 year Comedy Veteran and one of the most respected comedians in the game. A journey that started in his hometown of Philadelphia and landed him in Los Angeles, Jamal has been seen on Comics Unleashed, BET ComicView, Fox Soul, All Def Digital, It's Showtime At The Apollo, Who Wants To Date A Comedian, SiTV Latino Laugh Festival, Martin Lawrence 1st Amendment, Byron Allen Comedy.TV, & AspireTV "We Got Next". Jamal is also an accomplished stage actor that has been seen in movies like "Repos" with Master P., "Sailboat" with JK Simmons , "The Greatest Song" with Aida Rodriguez, & "Streets" with Meek Mill and Nafeesa Williams. He was also a cast member on TruTV Laffmobb Lafftracks. One of Jamal's greatest joys is performing for our US troops with the USO. Jamal also is the co-host of the popular "Dope Dealers" podcast and the creator/host of "Funny Talk", a one on one interview show that gives viewers an inner look at the life of stand up comics. https://www.jamaldoman.com/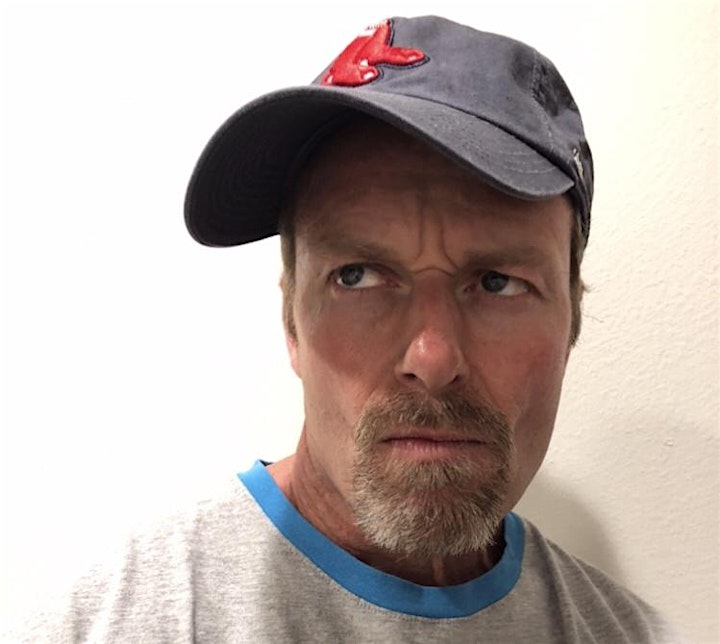 Dave Caira hails from Watertown, MA and has graced the stage at the iconic Comedy Store and The Mint in Los Angeles, and now he's ready to bring his brash Boston attitude to the Uncanceled Comedy stage. He doesn't really like bios and self promo stuff. "I dunno...tell em I just moved out of my mother's house, I love Vegas, gambling, house music, and ask if anyone could give me a ride home after the show."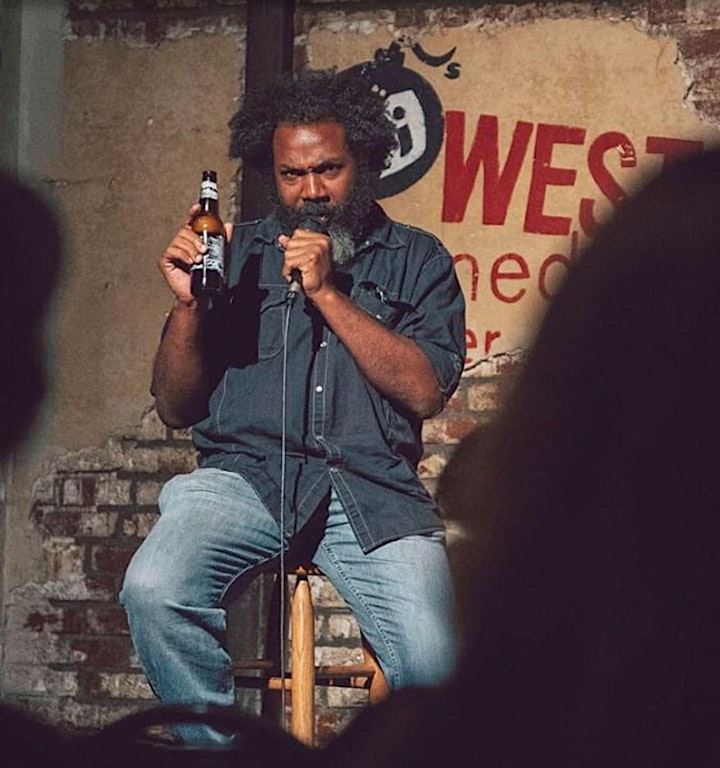 Dave Carter [Host] is a stand-up comedian, actor, writer and producer. Previously, he served nine years active duty in the US Air Force, and then moved to Chicago where he made his abrupt career change into comedy. He began performing with the iconic improv heavyweights Second City and iO West, and Oui Be Negroes before making his next move to Los Angeles. Since then, Dave has been performing live stand up and was featured on IFC's "Sherman's Showcase". He has also found another calling doing voiceover work in radio,TV and in the highly popular video games "Call of Duty"and "God of War" just to name a few. https://dcartercomedy.com/
Angela Marsden & The Pineapple Hill Saloon & Grill
Angela Marsden is the proud owner of the Pineapple Hill Saloon & Grill in Sherman Oaks. Still standing since 1978, the Pineapple is a rare Valley gem with a refreshing hometown vibe that has made it a favorite "go-to" spot for locals, celebrities and all types. Angela had worked in many restaurants while growing up in Indiana but in her 20's, she had moved to Los Angeles with plans to become an actor. She had some success landing enough roles to keep her inspired but not enough to make a living. For several years she continued acting, working various jobs and exploring other career options until 2010, when her and a silent partner bought the Pineapple Hill Saloon & Grill.
For over a decade, she kept the business thriving as one of L.A.'s most fun and friendliest hang outs. Then COVID came along and life changed for everyone. For small businesses and restaurants it was either sink or scramble to stay afloat. Like everyone else, she kept quiet and continued following the ordinances, just hoping it would all work out. By December 2020, she was barely hanging on and had spent all her savings to set up a heated outdoor dining area for the holiday season. But within a few days of setting it up, California ordered all the restaurants to shut it all down again. So she did and a few days later, a film production set up an outdoor eating area similar to what she had set up and right next to her business. Angela was never very political nor one to rock the boat, but that was the breaking point for her. She was on the brink of losing her business, her 15 employees losing their jobs and thousands of other businesses in the same boat. For her it wasn't about politics, it was about people and it was time to speak her truth.
She made a video about it, which went viral and she became the voice that broke the dam. While she never got a response from the politicians she was addressing, people from all the over world reached out to her and some shared their stories as well. It was also the people who donated to her business that kept it afloat, and today she is thankful to be among the few still here. For Angela, "We're Still Here," has special meaning: "It's a celebration of people who have not given up on California, a time to come together, to laugh and heal with one another, and to just have fun!"
Presented by The Uncanceled Comedy Collective
Produced by André Walker, Jana Ritter, Matt Weinglass, and Bill Devlin
Technical Director Matthew Hufschmidt
Sponsored by Levitation Entertainment & Sherwood Players Productions