About this Event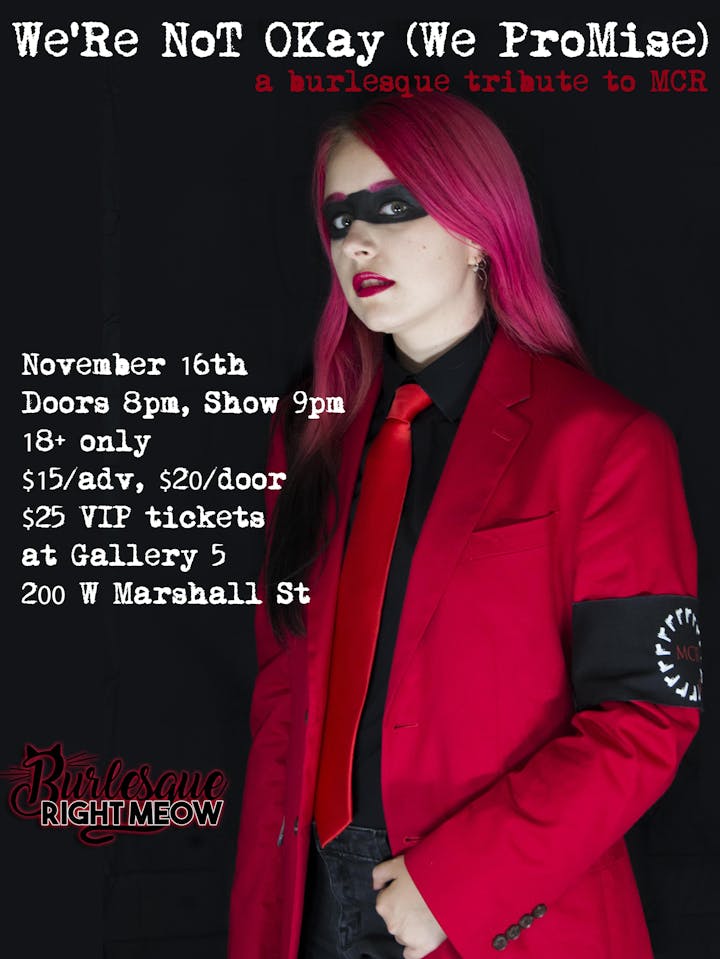 Look alive, sunshine. Three cheers for sweet burlesque! Come one, come all to this sexy affair…as we pay tribute to the music and artistic works of MCR through burlesque and variety! We know you were at least a little bit emo in 2006, so why not join The Black Parade with us again? We'll bring you our booties, if you bring us your love.
We still love this band, like we did yesterDAAAAAYYYYYY. Unleash the fucking bats.
Starring:
Lily Liqueur from Dallas, TX!
Bebe Demure
Ego Von Hubris
Francesca Lynn
Gordita Maricona
Lolita Luxxe
Miss Meccakhan
Murphy Lawless
Molly Mayberry
Selene Noire
Sally Stardust
And introducing The Striking Viking
With gogo by Scarlet Starlet
$15 in advance, $20 at door
$25 VIP tickets, which include a reserved seat in the two front rows and a MCR-themed gift bag from Burlesque Right Meow are available.
Burlesque Right Meow is committed to producing fun, safe, and inclusive events that showcase the art of burlesque and variety. We have zero tolerance for harassment, bullying, and bigotry of any kind. Our productions are feminist, body positive spaces that celebrate people of all different body types and identities. Please be on board with this mission if you are attending our events!