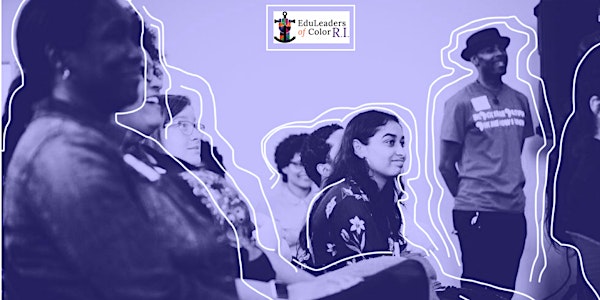 We're Back! EduLeaders of Color R.I. September 2018 Meetup
When and where
Location
Steer Digital Media 60 Valley Street Suite #102 Providence, RI 02909
Description
"We need to EMPOWER people of color because their perspectives, my perspective matter." -Yovanny Vargas

We're back!
Are you interested in connecting with leaders and educators of color committed to educational equity?
Do you have an innovative idea on how to address issues of inequities and would like to share it with community members?
Or do you just want to chill, be inspired, and be surrounded by leaders and educators of color in our state?
If so, join us for our "we're back" meetup. We've been busy all summer working on formalizing our organization and collaborating with partners to develop equity-based opportunities for leaders and educators throughout the state. We'll be sharing more updates during the convening.
Our speakers hail from different fields and have unique backgrounds. They are all committed to equity and the empowerment of underserved communities.
Dorca Paulino is a passionate change agent dedicated to public service with a focus on diversity, youth empowerment, program evaluation and implementation. In 2017, Dorca joined the Rhode Island Supreme Court and was appointed to the inaugural position of Diversity Director. Before working for the Rhode Island Judiciary, Dorca worked for Year Up, the largest nonprofit organization in the United States. Dorca has nine years of corporate experience in the areas of human resources, accounting, and sales and has worked for subcontracting companies that followed minority participation policies established by local 94, local 2168, local 6 and local 17.
Dorca was born and raised in the Dominican Republic, where she lived until the fall of 2002. Her family moved and settled in Rhode Island where she attended High School and college, completing her Psychology and Accounting Studies from Rhode Island College and a Master of Public Administration from Roger Williams University. She is a proud first-generation immigrant and first-generation college student, and volunteers her time as a Year Up mentor, board member of Progreso Latino and Vice Chair of the Academy for Career Exploration.

Harrison Grigsby, M.Ed is a child of the city of Providence and Hip Hop culture. With over 10 years experience working in student success in higher education, Grigsby has approach educational access and opportunity with creativity and unorthodox practice. He a fierce advocate for underrepresented students, particularly post traditional students and first generation.
Grigsby attended Rhode Island College (RIC) where he received his Bachelor's degree in Sociology and Master's degree in Educational Leadership and Administration. The RIC alum also became an employee working at the Learning for Life department in the newly implemented Student Success Division. During his tenure, Grigsby developed and implemented supportive programming and policy for adult learners, ESL, and students with competing responsibilities. One of the many highlights involved curation and leading a Financial Wellness Coalition that introduced the RIC's first ever Financial Wellness Week. Additionally, he successfully launched the Council for Adult and Experiential Learning (CAEL) institutional survey at Rhode Island College that assesses the practices and functionality of service for post traditional students.
Harrison Grigsby's affinity for education is equally matched with his passion for Hip Hop. He is a successful independent recording artist under the moniker Jon Hope. It is through this medium, he is able to connect with thousands across the world with words of inspiration. His music has taking him on national tours and having been featured on MTV, BET, and Billboard magazine. The stage isn't the only space where Grigsby's Hip Hop identity is leveraged. At Roger Williams University, Grigsby is a professor in Hip Hop studies at the School of Continuing Studies. In 2018, Black Enterprise Magazine recently named him one their 100 Men of Distinction for their Be Modern Man campaign.
Yovanny Vargas is a Dean working at Blackstone Valley Prep middle school in Central Falls. He was recently accepted into The Principal Residency Network (PRN) with the hopes of attaining his administrative certificate by the end of the 2018-19 school year. He is also on the Eduleaders of Color R.I. advisory committee and currently working to build out a SEL curriculum tailored to young men of color with other educators in RI. When Yovanny is not thinking about school reform and creating a more equitable system for all, you can find him catching up on anime or (as the weather gets nicer) enjoying the sun, jamming out to afrobeats and bachata.
Rich Norris is a guidance counselor at Dr. Jorge Alvarez high school in Providence and the founder of the Gentlemen's Academy in Rhode Island. This group focus on mentorship, college/career readiness, and teaching healthy masculinity to young boys of color within the city. Rich has been a strong advocate for positive youth development through internship, mentorship, college visits, entrepreneurship, and community service. Over the last decade he has worked tirelessly to provide opportunities for the advancement of young people through fundraising for multiple ventures, including providing small scholarships for college students.
He is also the owner of The Rich Norris Companies, a venture to provide employment opportunities for city youths and to invest in other in aspects of the development of young men of color.
He earned his master degree in school counseling from Providence College. In the most recent summer, he worked with Brown University MAT program as a mentor teacher. In his spare time, Rich works as a high school basketball coach at Mt. Saint Charles Academy in Woonsocket and with the Rhode Island Magic, an AAU program based out of Providence.
We hope to see you there!
As always, we want to keep you fueled and ready to engage so we will provide food, wine and beer.
In solidarity,
EduLeaders of Color R.I.
**Parking is available across the street from Troop Restaurant