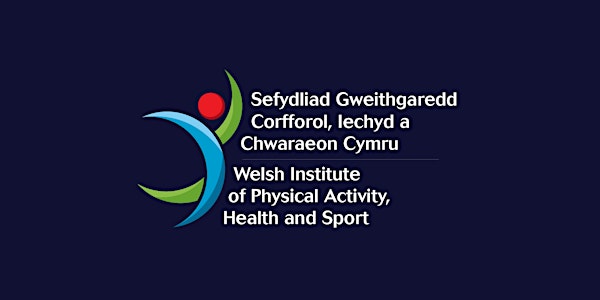 Welsh Institute of Physical Activity, Health and Sport Roadshow 2022
The Welsh Institute of Physical Activity, Health and Sport (WIPAHS) is a pan-Wales network of all 8 Welsh Universities and Sport Wales
About this event
Find out about the projects we have delivered and discuss how WIPAHS can work with you and your organisation. Join us at one of the following locations:
Bangor: Monday 27th June at Bangor University
Aberystwyth: Tuesday 28th June at Aberystwyth University
Cardiff: Monday 4th July at Sport Wales
A network of academics and practitioners has been established to help organisations to address their real-life questions. We are driven to answer practice-based questions, identify fundamental research questions and support findings to be reflected in Welsh policy and practice.
Lunch and refreshments will be provided.
Funding is available to support a limited number of organisations to travel to the Roadshow events. Please contact wipahs@swansea.ac.uk to discuss.
More information, visit our website: https://www.swansea.ac.uk/sports-science/astem/wipahs/
Dysgwch am y prosiectau rydym wedi'u cyflawni a thrafodwch sut y gall WIPAHS weithio gyda chi a'ch sefydliad. Ymunwch â ni yn un o'r lleoliadau canlynol:
Bangor: Dydd Llun 27ain Mehefin ym Mhrifysgol Bangor
Aberystwyth: Dydd Mawrth 28 Mehefin ym Mhrifysgol Aberystwyth
Caerdydd: Dydd Llun 4ydd Gorffennaf yn Chwaraeon Cymru
Mae rhwydwaith o academyddion ac ymarferwyr wedi'i sefydlu i helpu sefydliadau i fynd i'r afael â'u cwestiynau bywyd go iawn. Rydym yn cael ein hysgogi i ateb cwestiynau sy'n seiliedig ar ymarfer, nodi cwestiynau ymchwil sylfaenol a chefnogi canfyddiadau i'w hadlewyrchu ym mholisi ac arferion Cymru.
Darperir cinio a lluniaeth.
Mae cyllid ar gael i gefnogi nifer cyfyngedig o sefydliadau i deithio i ddigwyddiadau'r Sioe Deithiol. Cysylltwch â wipahs@swansea.ac.uk i drafod.
I gael rhagor o wybodaeth, ewch i'n gwefan: https://www.swansea.ac.uk/cy/gwyddor-chwaraeon/chwaraeon-cymhwysol-technoleg-ymarfer-corff-a-meddygaeth/wipahs/