Description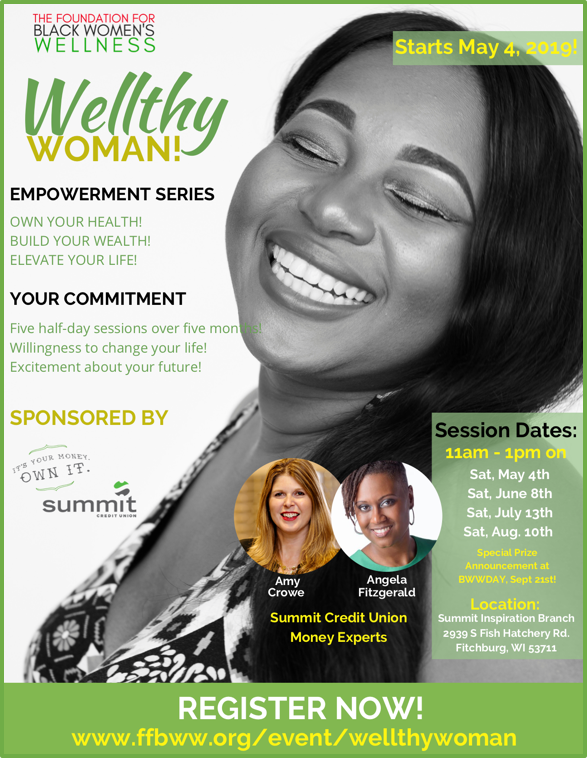 Health and wealth go together, and financial wellness is key to a healthy, satisfying life full of possibility. Getting there starts with a decision to own your health, own your money–to own your life. It's time, Sis! Time to be a "Wellthy" Woman!
Join the Foundation for Black Women's Wellness and our sponsor Summit Credit Union for a 4 part series designed to jump-start your money power and set you on a path to financial confidence and the "wellthy" life you seek. Seating is limited, so register quickly!
The sessions will lead you through a journey of honesty and self-reflection about the life you want and how honing your money mindset and behaviors can reduce financial stress, help you achieve tangible goals, and enhance your life and health. Along the way, you will learn tips, skills and strategies for:
Budgeting
Smart spending
Saving
Repairing your credit
Building wealth
Your Commitment
Participants commit to 4 monthly sessions hosted at Summit's award-winning Inspiration Branch, and led by Summit money experts with years of experience in financial coaching and guidance.
Session dates are:
Saturday, May 4th, 11am – 1pm
Saturday, June 8th, 11am – 1pm
Saturday, July 13th, 11am – 1pm
Saturday, August 10th, 11am - 1pm
Saturday, Sept. 21st – Special Prize Announcement at 11th Annual Black Women's Wellness Day! – details to follow
Cash Prize Drawing
Registered participants who complete the 4 sessions will be entered into a special drawing at the close of the series for a cash prize to start their savings journey!
Register now! Spread the word!
Sponsored by