Description
Impact Hub HNL, in partnership with Awakened Mana, presents Wellness Wednesdays. Join us on September 18th for MOONWHALE: A Sound Healing and Spoken Word Experience with Lucie Lynch and Marcia Zina Mager!

---
Join Singer/Songwriter and Sound Healer, Lucie Lynch and international bestselling author, Marcia Zina Mager as they share the ancient myths and stories of the cetacean nation. Songs of the time, when the whales and dolphins were the kings and queens of an extraordinary civilization. Accompanied by the healing sound vibrations of the gong, crystal singing bowls, chimes and more.
The evening will begin with sharing insights on the importance of self care and the cultivation of inner peace within our daily lives. Then, lay back and relax with a short story/meditation before fully surrendering to the healing sounds. You will be taken into a wondrous world of high frequency and timelessness.
Benefits of Sound Healing:
- Pain, Stress, and Anxiety Relief
- Improve symptoms of depression
- Enhanced brain function
- Can repair & activate DNA
- Improve sleep
- Brings more joy & motivation
- Spark new creative ideas and help to bring clarity
---
PRE-REGISTER FOR A SPECIAL GIFT!
Purchase your ticket in advance and receive a free download of Lucie and The Perfect Wave EP "ALIVE"
---
Awakened Mana will also provide home-brewed organic Kombucha to enjoy after class, along with some other homemade goodies. If you'd like to purchase and take some home, please bring a jar(s).
What to Bring:
- Yoga Mat
- Cushions, Blankets, Eye pillow (anything you need to be comfy and cozy)
- Water
- Jars or bottles (If you wish to purchase Kombucha)
Parking Details: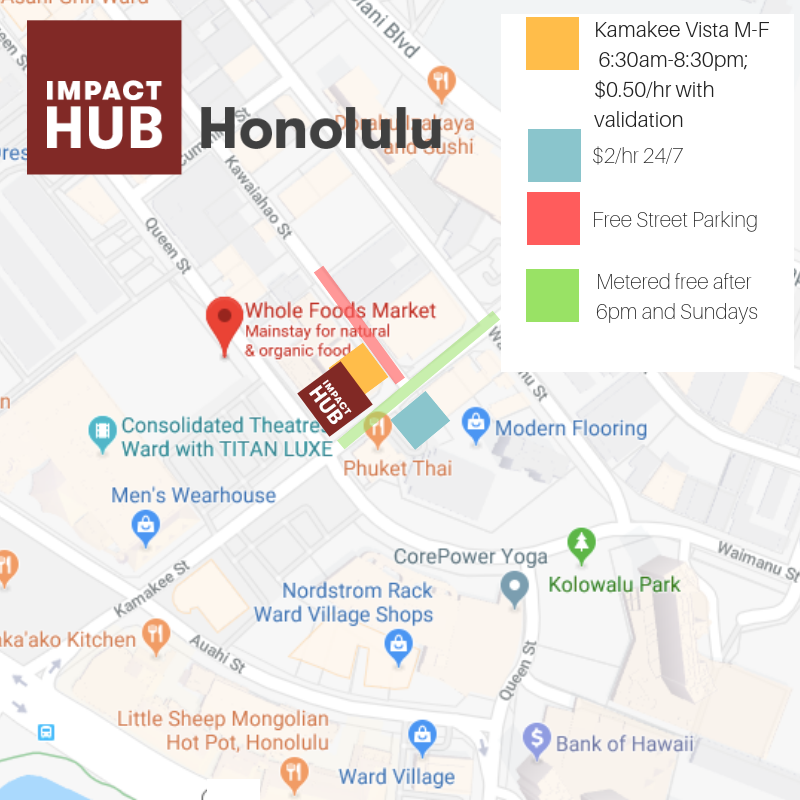 ---
Wellness Wednesday is a bi-weekly Impact Hub HNL program in partnership with Awakened Mana. Impact Hub is dedicated to work-life balance for their members and the community and offers these events to promote wellness for all people and needs.