Description
Impact Hub HNL, in partnership with Awakened Mana, presents: Wellness Wednesdays. Join us on July 15th for a delicious, homemade bodycare workshop with Andrea Bertoli of Vibrant Wellness!
---
Love up the skin you're in with delicious, homemade body care recipes!

At this Wellness Wednesday Event, chef and educator Andrea Bertoli will teach you how to make four handmade recipes for nourished, glowing skin. The ingredients are simple, functional, and many are found in your kitchen already!

Making your own body care products can give you more control over what ingredients go on your skin, can help save you money on beauty and bath products, and help you go zero-waste.

We'll also discuss:
- Why we're using so many chemicals on our bodies, why they are not tested, and how you can avoid these irritants throughout the home.
- How diet, hydration, and nutrients can give you glowing skin;
- AND! Andrea will share four tested and well-loved recipes from her kitchen that you can make at home, including Homemade Lavender Deodorant, Honey-Cocoa Lip Balm, Cinnamon Sugar Body Scrub, and DIY Body Wash.

More about Andrea:
Andrea is a chef, educator, and wellness advocate, and has been teaching people how to better use plant foods to boost health and wellness for nearly a decade. Andrea is also the writer behind Vibrant Welless Journal and Vegan in Hawaii and the cookbook, Gettin' Saucy.
---
REGISTER EARLY FOR A SPECIAL GIFT!
Purchase your ticket in advance and take home a sample of Andrea's homemade lavendar deodorant!
---
Awakened Mana will also provide home-brewed organic Kombucha to enjoy after class, along with some other locally made goodies. If you'd like to purchase kombucha to take home, please bring a jar(s).
What to Bring:
- Pen for note taking, a handout will be provided.
- Water
Parking Details:

Please note there have been several instances of vehicles being towed from Whole Foods garage.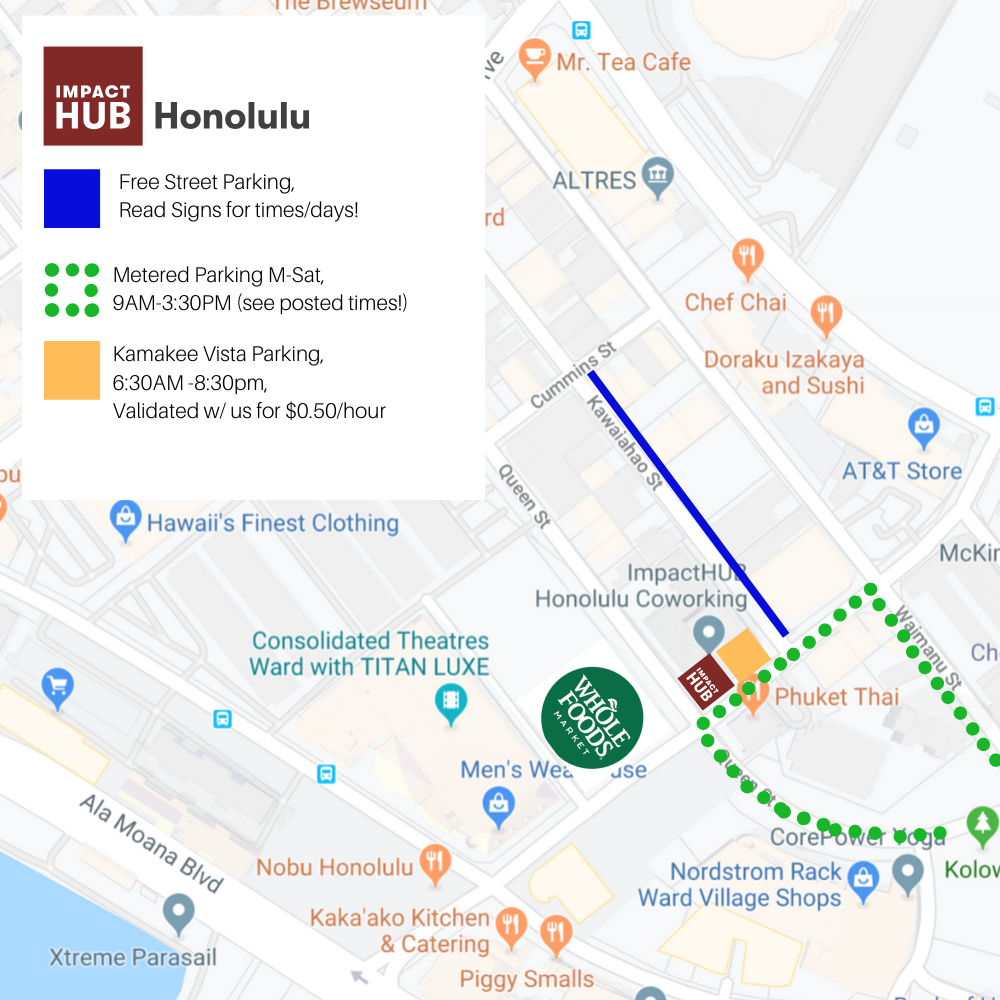 ---
Wellness Wednesday is a monthly Impact Hub HNL program in partnership with Awakened Mana. Impact Hub is dedicated to work-life balance for their members and the community and offers these events to promote wellness for all people and needs.