Description
Impact Hub HNL, in partnership with Awakened Mana, presents: Wellness Wednesdays. Join us on August 22nd for a Cacao & Sound Healing Ceremony with Halle Senger of Metamorphosis Healing Arts!
---
Pure Ceremonial Cacao is a natural plant medicine and superfood. In ceremony, the spirit of Cacao welcomes you to open your heart, feel the love and flow with the universe. Cacao can take you on a meditative journey to know yourself, connect with others, and understand the world around you on a deeper level. Everyone's reaction and journey is different, as everyone has different lessons to learn and things they need to experience. Please come into the ceremony with an open mind and allow the gentle and loving spirit of the Cacao to lead you where it may.
Cacao is known as a "heart opener" because it increases circulation and triggers your brain to release serotonin (the happy hormone) and tryptophan (a stress reducer). It can also be used as a meditative or productivity aid as it can deepen your ability to focus and give you an energy boost.
Our Cacao is sourced from family farms in the jungles of Guatemala. It has been lovingly hand roasted and ground to preserve all of the antioxidants, minerals, cocoa butter, and other compounds that make Cacao a highly effective superfood.
As part of the ceremony, Halle will provide a Sound Healing gong meditation.

Contraindications: Anyone with heart issues should be cautious when partaking in Cacao due to the increased circulation. Those taking anti-depressants should be cautious as well, as Cacao can increase serotonin levels and has a natural MAOI. Mixing the two can result in a migraine. It is also recommended that if a woman is pregnant, she take ¼ to ½ the regular amount. Please let us know if any of these apply, and we can work with you. When in doubt, please consult a licensed medical professional.
---
Purchase your ticket in advance and receive 33% off an energy healing or mindset coaching session with Halle.
These sessions are tailored to you, to assist you in reaching your highest potential. You will receive one of her power hour sessions, normally $75, for $50. This $25 value is a big Mahalo for committing to yourself by saving your spot in ceremony and following your path to grow and shine your light ever more brightly!
---
Awakened Mana will also provide home-brewed organic Kombucha to enjoy after class. If you'd like to purchase and take some home, please bring a jar(s).
What to Bring:
- Yoga Mat
- Water Bottle
- Jars (If you wish to purchase Kombucha)
Parking Details: Please DO NOT PARK in the Kamakee Vista, as the garage closes promptly at 7:30pm.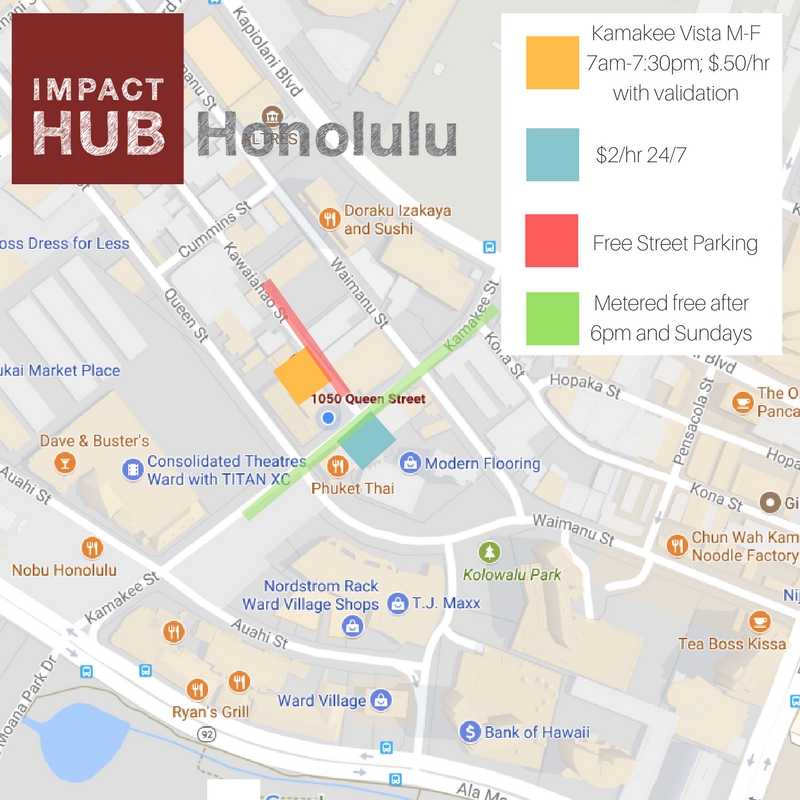 ---
Wellness Wednesday is a bi-weekly Impact Hub HNL program in partnership with Awakened Mana. Impact Hub is dedicated to work-life balance for their members and the community and offers these events to promote wellness for all people and needs.