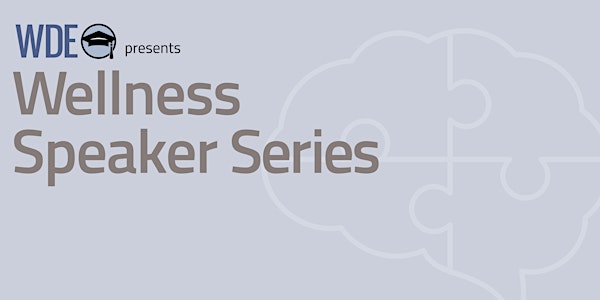 Wellness Speaker Series
WDE Presents our second Wellness Speaker Series, focusing on Staff/Teacher wellness.
About this event
Please join us for our second Wellness Speaker Series on December 7, 2022 from 4:30-6:30 pm MST.
The WDE is offering .5 PTSB credits for attending the Wellness Speaker Series! You must attend all four sessions of the series held between August 2022 to July 2023 in order to receive the credit. The first event that was held on August 10, 2022 can be located on the WDE YouTube channel. For more information, please contact Laura Budd, SAMHSA Project Coordinator: laura.budd@wyo.gov.
This session will focus on strategies for teacher and staff wellness in the classroom. We will be privileged to hear from of will be privileged to hear from Shaundalyn Elliott, Edcation Specialist, from Alabama State Department of Education. Ms Elliott will present "Self-Care for Educators" during the two hour session. Her interactive presentation will highlight practical solutions to cope with stressors that surface throughout the school day as well as outside of the classroom. This session will be an interactive workshop, so bring a pen/pencil and paper for notes.
Ms. Shaundalyn Elliott is an Education Specialist at the Alabama State Department of Education in the Prevention and Support Services Section. Ms. Elliott is a native of Montgomery, Alabama, and works with Local Education Agencies around the State of Alabama specifically to schedule Youth, Teen and Adult Mental Health First Aid Trainings; promote the Comprehensive Integrated Three-Tiered Model of Prevention (Ci3t) via the Project Aware Grant, and assist with Title IV, Part A.
Shaundalyn Elliott is a graduate of Alabama State University and Auburn Montgomery where she has earned a Bachelor of Science Degree in English Education, a Master of Education Degree in Instructional Leadership, and a Master of Education in School Counseling. Currently, Ms. Elliott is pursuing her PhD in Counselor Education and Supervision at Hampton University. She is a former English Teacher and Department Chairperson, Assistant Principal, Activities Director, and School Counselor in the Montgomery and Wilcox County Public School Systems.
Ms. Elliott has a sincere passion for counseling, mental health awareness, and behavior intervention as evidenced by her tenacious study dedicated toward these areas. She values the importance of empowering all people, namely children of all ages, to embrace and attain their full potential by maximizing their pre-determined levels of greatness contained within.