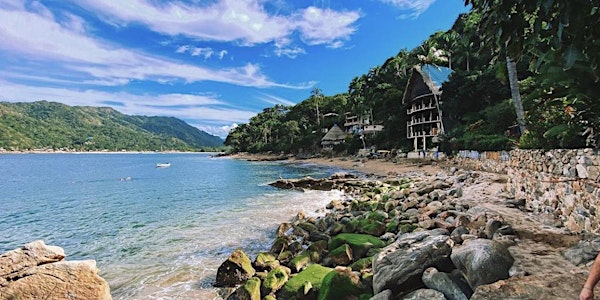 Wellness Retreat in Paradise: Yoga, Nature, Sound Healing, & More
Rest of Reconnect to your body, mind, and spirit in this 7 Day Wellness Vacation in Paradise. Enjoy yoga, sound healing, hiking, and more.
When and where
Location
Casa Isabel 123 Yelapa, JAL 48422 Mexico
Refund Policy
Contact the organizer to request a refund.
Eventbrite's fee is nonrefundable.
About this event
Are you're looking for a fun and peaceful get-away to help reconnect you to what brings you joy? Are you feeling the desire for a reset or a reboot? Or maybe an unplug that helps you feel more in tune with yourself and the world around you?
Join us in Yelapa Mexico for this 7 day Wellness Retreat. Enjoy daily yoga and meditation, hiking, sound healing, good food, time for rest, fun excursions, and healthy community.
(View on Website HERE)
Dates:
November 11th-18th 2022
WHAT TO EXPECT:
Daily Yoga, Hiking, Sound Healing, Paddleboarding, Hiking, Snorkeling, Whale Watching, Massage, Tasty Food, Amazing People, Beautiful Scenery, Beach Days, and more.
RETREAT INCLUDES:
Breakfasts
Dinners
Lodging at Casa Isabel
Daily Yoga Classes
Hiking
1 Hour Therapuetic Massage
Boat Excursion and Snorkeling
Sound Bath
Temezcal (Sweat Lodge Ceremony)
Paddle-boarding in the Bay
Water Taxi fare to and from Yelapa
OPTIONAL ADD-ONS
Acupressure
Sound Therapy
Horseback Riding
Additional Massages
ABOUT YELAPA
Yelapa is a rare and dreamy find. One of the few remaining locally owned villages in the world, Yelapa takes pride in its "untouched" nature. Free of cars, roads and ATMS, this quaint and charming destination has become an oasis for those seeking reprieve from the hustle and bustle of both city and suburb life. With sandy beaches, lush jungle, delicious food, and delightful locals, the opportunities to revel in the bare necessities are endless. Not only that, but Yelapa has a way of leading one back to what is meaningful, life enhancing, and true for the soul. It is said that "the scariest thing you will find in Yelapa is yourself!"
Accessibility
Yelapa is a place that requires a certain level of physical mobility. There are no cars or paved roads. Most of the walking will be on dirt paths and on stairs that aren't always smooth or even. There are also hills and inclines to and from town.
RETREAT LOCATION: Casa Isabel
The retreat will be held at the enchanting Casa Isabel, a lovely sustainable living villa situated beneath a lush jungle canopy on the hillside--close to the ocean and surrounded by the beauties of nature.
Each room offers:
Sustainable, artful construction
an ocean/water view
Well-equipped kitchen
Filtered drinking water
Coffee
Hot shower
Shower Towels
Flush pee-toilet
Composting pooper (except Nook & Cool Corner)
Fans and mosquito nets
Hammocks and lounge chairs
Lock boxes
Wi-Fi
FOOD
Vegetarian, Gluten Free, Dairy-free, Nut-allergy-friendly options will be available. If you have an allergy or any dietary restrictions or preferrence you would like us to know about, please don't hesitate to reach out.
RETREAT PRICE
$2300 (Shared Casita)
$2700 (Private Room/Single Occupancy)
SHARED ROOM
$1900 (Shared bed or twin bed situation)
DEPOSIT:
$450
NOT INCLUDED IN RETREAT PRICE
Airfare
Lunches
Alcoholic Beverages
Taxi fare to and from the airport
DEADLINES:
Early Bird Deadline: April 30th, 2022
Registration Deadline: June 30th, 2022
Final Payments: August 30th, 2022
WAYS TO REGISTER
Email: conniryk@gmail.com
Through website: krystalconniry.com Click HERE
PREFERRED PAYMENT METHOD
Venmo (@krystalconniry)
ALTERNATIVE PAYMENT METHODS
Through website (fees apply)
Cash
Check
GENERAL ITINERARY (subject to change)
Friday November 11th: Arrival Day
5pm: Boat to Yelapa
7pm: Dinner at Casa Isabel
Saturday November 12th:
8:30-10am: Yoga
10am: Breakfast
12-4pm: Explore town/Beach
5pm: Sound Bath
7pm: Dinner at Yacht Club & Dancing
Sunday November 13th:
8:30-10am: Yoga
10am: Breakfast
2pm-7pm: Boat Excursion/Whale Watching/Snorkeling
7pm: Dinner and Dancing at the Yacht Club
Monday November 14th:
8:30-10am: Yoga
10am: Breakfast
12-5pm Hiking
7pm: Dinner in Town
Tuesday November 15th:
8:30-10am: Yoga
10am: Breakfast
11-4: Paddleboarding/Free Time
7pm: Dinner in Town
Wednesday November 16th: Temezcal
8:30-10am: Yoga
10am: Breakfast
12-4: Free Time
5pm: Temezcal
7pm: Dinner at Casa Isabel
Thursday November 17th:
8:30-10am: Yoga
10am: Breakfast
6pm: Dinner
8pm: Closing Ceremony
Friday November 18th: Departure Day
Breakfast in Town
Boat to PV
We are so excited to be offering this retreat for the second time!! Message me for more details. Message Krystal with questions at conniryk@gmail.com
In gratitude!