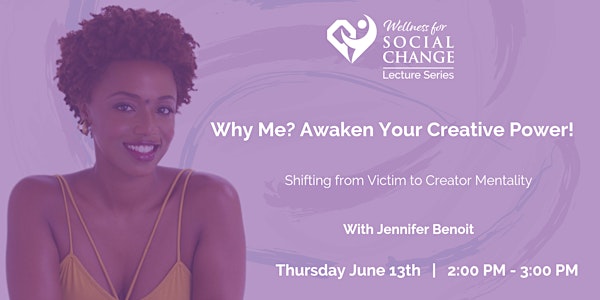 Wellness Lecture Series: Why Me? Awaken Your Creative Power!
When and where
Location
Center for Social Change 2103 Coral Way Miami, FL 33145
Description
Why Me? Awaken Your Creative Power! – Shifting from Victim to Creator Mentality


This workshop will empower attendees to release the fear and excuses that keep them from taking consistent action towards their goals. Regardless of the cards, we are dealt in life, the only true barrier in the way of our deepest desires is our mindset.
Attendees will learn how to:
1. Identify unconscious thoughts rooted in victimhood
2. Understand the impact of thinking from the stance of a victim
3. Brainstorm ways to shift from one who reacts to problems to one who creates solutions
About the speaker:
Jennifer Benoit is a Life Coach, Licensed Clinical Social Worker, Founder of the (BE) Theory, and CEO of Starting Today Coach, LLC. For the past eight years, she has been coaching women to fall in love with their lives. Jennifer teaches clients how to overcome fear, get rid of the excuses, and take powerful action in creating lives where they are able to become who they were meant to (be).

Jennifer Benoit received her Master's Degree from the University of Chicago, where she was also honored as a McCormick Fellow Tribune Recipient and CitiBank Award Recipient to heal and build community. Jennifer also facilitates a self-esteem workshop for teenage girls, (BE)Youtiful Girls to combat the ills that arise when young women are not attuned to their self-worth.
Website https://www.startingtodaycoach.com/
Instagram: jenniferbenoit1
Additional details:
The Center for Social Change is located on the corner of Coral Way and SW 21st Avenue in the offices above Xixon restaurant, on the second floor.
If you're traveling by car: There are metered spaces on Floor 2A of the parking garage attached to 2103 Coral Way. Floor 2A also has paid disabled permit parking and paid electric vehicle recharging stations. You can pay with the ParkJockey, or Pay-by-Phone app. There is also metered street parking adjacent to the building payable with Pay-by-Phone and there is some free street parking in the surrounding neighborhood, especially south of Coral Way. Be sure to observe "Residents Only" and "No Parking" areas.
If you're traveling via mass transit: Miami-Dade Bus #24 and the free City of Miami Coral Way Trolley both stop just around the corner from the building. Both bus lines connect to the Vizcaya Metrorail Station at Coral Way and SW 12th Ave.
If you're traveling by bike: Bicycle racks can be found along the sidewalk in front of the building and in the garage.
Image and Audio Consent and Release:
If you do not wish to be photographed or recorded, please inform Center staff upon arrival at the venue and we'll accommodate your request. The Center for Social Change will be taking digital photography and/or videography throughout the event. The photographs and/or video may be used across our platforms, including publications, websites, email newsletters, social media, presentations, media releases, and marketing materials. The Center for Social Change does not intend to use these photographs/videos in any manner other than for the purposes stated above. By registering for this event, you grant permission for the Center for Social Change to use your photograph/video in this manner.