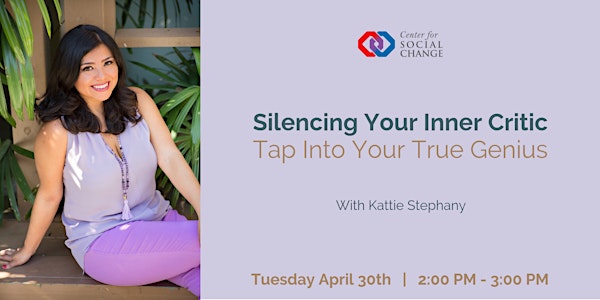 Wellness for Social Change Lecture Series: Silencing Your Inner Critic - Tap Into Your True Genius
When and where
Location
Center for Social Change 2103 Coral Way Miami, FL 33145
Description
Silencing your Inner Critic
"You're not enough," shows up in so many ways. When you're about to do something amazing that inner critic pops out saying "you've never done this before what makes you think you can pull it off," it says things like "this needs to be perfect and if it's not, you're failing, look at how she does it and she's a Rockstar it needs to be like that."
Our Inner critic loves to take the stage, but it's time to cut the crap. Join Founder of Divine Avenue Academy, Kattie Stephany, for a workshop to gain mastery over your inner critic through proven methods and processes. Do business better and tap into your true genius.
About the speaker:
Kattie Stephany is the founder of Divine Avenue. She holds extensive knowledge in areas such as human behavior, motivation, best practices for customer relationship management and strategic forms of communication. Understanding human connection, authentic business messaging and behavior came naturally to her through her empathetic and intuitive nature. She has mentored under legendary leadership coaches including somatic and embodiment expert, Amanda Blake and internationally renowned human behavioral specialist, Dr. John Demartini. Kattie is a creative and driven business woman with additional experience spearheading international and national marketing and public relations campaigns for emerging businesses in the market. She was previously a communications consultant for over 7 years. Kattie has a bachelor's degree in Communications and an MBA from the University of Miami. She's a certified Angelic Counselor, now using her gifts as a psychic channeler, Empath and healer to coach sensitives in the areas of marketing, intuitive development and leadership; promoting the value of sensitive superpowers such as kindness, empathy, resilience, and compassion in the workplace.
Fees: Free
Please note that lunch will not be included!
---
Additional details:
The Center for Social Change is located on the corner of Coral Way and SW 21st Avenue in the offices above Xixon restaurant, on the second floor.
If you're traveling by car: There are metered spaces on Floor 2A of the parking garage attached to 2103 Coral Way. Floor 2A also has paid disabled permit parking and paid electric vehicle recharging stations. You can pay with the ParkJockey, or Pay-by-Phone app. There is also metered street parking adjacent to the building payable with Pay-by-Phone and there is some free street parking in the surrounding neighborhood, especially south of Coral Way. Be sure to observe "Residents Only" and "No Parking" areas.
If you're traveling via mass transit: Miami-Dade Bus #24 and the free City of Miami Coral Way Trolley both stop just around the corner from the building. Both bus lines connect to the Vizcaya Metrorail Station at Coral Way and SW 12th Ave.
If you're traveling by bike: Bicycle racks can be found along the sidewalk in front of the building and in the garage.
Image and Audio Consent and Release:
If you do not wish to be photographed or recorded, please inform Center staff upon arrival at the venue and we'll accommodate your request. The Center for Social Change will be taking digital photography and/or videography throughout the event. The photographs and/or video may be used across our platforms, including publications, websites, email newsletters, social media, presentations, media releases, and marketing materials. The Center for Social Change does not intend to use these photographs/videos in any manner other than for the purposes stated above. By registering for this event, you grant permission for the Center for Social Change to use your photograph/video in this manner.