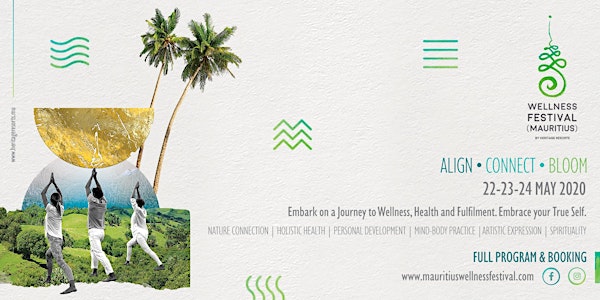 Wellness Festival Mauritius
ALIGN . CONNECT . BLOOM Embark on a Journey to Wellness, Health and Fulfilment. Embrace your True Self.
When and where
Location
Bel Ombre, Mauritius C Beach Club Domaine de Bel Ombre Bel Ombre Mauritius
About this event
The Wellness Festival Mauritius is a three-day programme with over 60 wellness experiences, workshops and inspirational talks, lead by international wellness leaders and local experts, to inspire, educate and empower you to find your own way towards better wellness, greater happiness, health and fulfilment.
It is being held in the preserved south of the tropical island of Mauritius, at the C Beach Club of Heritage Resorts in serene surroundings between the reef and a nature reserve. This place offers everything you need for an idyllic wellness escape. Turquoise waters and soft white sand beaches contrast against the vibrant green tropical beauty and preserved nature, whilst the enviable warm climate helps your worries melt away.
The festival offers six wellness dimensions:
Mind-Body Practice – mindful classes in Yoga, Pilates, Tai Chi, Qi Gong, Meditation and Breathing led by experts in their field.
Nature Connection – using nature to calm the mind and connect to the elements. Expect forest bathing, meditation, mindfulness and breathing exercises whilst being immersed in nature such as the spectacular UNESCO World Heritage sites of Le Morne and the Biosphere Nature Reserve.
Holistic Health – natural approaches to reach health in your mind, body and soul, inspirational talks on how to use nutrition and plants, workshops teaching you techniques to release mind and body tensions, manage stress, avoid depression and deal with life in a busy world.
Personal Development –talks on understanding yourself, remove blockages and the tools for developing a more confident and happier self.
Artistic Expression –opportunities to express yourself and achieve wellbeing through artistic pursuits such as singing, playing music, dancing, acting and painting. Open to all budding artists who have yet to unleash their talents.
Spirituality– find your life philosophy, be inspired about the principles that can guide you through life, harmonise your life and help manage difficult times.
Other features of the festival include:
- an art exhibition with local artists who will help you to discover your own artistic talents;
- all-day healthy and nutritious cuisine with recipes to inspire, awaken your senses and satisfy your appetite;
- a children's wellness zone for kids between 3-17 years old to enjoy nature excursions and activities under supervision (kids day pass to be purchased on site) ;
- music corners that encourage audience participation,
- local craft stalls with opportunities to create crafts yourself;
- evening musical concerts provided by local bands with the audience encouraged to let go and dance along;
- shuttle service from/to few areas of the island;
- advanced workshops and retreats pre and post festival by leading wellness experts. (not included in the price of the festival)
More details on the festival on https://www.mauritiuswellnessfestival.com
Look at 2019 Wellness Festival program so you may grasp a General Idea of this year's edition which shall propose a similar experiences.
Watch the video below of the edition 2019:
Accommodation and Flight Options:
Several accommodations are available in the region (south and south west coast). Shuttle service will be available form and to the festival all the way from Bel Ombre, via Le Morne, Tamarin , and Flic en Flac.
If you need assistance to book your flight ticket and accommodation, our reservation team can do it for you, taking into consideration your specific needs. Do not hesitate to ask for a quote on resa@wellnessfestival.mu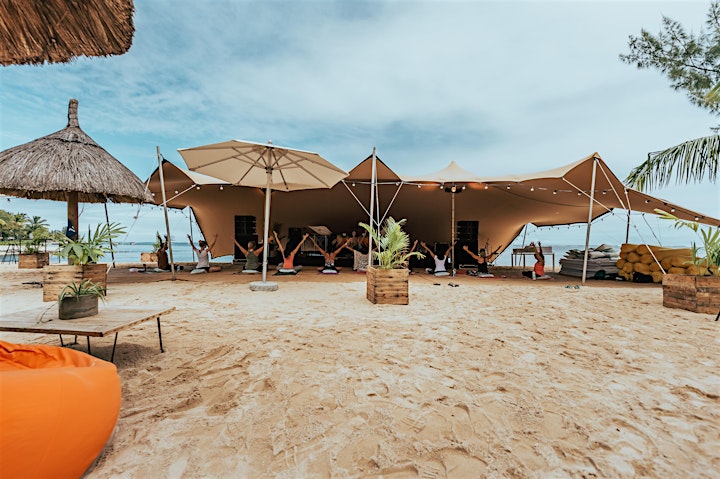 RECOMMENDED ACCOMMODATIONS:
HERITAGE LE TELFAIR GOLF & WELLNESS RESORT *****
(As from €110/person/night)
YOUR REFINED SMALL LUXURY HOTEL
A beguiling blend of luxury, intimacy and elegant architecture exuding the ambiance of grand tradition properties for a stay tailored around fine dining, personalised service, exclusive spa facilities and access to a multi award golf course. Named after famous Irish naturalist, Charles Telfair, who lived in the area in the 19th century, the hotel basks in the history of Mauritius and the Bel Ombre region showcasing the rich heritage of our island
HERITAGE THE VILLAS (Luxury private villas)
(As from €115/person/night)
Families, groups of friends and golfers will enjoy the independence and privacy of a villa. Relax in a beautiful natural setting in the unspoilt southern part of Mauritius with views of the serene tropical landscaped gardens, the Fréderica Nature Reserve and the Indian Ocean . Villa guests will enjoy top-class services and amenities of the two 5 star resorts on the Domaine, dedicated trendy beach club as well as the award-winning Heritage Golf Course. Welcome to your home away from home.
VERANDA TAMARIN HOTEL ***
(As from €58/person/night)
Ideally located facing the mythical surf spot of Tamarin Bay, here the days stretch slowly, rocked from early morning by the daily visits of dolphins and illuminated by the legendary sunset, feet deeply rooted in the white soft sand. Welcome to Veranda Tamarin hotel, an address out of the ordinary and the best meeting place for those who seek to live a unique, friendly experience as close as possible to Mauritian communities and art of living.
Edition 2019 at Heritage Resorts - Mauritius