Description
Join JQ Williams and Emily Rose for a day of relaxation and rejuvenation!
All classes will focus on neck and shoulder tension relief through a variety of modalities and will be 45 minutes long.
Between classes, take 15 minutes to mingle, have a snack, shop, get a free massage, and make some friends! We will have a lounge area set up if you'd like to take some time to journal or to skip a class and have some R&R.
Scheule:
- 10am: Hatha Yoga with JQ
- 11am: Partner Strething and Thai Massage with JQ and Emily Rose
- 12pm: Restorative Yoga with Emily Rose
- 1pm : Meditation on the subtle body + a 15 minute guided savasana with adjustments from JQ and Emily Rose

Class Descriptions:
Hatha Yoga with JQ
Sometimes, to relax our muscles, we have to use them and get the blood flowing! This class will focus on gentle activation of the muscles around the shoulder girdle and the neck and head to bring awareness and improve posture. We will move through some simple exercises that work effectively using the least amount of effort. Expect to break a light sweat and to walk away with improved body awareness.
Partner Stretching and Thai Massage
Ever needed a hand scratching your back? We all have! Working with a partner is a great way to deepen your yoga practice plus, getting a little massage is always a nice touch! This workshop will not include acro yoga, so you will never be entirely off the ground. Expect to lean on one another, to communicate about the level of depth or pressure you want and to have a few laughs!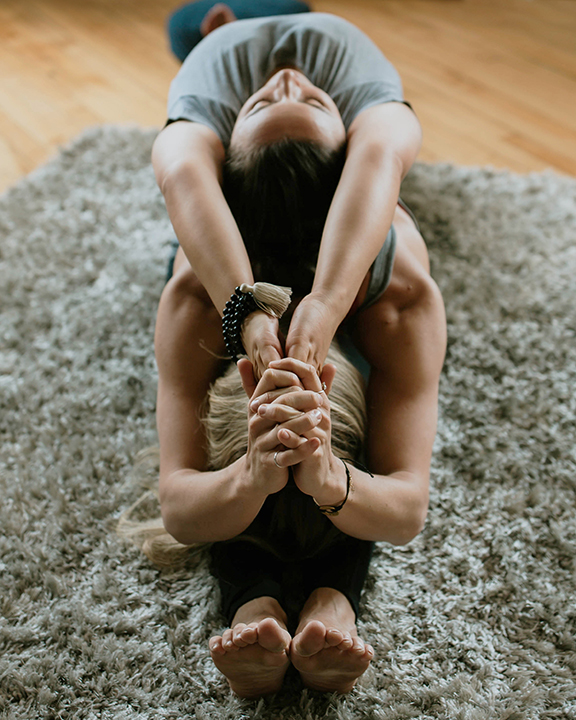 Restorative Yoga
How deeply can you let go? Can you soften every muscle in your body, including your tongue? This class is focused on complete surrender. You will be supported by props in each pose so you can relax and let gravity do all the work. Expect to move slow and don't feel bad if you fall asleep! It happens to everyone at some point ;)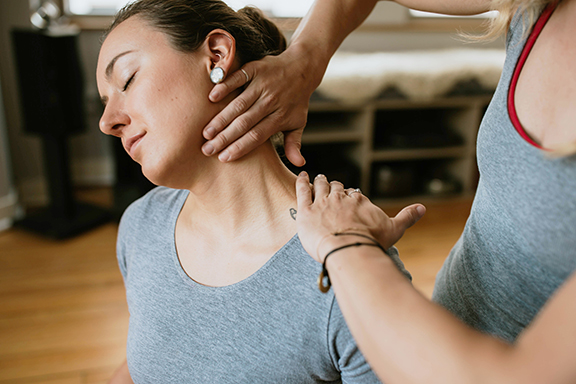 Meditation on the Subtle Body
Meditation can seem intimidating, maybe you've thought, "oh, I have too many thoughts for meditation" or "I'm not 'zen' enough". The truth is, very few people have clear heads when meditating, the idea is that in meditation we are allowing all the thoughts to drain out. Imagine a dam on the top of a mountain, sometimes sitting in meditation is like opening up the floodgates on that dam. In the silence it feels like the thoughts grow louder and more irritating like rough rapids flying through your mind and body. Over time, and with practice, the dam returns to a normal stream, some days the water will be higher and the thoughts more frequent, other days it will be less and you may find a moment of bliss as the thoughts float away from you. The style of meditating we will do in this class isn't just sitting still and praying we don't have thoughts. We will start with some light breath work and gentle oscillating movements to soothe the nervous system. Then, we will practice focusing on the sensations at different points in our bodies. To finish we will lay on our backs, listen to the sound of waves and float away on a guided meditation. the last few minutes of class Emily Rose and JQ will bring you back into your bodies by giving you light adjustments and guiding you into vocalizations.
We hope to see you at this event, and many more!
JQ & Emily Rose