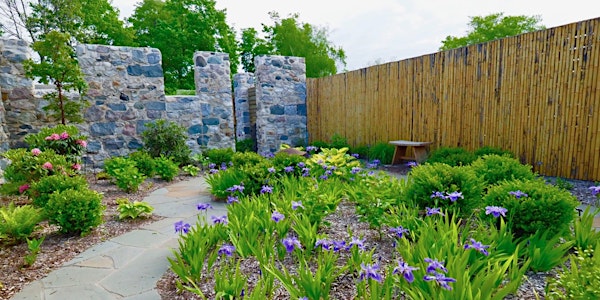 Wellness Day at The Garden
Put yourself first and step into a healthy, nature-inspired lifestyle with a day of wellness at the Garden.
By The Botanic Garden at Historic Barns Park
Location
The Botanic Garden at Historic Barns Park 1490 Red Drive Traverse City, MI 49684
About this event
Improve your overall wellbeing and your connection to nature through an inspiring day of wellness-inspired activities and programs at The Botanic Garden. From meditative arts to herbal teas to the therapeutic benefits of nature, you're sure to discover something new and leave feeling refreshed and full of healthful vitality.
FREE SESSIONS INCLUDE:
* Herbal Tea Basics * Terrariums for Kids * Experience The Labyrinth * Meditative Forest Walk * Qigong * Keynote Lecture (on Quality of Life for Adults with Autism) * and more!
For your convenience and to provide the opportunity for more people to participate, most workshops are scheduled twice throughout the day. Sign up for one session or come all day!
Between events, be sure to stick around for a multitude of activities:
Stop into the Gift Shop (open until 4:00 pm)
Stroll through the Stable Garden & Secret Garden to explore the contemplative world of Bonsai and Ikebana floral arrangements. Members of The Sakura Bonsai Society of Northern Michigan and Ikebana International Chapter #165 will be on hand between 10:00 am and 5:00 pm to chat about their respective art forms.
Bring the family and pick up your Family Scavenger Hunt form at the registration table before exploring every corner of the Garden together
BYOP (bring your own picnic) to enjoy around the Garden
Receive a free houseplant to bring some beauty into your own home
This is a FREE event and everyone is welcome to attend! Donations are always welcome and your support helps the Garden grow. Capacity is limited, so be sure to register today!
WELLNESS DAY SCHEDULE OF EVENTS
10:00-10:30 – Qigong on the Firewise Garden
10:30-11:30 – Keynote Lecture: Creating Quality of Life for Adults with Autism | Herbal Tea for Kids
11:00-12:00 – Experience the Labyrinth | Terrariums for Kids
12:00-12:30 – Qigong on the Firewise Garden
12:00-1:00 – Terrariums for Kids | Meditative Forest Walk
1:00-2:00 – Experience the Labyrinth
2:00-3:00 – Meditative Forest Walk | Herbal Tea for All
Ongoing 10am-5 pm – Explore the Garden / Bonsai & Ikebana displays, Visit the Gift Shop (until 4pm)
ABOUT THE SESSIONS
Keynote Lecture: Creating Quality of Life for Adults with Autism
"Beauty is Therapy"—the vision of Dr. Munson when first developing the farm and grounds at the Northern Michigan Hospital—has been rooted at the site of The Botanical Garden since 1880. Join co-authors Jeanne Dennler and Ruth Wilson as they celebrate a similar legacy at Bittersweet Farms, the nation's first farmstead community for adults with autism. This program will inspire you to think about the power of plants, animals, and the models they have used with residents at Bittersweet to improve their quality of life.
Jeanne Dennler is a psychologist specializing in children and adults with autism. Ruth Wilson is an author and specialist in outdoor education for children with disabilities.
(This session is limited to 45 participants.)
Herbal Tea Workshops
Sandi Clark will demonstrate the process of making herbal tea blends and highlight the beneficial properties of the most popular herbs used in teas today. Participants will be invited to taste different teas and design their own personal tea blend, which Sandi will prepare into a tea bag to take home.
Sandi Clark is an Advanced Master Gardener and member of the Herb Society of America.
(Each session is limited to 20 participants.)
Terrariums for Kids
Explore a novel way of reusing glass bottles, jars, and containers to house a variety of plant material in your very own terrarium. Add rocks, sticks, and ornamentation to the landscape you have just created. The Friendly Garden Club will be assisting children in creating their own terrarium and have all the supplies and tools needed for the activity.
The Friendly Garden is celebrating its 100th Anniversary in 2023 and is a group of passionate and dedicated gardeners.
(Each session is limited to 20 participants and meant for children and families.)
Experience the Labyrinth
Labyrinths have been in existence for over 4000 years, but a resurgence of interest in their use as a psycho-spiritual tool is taking place — as people seek calm in the midst of an increasingly fast-paced and noisy world. Walking the winding paths of a labyrinth offers individuals the chance to heal, grieve, meditate, pray, or seek insights to challenges they face. Join Marilyn Zimmerman as she shares the history of labyrinths, offers suggestions for more meaningful walks, and guides a meditative walk on the labyrinth in our Healing Garden.
Marilyn Zimmerman is a Veriditas Certified Labyrinth Facilitator.
(Each session is limited to 20 participants.)
Guided Meditative Forest Walk
Join Heather as she guides you on a meditative walk through The Gardens and trails of Historic Barns Park.  Allowing your body to relax and immerse itself in the surroundings of the outdoors, she will guide your breathing and movement on an intentional walk as you deepen your connection with nature. Walks will be under 2 miles long and open to all fitness levels. Please wear comfortable walking shoes and meet at the pavilion. (This program is provided by Yen Yoga & Fitness; they offer a wide range of programming from yoga and fitness to mindfulness and inspiration.) 
Heather completed her 200 hr. teaching from Yen Yoga & Fitness in 2013 and has continued to be a student ever since, earning certifications as a breathing coach and SUP yoga instructor.
(Each session is limited to 20 participants.)
Qigong
Learn the meditative art and practice of Qigong with a stunning vista overlooking the Firewise Garden. Explore the coordinated body-posture and movement, breathing, and meditation techniques used for the purposes of health and spirituality in this guided exercise. The session will be approximately 30-minutes in length.
Jessica Noe has been practicing qigong for 12 years and teaching it for 10 years, after retiring from 35 years as an educator. Many people are looking for ways to improve health and well-being and practicing qigong has incredible benefits.
(Each session is limited to 18 participants)
REGISTRATION DETAILS
Each session is FREE but since capacity is limited, registration is required. Sign up today for your desired workshop(s) and time(s).
On the day of the event, please come to the tent at the Visitor Center ahead of your first session.
About the organizer
Located in the heart of Traverse City – on the beautiful grounds of Historic Barns Park – The Botanic Garden will be a year-round sanctuary of environmental preservation, recreation and education. Its 25 acres will nurture the soul, enliven our history and promote Michigan's natural beauty. With an emphasis on plant species native to northwest Michigan, it will create and enhance habitats for various forms of wildlife. As a place of refreshment and solace, The Botanic Garden's unique and original design will inform and inspire. After over a decade of careful planning and preparation, the garden is coming alive. Visit our website at TheBotanicGarden.org to learn more.