Wellness Coach: A Healthy Approach to Lupus

Wednesday, November 15, 2017 from 7:00 PM to 8:00 PM (CST)
Event Details

Lupus: Ask the Experts is a series of live educational teleconferences and pre-recorded webcasts on a variety of topics designed to provide you with important information about living with lupus. Don't miss this opportunity to learn from some of the world's leading lupus experts from the comfort and privacy of your home. Participate in several or just the one that most interests you.
---
Wellness Coach: A Healthy Approach to Lupus
Wednesday, November 15, 2017
7:00 pm - 8:00 pm EST
Speaker: Erica Daniel – CEO & Founder of Elnspire LLC, Speaker, Author, Coach
Committing to a healthy lifestyle can be overwhelming. Join Erica Daniel as she provides you with a process to work actively towards a better quality of health by providing support, encouragement, education, and tools.  
---
This Ask The Experts series is offered as a free service of the Lupus Foundation of America, Florida Chapter.  All costs of services for patients and families are underwritten by the fundraising efforts of the  Florida Chapter, including the Walk to End Lupus Now!
---
The Lupus Foundation of America, Florida Chapter is proud to be a source of information about lupus.  Our comments are based on professional advice, published experience and expert opinion, but do not represent individual therapeutic recommendations or prescriptions.  For specific information and advice, please consult your physician.
When & Where
Teleconference



Wednesday, November 15, 2017 from 7:00 PM to 8:00 PM (CST)
Add to my calendar
Organizer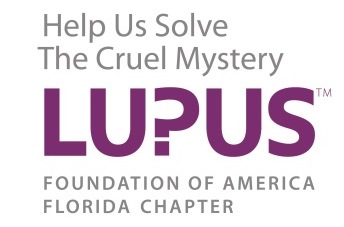 A Stronger Voice to Fight Lupus
The Lupus Foundation of America,  Florida Chapter is part of a national force devoted to solving the cruel mystery of lupus while providing caring support to those who suffer from its brutal impact.
With the help of informed volunteers, lupus medical experts, and committed and caring supporters, we:
support research and conduct education programs so everyone affected by lupus can have an improved quality of life;

provide information to ensure people with lupus and their families get answers and health professionals know about new means to diagnose and manage the disease; and,

conduct activities to increase awareness of lupus, rally public support for those who are affected by lupus, and advocate on their behalf.
Help Us Solve The Cruel Mystery! If you join the fight, we will not have to concede victory to this terrible disease. With your support and involvement, we will be able to solve the cruel mystery of lupus in our lifetime and end its devastating impact on millions of lives.
A Comprehensive Strategy Lupus is a complex disease that requires a comprehensive strategy. Our programs and services all have a common purpose: To improve the quality of life for all people affected by lupus.
Research We raise money to support research through the Lupus Foundation of America's National Research program, Bringing Down the Barriers™, which aggressively pursues an agenda to find answers to the most difficult questions and advance the science and medicine of lupus. Our national research program has a unique three-pronged strategy: lead special initiatives, fund researchers, and advocate for expanded investment.
Education & Support Services We answer questions about lupus, provide tools, resources, and referrals to doctors who treat lupus, and help guide individuals and families through the complexities of living with lupus and toward a better quality of life.
Awareness Efforts We conduct outreach efforts and share stories of those who suffer from lupus to increase awareness of lupus, bring greater attention to the disease and its devastating impact, and rally public support to join the fight to end lupus.
Advocacy Efforts We advocate on behalf of all people with lupus, their families, and the health professionals who care for them. We educate government officials and industry leaders on the urgent need to expand public and private investment in lupus research, education programs, and support services.
For more information visit www.lupusfl.org, call 1-855-90 LUPUS (1-855-905-8787) or email info@lupusfl.org.