Wellness 101 Night of Transformation!

Saturday, December 6, 2014 from 7:00 PM to 9:00 PM (EST)
Event Details
What a Great Event This Was!
Click this link below to join us at the next Night of Transformation at Apple Ford Lincoln in Columbia, MD January 29, 2015 6-9 pm...
https://transformcolumbia2015.eventbrite.com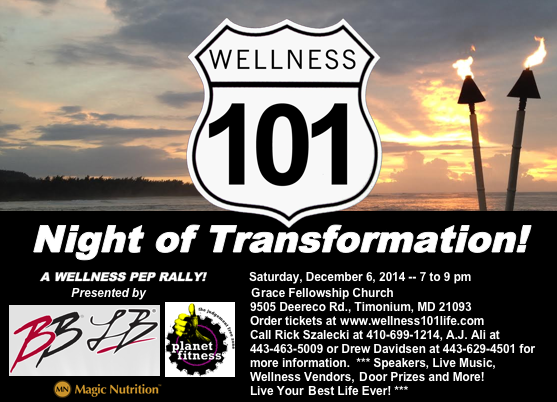 The Wellness 101 Night of Transformation will be a night to remember!  We will light the flames of  transformation and empowerment in you!  Live your best life possible, full of energy, passion and focus on God's will for your life. It's possible.  The time is now.  Be your best.  Attend this unforgettable wellness pep rally!
"Do not conform to the pattern of this world, but be transformed by the renewing of your mind. Then you will be able to test and approve what God's will is—his good, pleasing and perfect will." -- Romans 12:2
There will be live music and an inspiring talk by Billboard jazz sensation Drew Davidsen, who shed more than 100 lbs to transform his body, a powerful transformational talk by TV host and writer A.J. Ali (who just golfed and shared wellness in all 50 states during a 101-day period against all odds -- he started the journey with only $500!), exciting testimonials, wellness practitioners and much more!  Come out for an amazing evening of renewal, transformation and empowerment to live your best life ever.  Attend this event to end 2014 powerfully and get a jump on 2015!
Speakers include: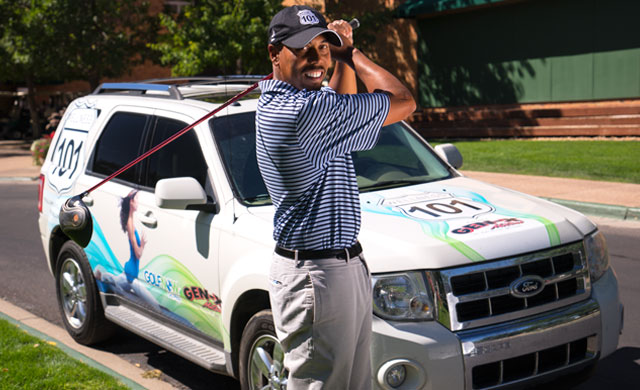 A.J. Ali - The Host of Wellness 101 TV  and Co-Author of "The True Champion's 30-Day Challenge," who recently completed 50 states of golf and promoting wellness in 101 days, starting with only $500 in Florida and ending with two weeks in Hawaii!  This is a story of how when you put a "L.O.V.E. Is The Answer" philosophy into action, it can make the seemingly impossible possible!  www.ontheteewithajali.com 
---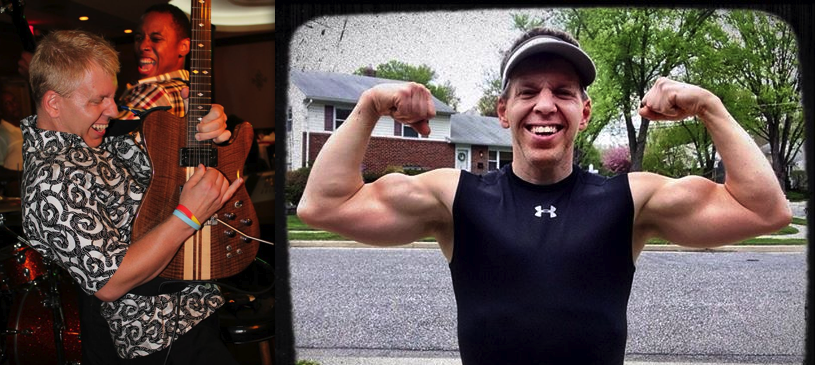 Drew Davidsen - Learn how rising star in the contemporary jazz music world and Co-Host of the Wellness 101 TV show transformed his body, and his life -- and learn about the exciting cross-country adventure he is about to undertake to help change a nation in the Spring of 2015!  www.drewdavidsen.com 
---

Dr. Siobhan France - Dr. Siobhan France is a Doctor of Physical Therapy and Wellness coach. She is an advocate for the older adult population as a speaker and as an author of "How To Live A Life Of Fitness: The Ultimate Start-Up Guide For Older Adults." She is also the creator of the follow along, 8-week low impact workout system for older adults – JumpStart 180. Dr. France is committed to helping her clients reduce their pain, return to their level of function before injury and improve their overall quality of life all through the power of movement. She continues to motivate and inspire her clients to stay dedicated to their journey of continued health.  www.siobhanfrance.com
---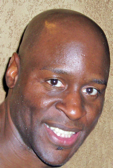 Lester-Everett Lyles - Wellness Educator and former NFL cornerback/strong safety who played for the New York Jets, Phoenix Cardinals and the San Diego Chargers.  Using food as his medicine, the internet as his classroom, and the wisdom of the Universe as his teacher, Lester-Everett Lyles, a dynamic life and fitness coach, and energetic public speaker, educates and encourages others to achieve their "natural-balance potential" by understanding how to nourish their "Health-and-Wellness-IQ-Quadrant".
---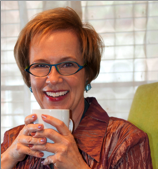 Kay Loughrey - Kay Loughrey is a weight loss dragon slayer.  As a lifestyle expert and behavioral nutritionist, she helps clients rid themselves of the dragon that keeps them endlessly losing and regaining weight. Clients are taking back their lives and losing 25 – 80 pounds from working with Kay. Learn more at: www.sweetlifewellness.com
---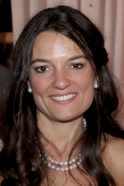 Kendell Reichhart - Kendell Reichhart is a Holistic Health Counselor and Nutritional Consultant and is in the process of becoming a certified Herbalist.  Kendell fell into the wellness field after years of struggling with health and digestive issues.  She always felt that food played a big role in our health... only to found out that she could not eat gluten, was highly allergic to eggs, and sensitive to soy, corn, dairy...which are all in most of our processed foods.  In determination to reclaim health, she healed herself on a raw diet and juicing.  Kendell became inspired to help others and build awareness about our food and our health.  She eventually built up her own counseling practice and opened a small wellness center, "Natural Vibrant Health", based around the concept of "food as medicine".  www.naturalvibranthealth.net -- 443-250-9335
---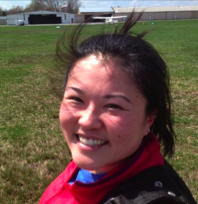 Hyun Scheminant - Find out how she overcame a horrible life threatening auto accident to become a shining light in the community!
---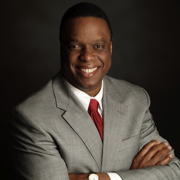 Sam St-Phard - Sam's entire life can be summarized by the words, persistent, determined, perseverance, hopeful, and positive.  Sam lives by the Axiom: "You will never know the limits of the possible, until you've gone beyond them into the impossible."  As a young man, he was elected president of his high school (to date, the only person of African descent in the 115 year history of the school).  He also excelled in soccer, playing in college on a full scholarship.  He was also an accomplished musical artist.  But, by the time Sam was 34 years old he had physically abandoned his health and ballooned to 320lbs. He suffered from Type II diabetes, sleep apnea, an enlarged heart and shortness of breath.  Now 90 lbs lighter and living a transformed life, he'll share how making wellness a focus has made all the difference in his life.
---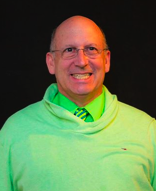 Rick Szalecki - I've been called the most caring person. I've been successful in sales despite suffering from a personality disorder. I owned my diagnosis, went to therapy and took my medicine. Today, I cope with, manage and control my disease. I teach others to likewise and help their loved ones to cope, too.
---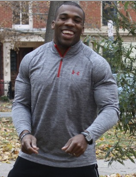 Jeff Thompson - Jeff is a personal trainer and owner of T48 Fitness, which specializes in 1-on-1 training, group graining, sport specific training and TRX.  He is certified by NASM, TRX and Tabata Boot Camp.
---

Bodhi Williams - Artist, activist, inventor, Founding Director of GMO free MARYLAND and co-organizer for GMO Labeling bills across the country. Bodhi is dedicated to education,  advocacy and transparency in food safety issues and wellness practices.   A serial entrepreneur and owner of Misogi-Naturals organic body care products.
---
PRESENTED BY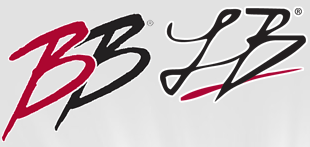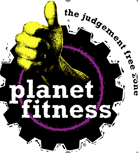 www.brickbodies.com & www.planetfitness.com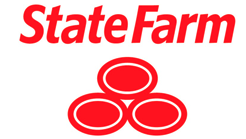 WELLNESS TABLE SPONSORS
Get the info and ongoing support you need to achieve your goals from these wellness table sponsors:
- Abundant Life Chiropractic, Dr. Susan Bates, chiropractor
- Drew Davidsen, world-renowned contemporary jazz guitarist will have his music available for purchase
- Dr. Siobhan France, low impact workouts for ages 50+
- GMO Free Maryland, spreading awareness about Genetically Modified Organisms in our food supply
- KIND, delicious snacks for a heart-healthy diet
- Maji Sports, Yoga and exercise mats, blocks, rollers and acupressure mats
- Mono Mano Cycling, making cycling accessible to many for the very first time 
- T48Fitness, personal trainers
- "The Scent Of My Son," by author Adrienne Miranda
- Misogi Naturals, all-natural bodycare products
- Robbie's First Base, motivational artwork to inspire you to be your best
- State Farm, The Shawna Krivoy State Farm Agency 
- Sweet Life Wellness, weight loss, habit change and nutritional counseling by Kay Loughrey, Nutritionist and Behavioral Coach 
- The True Champion's 30 Day Challenge - The book that will change your life by helping you develop new habits for your mind, body and soul, by A.J. Ali and Vera Jones
- Wellness 101 Warrior Program, a membership program giving people more than $1,000 worth of wellness treatments, products and support for only $299.99.  Live your best life today as a Wellness 101 Warrior!
... and others!

INTERESTED IN SPONSORSHIP?
Are you a wellness company or practitioner? Get valuable exposure to an audience of 200 people who are committing to wellness at the Night of Transformation. Call Rick Szalecki at 410-699-1214.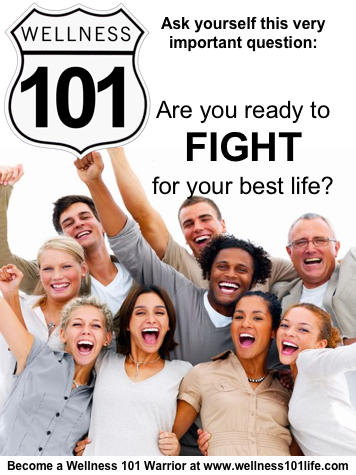 When & Where

Grace Fellowship Church
9505 Deereco Rd
Lutherville-Timonium, MD 21093


Saturday, December 6, 2014 from 7:00 PM to 9:00 PM (EST)
Add to my calendar
Organizer
A.J. Ali is an award-winning producer, director, writer, actor and TV host with more than 30 years of expertise in media and event production.  A military veteran, his commitment to community has included raising $25 million for charities nationwide through events, media and consulting.
As the Director and Producer of the highly-acclaimed feature length documentary film, "WALKING WHILE BLACK: L.O.V.E. Is The Answer," he guided the creative process for 4 1/2 years through completion of production and is now crafting the development and rollout of a year-long, 100-city, L.O.V.E. Is The Answer Tour to use the film and associated products and workshops to help remind America  www.walkingwhileblackthemovie.com
In his other current media role as Host of the Wellness 101 game show, he invites consumers and wellness experts to interact with each other, keep the wellness discussion flowing and help each other grow.  www.wellness101life.com
Ali's credits include co-authoring the "True Champion's 30-Day Challenge" book, authoring two business golf books, creating and starring in the "Good Fellas of Baltimore" TV show, producing the Hollywood FAME Award winning "Survivor Celebration" music CD, producing the "Positive Choice" documentary film, creating and owning two professional soccer teams, and many other credits during his 30+ years in sports and media.  He and his wife Jane have been married for 23 years and they are both active in their church and community in Santa Monica, CA. 
To learn more, visit www.OnTheTeeWithAJAli.com.