Wellness 101 Health Challenge Game & Casting Call -- Timonium, MD

Friday, December 4, 2015 from 6:00 PM to 8:00 PM (EST)
Event Details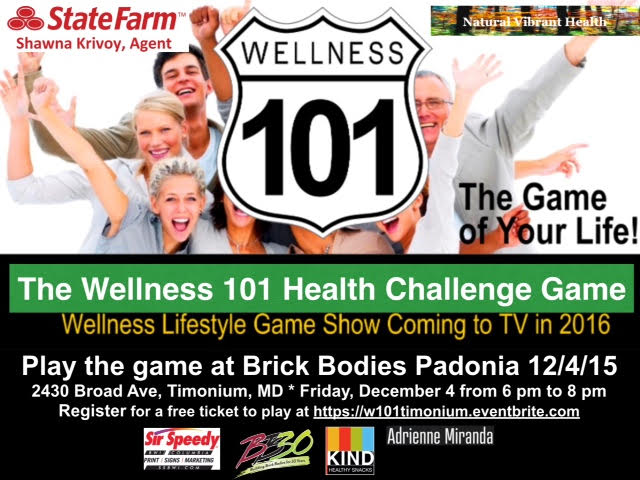 *** CASTING CALL EVENT FOR THE WELLNESS 101 TV SHOW -- WEAR ATHLETIC ATTIRE ***
The Wellness 101 Health Challenge Game is presented by Wellness 101, the world's first Wellness TV Game Show coming to TV in 2016.  
Put on your athletic attire and join us at Brick Bodies Padonia in Timonium, MD on 12/4/15 from 6 to 8 pm to play the game that is like Family Feud meets Dr. Oz -- The Wellness 101 Health Challenge Game!  It's the most fun you'll ever have learning about wellness.  Fun for the entire family!  Participants will receive free sample products, special offers, gifts, prizes and more.  
CASTING CALL:  We are looking for excited contestants and interesting wellness vendors to appear on our TV show in the summer of 2016.  Some contestants and vendors may be selected during this non-televised casting call event.  There is no cost for contestants.  There is a small fee for vendors (see below).
*** SPONSORS:  A LIMITED NUMBER OF CATEGORY-EXCLUSIVE SPONSORSHIPS ARE AVAILABLE.  CALL 323-577-5976 PRIOR TO SIGNING UP AS A SPONSOR TO MAKE SURE YOUR CATEGORY IS STILL OPEN.
LOCATION SPONSOR -- Brick Bodies Padonia
PRESENTING SPONSORS INCLUDE: 
State Farm Insurance - Shawna Krivoy, Agent 
WELLNESS PRODUCT SPONSORS (SEE BELOW)
The Wellness 101 Health Challenge game is perfect for any group.  The Hosted Group version of the game, led by the actual Host of the TV show, will be played at Brick Bodies Padonia.  
In the Hosted Group version of the game, the audience is split into two teams.  Three people from each team come to the stage to answer each question.  Up to 72 different people (78 if a tiebreaker is needed) will be called up to come up on stage while the rest of the "audience" will have a great time rooting for their team members.  Everyone will walk away with gifts and prizes.  There are 12 categories of questions.  We call the 12 categories the "12 Pathways Of Wellness," which include things that impact our health on a daily basis.
EACH OF THESE CATEGORIES WILL HAVE A CATEGORY-EXCLUSIVE SPONSOR:
1. Water
2. Beverages Other Than Water (Coffee, Soda, Alcohol, Kambucha, Tea, etc.)
3. Foods & Supplements sponsored by KIND
4. Watch Your Mouth (Teeth, Gums, Tonsils, etc.)
5. Financial Matters (Philanthropy, Insurance, Debt, Positive Cash Flow, Peace of Mind, etc.)
6. Air (Proper Breathing Techniques, Air Quality, etc.)
7. Sun
8. Activity
9. At Ease (sleep, rest, vacations, etc.)
10. Skin: Soaps, Lotions, Sunscreens, Perfumes and More
11. Household & Workplace Elements
12. Strengthen Your S.T.E.M. (Spirit, Time, Emotions & Mind) sponsored by Adrienne Miranda, author of "Scent of my Son."
Each question has a sponsor tied to it.  Participants and/or teams win prizes from those sponsors and the questions relate to what each sponsor does.  For example, when we ask a question about the health benefits of dark chocolate, the team that gets that point will receive samples of dark chocolate from the sponsor.  Sometimes an individual on the team wins a random prize like a gift basket full of awesome healthy products.  Sometimes the 3 people on the team who get the question right win prizes.  Sometimes the entire team wins a prize.  There are also gifts for the entire audience.  Everyone has fun, everyone leaves with great stuff and everyone learns something about wellness.    
The Wellness 101 Health Challenge.  The most fun you'll ever have learning about wellness!  
Have questions about Wellness 101 Health Challenge Game & Casting Call -- Timonium, MD?
Contact A.J. Ali
When & Where

Brick Bodies Padonia
2430 Broad Avenue
Timonium, MD 21093


Friday, December 4, 2015 from 6:00 PM to 8:00 PM (EST)
Add to my calendar
Organizer
A.J. Ali is an award-winning producer, director, writer, actor and TV host with more than 30 years of expertise in media and event production.  A U.S. Air Force service disabled veteran, his commitment to peace and love informs everything he does personally and professionally. His commitment to community has resulted in more than $25 million raised for charities nationwide through events, media and consulting.
In June 2012, he was racially profiled and harassed by police in Howard County, MD. When he reported the incident, he and his wife became targets for harassment by a dozen members of that department for an entire year. Knowing he had to do something, he chose to rely on his faith, his military training as a peacekeeper and his journalism background to make a film that would shine a light on the problem while offering transformative solutions.
As the Director and Producer of the highly-acclaimed feature length documentary film, "WALKING WHILE BLACK: L.O.V.E. Is The Answer," he guided the creative process for 4 1/2 years through completion of production in February 2017 and is now leading the efforts of the L.O.V.E. Is The Answer Movement birthed by the film, putting the principles of L.O.V.E. he created into action through workshops, conferences and other programs and products. He has become a sought after speaker and trainer of the L.O.V.E. Is The Answer principles, leading more than 26,000 people through sessions as of March 2019. The Howard County Police Department is one of dozens of law enforcement agencies throughout the country that have licensed the film to use in training their officers on better ways to engage with the communities they serve. See the film at  www.walkingwhileblackthemovie.com and join the movement at http://loveistheanswermovement.com/.
In his other current media role as Host & Producer of the Wellness 101 game show, he invites consumers and wellness experts to interact with each other, keeping the wellness discussion flowing in fun and meaningful ways. https://www.facebook.com/wellness101life
Ali's credits include co-authoring the "True Champion's 30-Day Challenge" book, authoring two business golf books, creating and starring in the "Good Fellas of Baltimore" TV show on Fox, producing the Hollywood FAME Award winning "Survivor Celebration" music CD, producing the "Positive Choice" documentary film, creating and owning two professional soccer teams, and many other credits during his 30+ years in sports and media.  He and his wife Jane have been married for 25 years and they are both active in their church and community in Santa Monica, CA. 
To learn more, visit www.OnTheTeeWithAJAli.com.