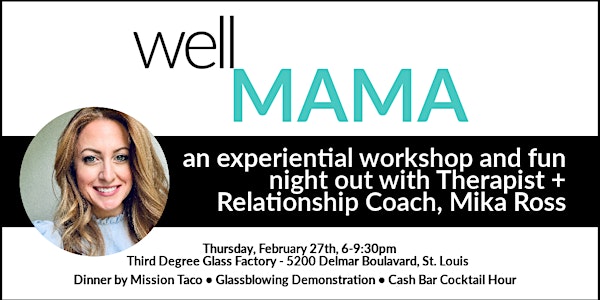 wellMAMA
When and where
Location
Third Degree Glass Factory 5200 Delmar Boulevard St. Louis, MO 63108
Refund Policy
Refunds up to 30 days before event
Eventbrite's fee is nonrefundable.
Description
Featured in:
---
It's a MOMference and a night out. It's inspiring, ah-ha moment-inducing, and silly. You might shed a tear and you'll definitely laugh. Moms, I want you to leave this event feeling lighter and more empowered: with a clearer understanding of yourself, what you need, and next best steps (if you want them). I want you to feel more WELL.
I sort of see Moms like an endangered species (not, like, in danger of becoming extinct, but...); we're 2x as likely to be diagnosed with depression and anxiety than our male counterparts, report lower rates of relationship satisfaction than our husbands, are drowning in to-dos, and feel like we're failing everywhere.
And our husband wears 1 baby in a wrap to the grocery store to pick up 5 things and is praised by 7 strangers in amazement. Also, he wants sex...now. "How about now?"...."Now??" despite the relationship lacking in emotional intimacy and you feeling like you're drowning in to-do ocean while he's up on the boat chillaxin - blissfully unaware of the mile-long invisible list (the dog needs to be groomed, the kids are past due for their well visits, need to research when the baby can eat solids, gotta decipher this email from the reading specialist, plan a 4-year-old birthday party, etc.) that needs to be complete by noon.
So many of us have the same complaints - feelings of overwhelm, not feeling like a priority, feeling like we're not enough, wondering if we're selfish... You're asking me questions like, "Is there something wrong with me?", "How can I get him to SEE the dishes?" and "How can I get what I need without yelling about it?"
You feel alone, disconnected, and like it's hard to remember who you used to be...but you're pretty sure you used to laugh more.
You say things like, "Why do I have to tell you what to do, WHY CAN'T YOU JUST KNOW?!"
I've been there. I've crawled out of that. I've helped thousands of others do the same.
The path to not recognizing yourself one day is a slippery and insidious slope. Whether you're already there, or wonder if you might be on your way...well, Mama, I have hand-crafted this event just for you.
The best thing you can do for your kids is be well.
See you soon, XOXO