Sales Have Ended
Ticket sales have ended
Thanks for your interest in you event, we are no longer taking anymore registrations. See you next time in September, where we will do it all over again. To get learning and engaging now, join our Sales & Marketing Jam community online here: http://www.salesandmarketingjam.com/community.html And check out our current webinars for the month: kiwilandingpad.com/events Thanks Sian Simpson Director of Community & Content @ Kiwi Landing Pad
Event Information
Location
ProjectR
NEC House
Level 2/40 Taranaki Street, Te Aro
Wellington, Wellington 5810
New Zealand
Sales Have Ended
Ticket sales have ended
Thanks for your interest in you event, we are no longer taking anymore registrations. See you next time in September, where we will do it all over again. To get learning and engaging now, join our Sales & Marketing Jam community online here: http://www.salesandmarketingjam.com/community.html And check out our current webinars for the month: kiwilandingpad.com/events Thanks Sian Simpson Director of Community & Content @ Kiwi Landing Pad
Description
The original Kiwi Landing Pad Sales and Marketing Jam. Designed to be a Music "Jam" format focusing on the real issues and questions on our audience's mind and building conversation around those rather then a fixed slide deck. We cover the topics of Sales, Marketing, Product Management and Building a great 'export ready' business.
For people who want to get a range of nuggets and insights across all of our topics from our international speakers and community.
______________________
Objective:
Sales is the lifeblood of any idea as it evolves into a real business and grows. The best product and technology is of no value unless it can be meaningfully connected to consumers.

In the 7 years we have been operating we have been approached by many entrepreneurs and organisations looking to enter the US market - most do not get out of the starting blocks. Our mission is to get more Kiwi entrepreneurs and their teams into the race, and help them grow great businesses regardless of what market they are looking to expand to.
​
This programme is designed as a starting point for thinking about some of these key requirements around the critical areas of Sales, Marketing, Product Management and general capability building of growing a great business.
Sales
Sales is the lifeblood of a company. Sales, Sales and more Sales. Hiring, Process and Strategy.
Marketing
"Build it and they will come" theory doesn't hold much weight. Content, PR, Social, SEO, Events, Community Experimenting & Measurement.
Product Management
Focus on the CEO of Product: Responsible for the strategy, roadmap, and feature definition for that product or product line.


We want to provide our community with a concise summary of what we have observed and some recommendations supported by interviews and presentations from companies and entrepreneurs dealing with these issues so that they can learn faster and focus on the more important elements to their business.
______________________
Speakers:
Josh Aberant - CMO @ Spark Post
Menaka Shroff - VP of Marketing @ Betterworks
Matthew Blackshaw - Group Product Manager @ Dropbox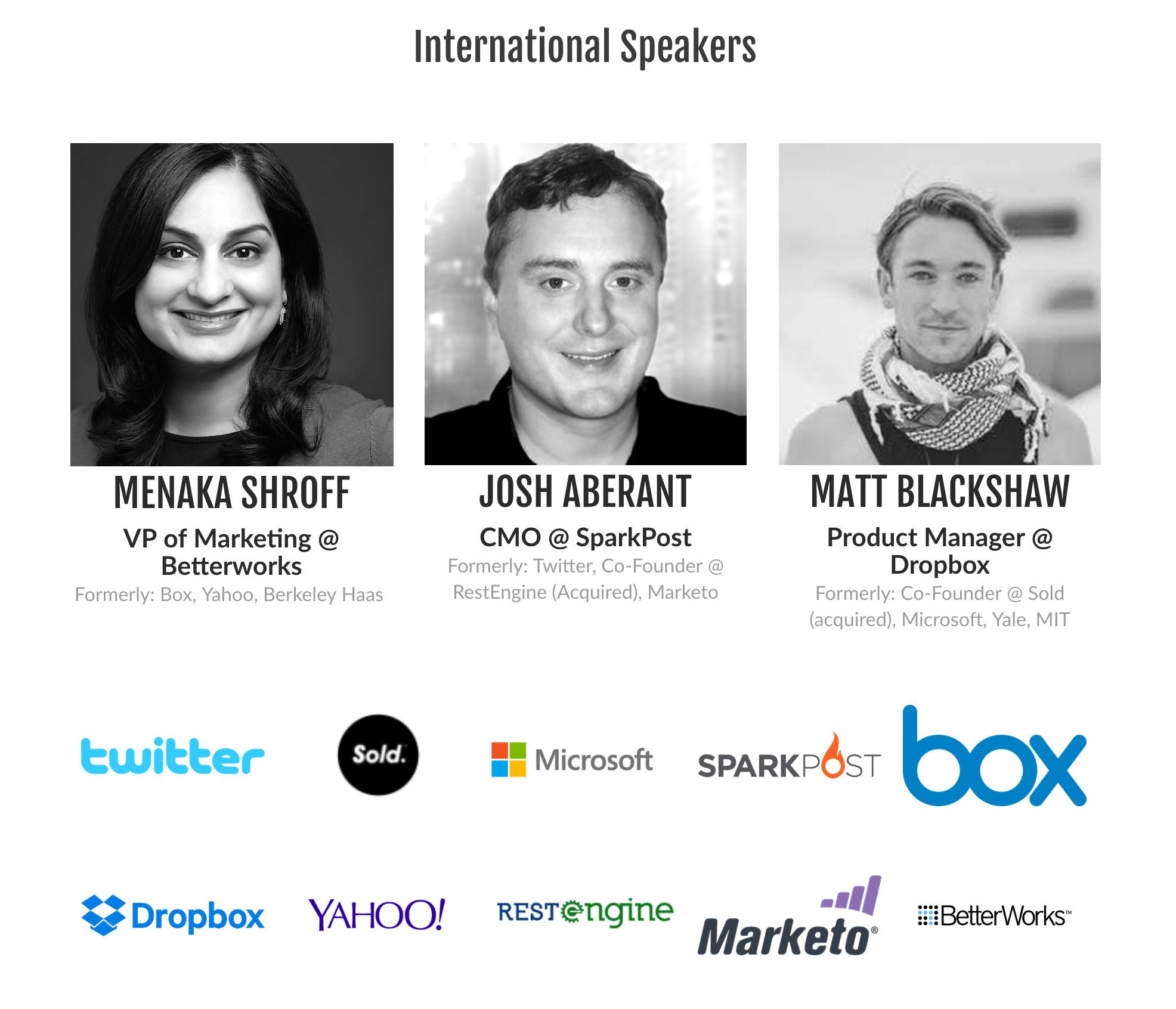 Check out their bios here.
______________________
Format:
​Our Jams are designed to be an interactive format with as few slides as possible. Over the course of half a day, we aim to create an interactive dialogue between our speakers and the audience where they are encouraged to ask questions.
No Slides
We prefer to focus on you and answering your questions.
Interactive Q & A
What you put in is what you get out, ask questions.

Sharing Real Experience
Experiences from people who are doing it and have done it.


​We go through extensive research and information gathering process ahead of each jam in location to learn what the specific audience in each location wants to get out of the sessions.
______________________
Building Capability
The JAMS are designed to build capability over time, what you need to learn today to grow your business over the next 6 months will be different to the future jam. Come prepared with problems to solve that are your number #1 priority right now.
______________________
Sponsors: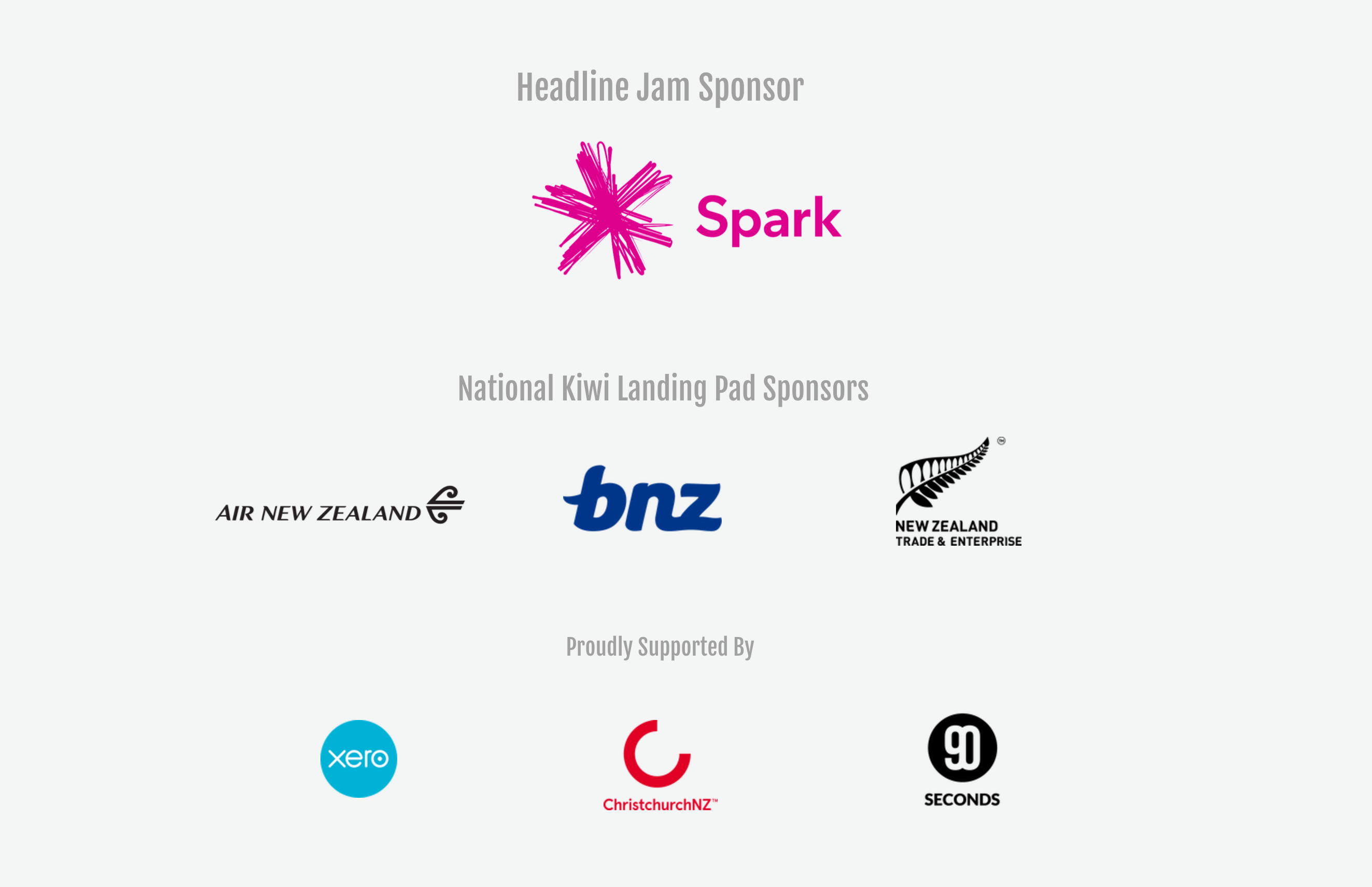 Additional Links:
For more information on the Sales & Marketing Jams visit:
salesandmarketingjam.com
To get started sooner, check out our up and coming webinars.
For more information on the Kiwi Landing pad visit:
kiwilandingpad.com
For FAQ please visit here:
salesandmarketingjam.com/FAQ
Date and time
Location
ProjectR
NEC House
Level 2/40 Taranaki Street, Te Aro
Wellington, Wellington 5810
New Zealand